An oil company gets hundreds of wells up and running in record time. A pump manufacturer pinpoints water leaks amid miles of pipes. And an elevator maker predicts maintenance issues before they create problems.
All of these capabilities and more are available thanks to cloud-based software and data. Amid concerns about safety and data breaches, converts are finding that the key to making the cloud work for continuous process applications is knowing exactly when and where to use it effectively while also mitigating risks.
Opex over capex
Moving operations applications to the cloud allows companies to save upfront costs and time. By subscribing to a cloud service, plant operators can avoid standing up their own servers, software and other systems for monitoring machines, often in much less time and at lower initial cost. Moving process systems to the cloud can be as simple as opening an account and configuring cloud-based software. In short, the cloud allows companies to move from a capital expenditure model to an operational expenditure model, paying only for what is needed at any given time.
This means that even small and midsize organizations with limited resources can more easily get operations running. The benefits are particularly compelling for distributed assets—that is, equipment that operates in the field, far from service personnel.
"Moving to the cloud is a natural step towards reducing total cost of ownership by leveraging suppliers to provide system capabilities as a service," says Jason Urso, vice president and general manager at Honeywell Process Solutions. It can cut down on field visits and reduce maintenance costs for customers, and enable equipment suppliers to monitor and maintain equipment for them as part of a subscription model.
And herein lie many additional benefits for moving process data to the cloud.
New business models
The cloud represents an opportunity for manufacturers to expand their businesses to include cloud-enabled services, notes Sanjay Ravi, worldwide managing director for discrete manufacturing industry at Microsoft. He cites as an example Grundfos, a major supplier of pumping systems for buildings, industry and other applications using water. With billions of gallons of water lost every year to leaky pipes, the company had an opportunity to collect data from connected sensors to pinpoint those leaks and stop them.
"The connected services here would be predictive maintenance services, using the cloud," Ravi explains. Using data from sensors embedded in its miles of pipes, Grundfos can detect leaks before they get out of hand and recommend repairs to its customers, precisely targeting only the problem areas.
Some manufacturers even derive the majority of their value from such maintenance services, according to Ravi. ThyssenKrupp Elevator, for example, uses cloud-connected sensors to predict problems in its elevators before they occur. Proactively addressing these impending maintenance issues saves customers time and money and also drives value in the form of services for the manufacturer.
Safety and security
Any cloud-based solutions, however, must address security and safety concerns. As recent cybersecurity breaches have shown, IT security is critical. But security for operational technology (OT) is even more so.
"If somebody could maliciously figure out a way to manipulate these processes, you could have things like fires, explosions, releases of toxic chemicals," explains Peter Zornio, chief technology officer for Emerson Automation Solutions.
The solution, Urso says, is to limit communication between OT and IT systems to a one-way interaction. "Using one-directional communication is an ideal place to get started to seek outcome-based solutions that are advisory services and not necessarily closed-loop applications operating in the cloud," he says. By limiting cloud systems to monitoring rather than control functions, plant managers can gain the benefits of the cloud while reducing their risk of being hacked, he adds.
Reliability and the cloud
The cybersecurity risk helps to explain why the cloud has been more readily adopted for IT systems than for OT systems. But there's another important reason industry has been reluctant to embrace the cloud: Industrial processes that rely on digital controls are much less tolerant of latency and dropped connections than business systems.
"People are much more comfortable with the idea of those core control systems being on premise," Zornio says. "It will be a very long time, if ever, that we see those executing in the cloud."
Zornio uses an automotive analogy to explain the reticence to adopt cloud-based controls. "Ten years from now, if you find yourself in a self-driving car, are you personally going to be more comfortable knowing that that car is not dependent on a connection to the cloud, and that all the stuff that is actually controlling the car is executing inside the car? I think most people would be. Most of our customers in the manufacturing industries are the exact same way," he says. "There's just a degree of speed and performance that is eliminated by not having the communication back and forth to the cloud."
Urso suggests instead that manufacturers seeking to leverage the cloud look at benefits beyond the immediate manufacturing process. "Cloud technology now provides the opportunity to connect process and asset data from a site or multiple sites to a consolidated set of knowledge," he says.
This knowledge can be used by industrial plants to improve their return on capital investments by looking for opportunities to optimize performance or equipment reliability. "As the pool of data increases, we see even greater opportunities in the future to identify low probability but high consequence events that would otherwise go undetected," Urso says. The net result: opportunities to improve safety and reliability as well as efficiency.
Best uses for the cloud
The best use of the cloud for manufacturing and other processes is as part of the asset maintenance, rather than the control loop, agrees Rami Jokela, group vice president and head of digitalization at ABB. Here, sensors collect data on the health of equipment such as transformers and drives, and send it to the cloud, where analysis can predict when servicing is needed, sending that information on to maintenance centers.
Manufacturers of factory equipment can also track and manage this data through the cloud and use it as the basis for maintenance plans and other services, Urso says. Such centralized knowledge can deliver a clear outcome for the customer—improving throughput and yield, reducing equipment downtime and lowering maintenance costs, he adds.
Zornio provides an instance where having real-time operational control in the cloud can serve a useful purpose, and that is in the area of training and simulation. "Let's say you're just learning to drive," he explains. "We might plop you in front of a computer, and you might drive a virtual car where all the controls that would normally be running in the car are actually running in the cloud, so if they go astray it doesn't matter. They're not connected to an actual car. What we're doing is we are teaching you how to drive and how to run the systems that run the car."
Apply that scenario to plant operations, he points out, and you have an Emerson service that puts its DeltaV control systems online to simulate customer configurations. "They can get a twin of their actual systems in the cloud that they can do simulation on," Zornio says. "Or they can try a new control strategy on that before they actually play in the actual system that's connected to the process."
Getting started
To get started with the cloud for operations, Urso recommends beginning with desired benefits and selecting technology with that in mind, rather than the other way around. He also suggests starting with any existing applications that already monitor equipment remotely in the field. From there, finding specific solutions becomes a matter of matching features with desired outcomes.
It should go without saying that security must play an important part in any cloud implementation. Emerson offers specific systems for tackling the potential security issues associated with moving operations applications to the cloud. "We call it the Secure First Mile," Zornio says, noting that exporting data from the site of origin into the cloud represents a point of vulnerability that Emerson addresses well.
Honeywell has put its Experion supervisory control and data acquisition (SCADA) into the cloud with Experion Elevate. With this system, an oil and gas customer was able to get 300-400 oil wells online in just a few weeks, highlighting the speed of setup possible with cloud applications and how the cloud can shine in distributed applications.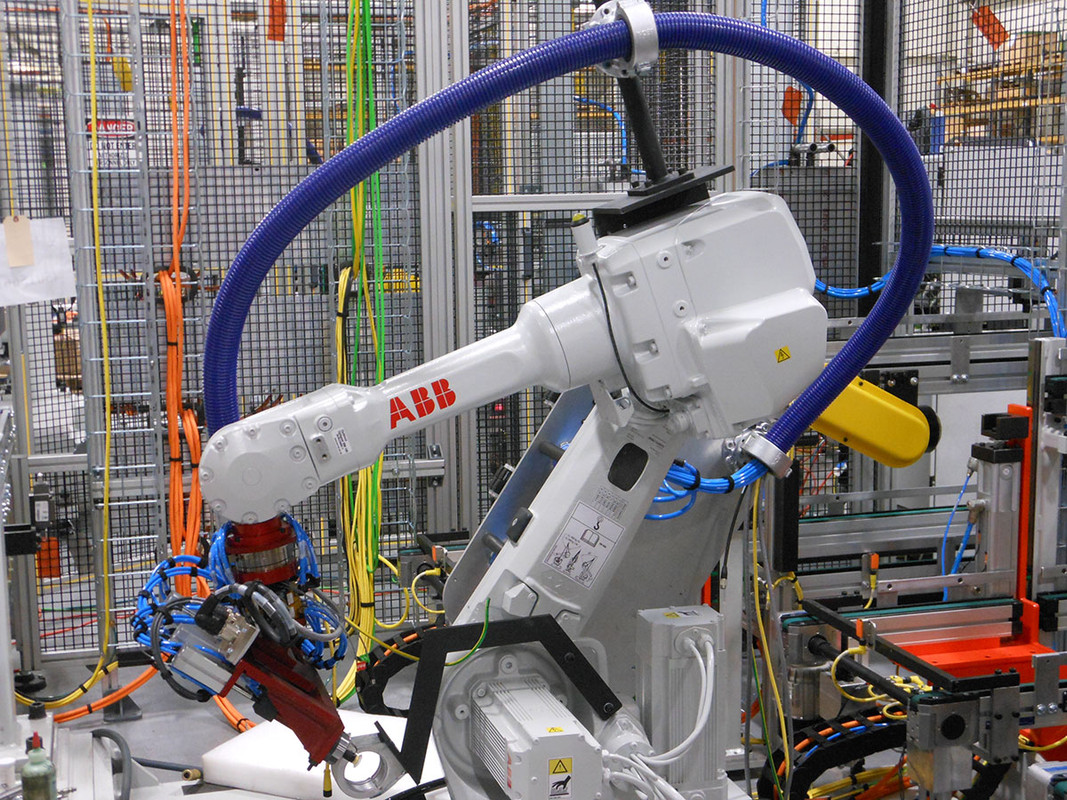 ABB industrial robots connected to the cloud send sensor data back to the manufacturer and to customers to aid maintenance operations.​
Jokela points to ABB Ability Collaborative Operations, which supports operations for ABB customers in a range of industries. The service connects operations staff and engineers with the business side of a company and ABB to help them run more profitably. "Asset and operational information is collected and analyzed 24/7 at Collaborative Operations Centers," Jokela says, "to identify, categorize and prioritize actions." Such actions include maintenance and optimizing operations. The applications of the system run in the cloud through secure Internet connections.
Some 5,000 ABB robots installed in customer manufacturing plants connect through the cloud back to ABB to report on their health and any potential maintenance issues before they negatively impact production.
Emerson, too, provides predictive maintenance services via the cloud for its products, including its control valves. "We collect the digital information about how that equipment's operating," Zornio explains, "and analyze it for customers." Using that information, Emerson can provide its customers with maintenance advice and services.
It's all about using data most effectively. "Data is going to be the new currency," says Microsoft's Ravi. There's no way around it, he says: Every business in every industry is going digital, and that includes manufacturing. Cloud applications for industrial processes point the way forward.
Companies in this article