When Greg Flickinger moved from his role as vice president of manufacturing at snack food maker Snyder's-Lance to take up a similar position at HEB in 2016, he came armed with a set of tools and checklists from PMMI's OpX Leadership Network.
Flickinger knew that these tools could help HEB achieve improvements in its manufacturing processes to enable it to operate more efficiently and ultimately save the company money, just as they had at his previous employer. That's because he had helped create them.
Building a better industry
The Operational Excellence (OpX) Leadership Network got underway at PMMI, Automation World's parent organization, in 2011. It took on its current form and name in 2014, according to Tom Egan, vice president for industry services at PMMI. Flickinger began work with OpX early in its development, along with PMMI's Steve Schlegel and Steve Perry, to facilitate and manage the program. Flickinger now serves as chair of the OpX Leadership Network Executive Council.
For Flickinger, the group represented a continuation of the work he had done while at General Mills, where he and colleagues shared best practices across the company and its suppliers. In the OpX Leadership Network, he saw the opportunity to advance the operational excellence of not just a single company, but of an entire industry.
Until the advent of the OpX Leadership Network, consumer packaged goods (CPG) manufacturers and the OEMs that served them had little common ground on which to improve their processes and work together. The resulting inefficiencies ultimately ended up costing companies time and money. "Companies have all had different specifications in machinery and tend not to have the resources to keep up with changes," explains John Kowal, director of business development at B&R Industrial Automation. "I've had machine builders tell me that they can spend $4,000 in engineering time just reviewing a spec and calling out exceptions."
The OpX Leadership Network is dedicated to solving this and other problems caused by inexact or non-existent specifications and processes. "It's not about a competitive advantage," Kowal explains. "It's about operating more efficiently."
To that end, the tools offered by the OpX Leadership Network on its website—free of charge—help operations managers save time and money at the three major stages of setting up and operating an assembly line. These are at the planning stage; during factory acceptance testing; and during operations.
To start, managers can deploy the OpX Leadership Network's total cost of ownership (TCO) checklist to help them and their organizations select the best and most cost-effective equipment for their planned lines. From there, the factory acceptance test (FAT) checklist helps them iron out any bugs before installing the line. The overall equipment effectiveness (OEE) starter tool and OEE benefits calculator help ensure efficient operations once the line is up and running.
The TCO checklist
Kowal likens the TCO checklist to an umbrella, providing the overreaching guidelines that can save both manufacturers and OEMs time and money when planning new lines. For example, using the TCO checklist as a guide, everyone involved can agree on key elements such as requirements for electrical systems, sanitary design, and even how to divide up the work of training for operations between the manufacturer and the OEM.
The best way to deploy the TCO checklist, Kowal says, is to introduce it at the onset of discussions for building a new line. "Put it on the table right up front and say, 'Here's a tool for us to go through what our expectations are of the machine. Then you can tell us any questions you've got, but also if there are any areas that need clarification.'"
The TCO checklist's major strength lies in reducing the total cost of ownership. Even though a given system might cost more initially, its savings over time—if known—can be a more important consideration for the purchase decision. "So if you have a centralized system, where you sense the lubricant level and replenish automatically, that might cost more," Kowal explains. "But when you're looking at not just initial cost, but at total cost of ownership over time, that could be a big savings."
That goes for evaluating improvements to existing lines as well as for installing new ones. "We can go into existing equipment and apply the TCO principles to find out how much that equipment is really costing us," Flickinger says. "It helps us figure out what equipment should be replaced. Think about TCO as your starting point."
And after that starting point, manufacturers can turn to the FAT checklist to help ensure that a new line meets expectations.
The FAT checklist
The goal of factory acceptance testing is to simulate production conditions and find weaknesses before they cause problems in operations. Egan recalls a company he worked with that went as far as to dress workers in the coats they would need to wear when producing refrigerated products during factory acceptance testing.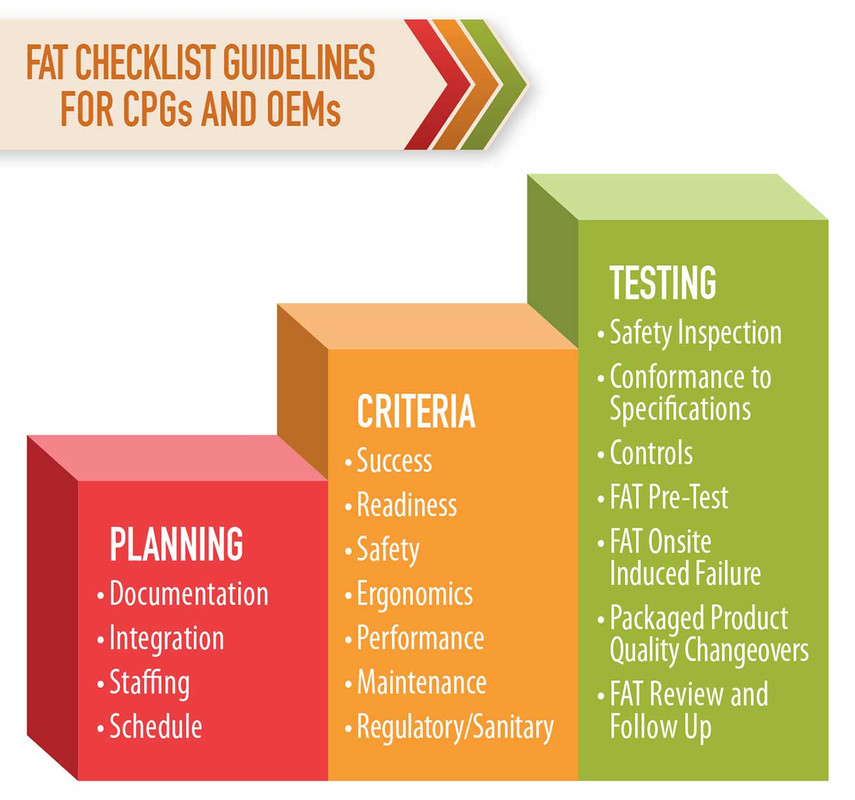 The goal of factory acceptance testing (FAT) is to simulate production conditions and to find weaknesses before they cause problems in operations.​
"Let's say you have a coat on," Egan says of the rationale. "Reach is affected by your coat just a little bit, right? You're making sure that when you reach for that adjustment, you can do so with the expectation that you have a coat on and it's impacting the length of your reach." Improvements such as shortening the distance between an operator and a control, arrived at through factory acceptance testing, don't always produce big savings individually, but they can add up, he says.
It's these kinds of improvements that the FAT checklist was designed to help capture. "You're running the whole spectrum of tests to validate that the equipment is ready," Flickinger explains, and you don't want to leave anything to chance or let it be forgotten. As the TCO checklist does for the planning process, the FAT checklist helps manufacturers and vendors ensure that no steps are left out of the testing process.
The OEE starter tool
Once a production line has been validated at the OEM facility, installed by a manufacturer at its own facility and production started, manufacturers can then begin to make further adjustments to operations to improve efficiency. That's where the OEE starter tool and OEE benefits calculator come into play. And they can be applied to older production lines as well as new ones.
Overall equipment effectiveness, Flickinger says, is all about looking for inefficiencies and viewing them as opportunities. Enabling companies to do that consistently and repeatedly is the purpose of the OEE starter tool. "Many companies tend to calculate it differently," he explains. "The starter tool gets you down the pathway of how to calculate and track OEE to a single industry standard. This creates a basis for comparison, serving as the single version of the truth."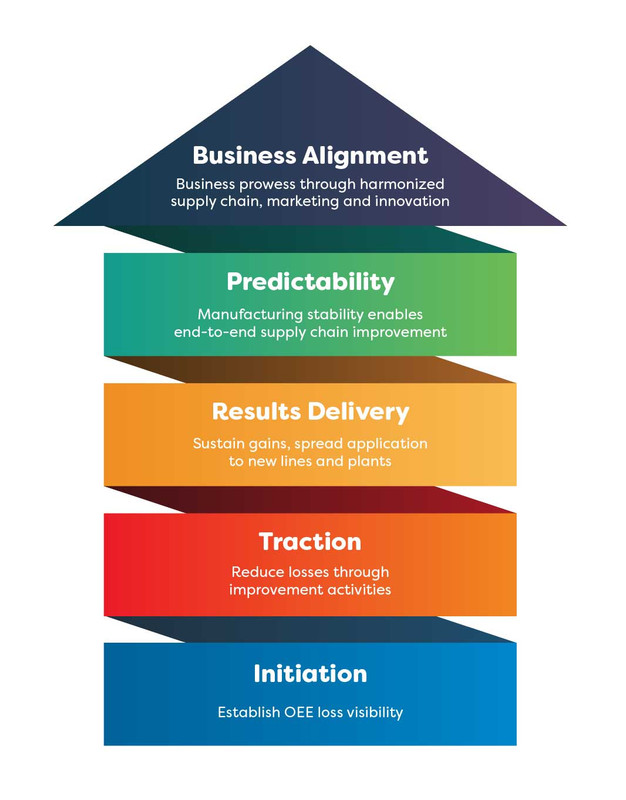 Overall equipment effectiveness (OEE) is all about looking for inefficiencies and viewing them as opportunities.​
Using the OEE starter tool gives a manufacturer a percentage of relative efficiency for a given production line. But how does that percentage translate into dollars? That's where the OEE benefits calculator comes in.
The OEE benefits calculator
Once the determination has been made that there is value to be gained from making changes to a production line, the OEE benefits calculator helps manufacturers quantify just what that value will be, Flickinger explains. "We can put all the numbers into the benefits calculator and determine the value of each incremental percentage point of OEE improvement to the company," he says.It's all about justifying the resources needed to make improvements to a line, such as eliminating a bottleneck or fixing a chronic problem with the line as a whole, Flickinger adds.
The benefits calculator translates factors such as increased numbers of cases or bottles or pallets of product into dollars based on the price of those items, Egan explains. That can be a powerful inducement for upper management and purchasing departments to approve upgrades and other improvements. "It's a way to demonstrate that you're improving the throughput of the line without having to go and purchase a whole new line," Egan says.
Other tools and benefits
Other valuable tools available on the OpX Leadership Network website include one for fostering workforce engagement, and another for evaluating sustainability. "Those are two areas that we see as challenges that we are all facing across industry. The focus is on the greater good and not an explicit area of competitive advantage," Flickinger says, emphasizing the industry-boosting power of the tools.
Along with the tools themselves, developing them has proven to be a valuable activity for the companies involved. In Flickinger's experience, company leaders as well as subject matter experts who work with the OpX Leadership Network to define and develop best practices return to their own organizations energized with expanded knowledge and ready to help their colleagues put them into practice. For this reason, the OpX Leadership Network serves as an important leadership development vehicle.
As for the value of the OpX Leadership Network as a whole: "We are all together, pushing this down the pathway to help move the industry to a better place," Flickinger says. That includes lifting smaller companies that might not have the resources to duplicate some of the in-house expertise of the bigger companies on their own. "It helps everyone."
Flickinger is now at work applying the OpX Leadership Network's tools to start up a new line for HEB in Houston. The line will make tortilla chips beginning in the summer of 2018. Flickinger's team has already made good use of the TCO checklist while selecting equipment and the workforce engagement tool for work system design, and plans to deploy the other tools moving forward.
For others considering using these tools, Flickinger advises allowing time for change management. "With any change, it's about making sure that people, first of all, understand the why, then making sure you systematically go through how it's to be done," he says. "From there, it's all about coaching and mentoring the group through the process for the first time."
After that, success breeds success, Flickinger says. "When people experience success, then it starts to become how they do their work."
Download the TCO checklist, FAT checklist, OEE starter tool, OEE benefits calculator and many other resources at opxleadershipnetwork.org.
Companies in this article