The use of robots for packaging applications is on the rise. In its latest assessment of robotics trends, PMMI, The Association for Packaging and Processing Technologies (parent company of Automation World), found that the number of manufacturing locations where its survey respondents are using robots has grown significantly in recent years—from 20 percent in 2008 to 75 percent today. Applications include food and beverage, pharmaceutical, medical devices and consumer packaged goods (defined by PMMI as non-food and beverage).
End users are hoping for a variety of benefits from robotics, including reduced labor (67 percent), reliable product quality (66 percent), operator safety (57 percent), throughput efficiency (52 percent), operational flexibility (31 percent), reduced operational costs (15 percent) and a smaller footprint (13 percent).
Here, four food and beverage packagers detail how robots are meeting these expectations in their plants.

Robotic palletizer's flexibility is key for beverage bottler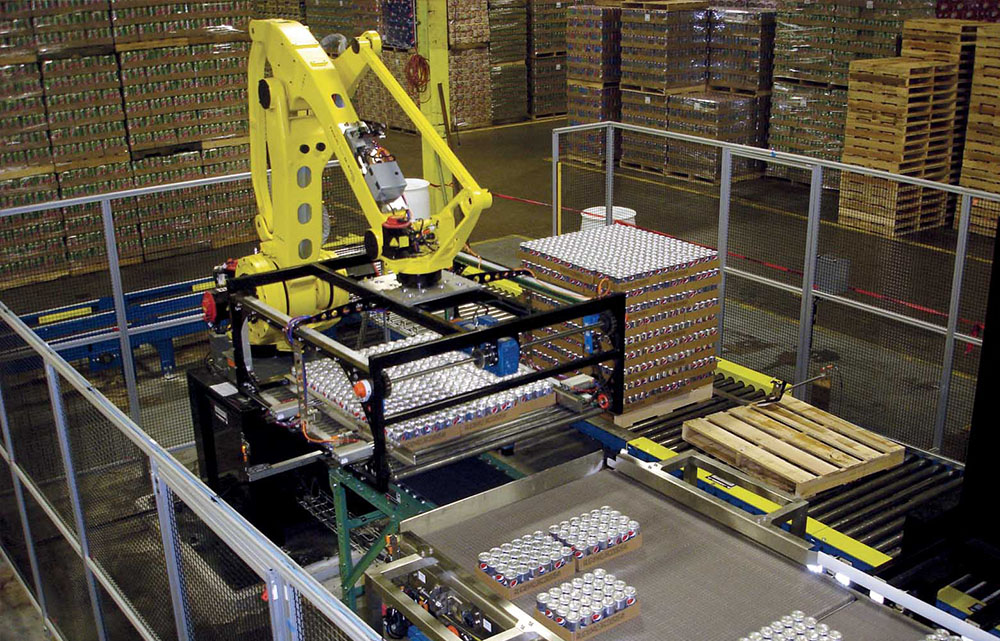 A custom-designed layer-pick tool at the end of the robot picks, squares, and places an entire layer of cases on the pallet at one time.
Clinton's Ditch Cooperative was founded in 1968 in Cicero, N.Y., as an independent bottler of Pepsi-Cola. Today, the company bottles and cans about 22 million cases/year of carbonated soft drinks, seltzers, energy drinks and purified water, distributing them to much of New York State, the mid-Atlantic region, and throughout Canada.
In 2010, Clinton's Ditch recognized that its can business was slowly decreasing to the point where its smaller can line was sitting unused most of the time. "We started looking for other things to do with it—rip it out, make it a glass line, etc.," says Tom Millert, plant manager at Clinton's Ditch.
In 2011 and 2012, as new beverage can sizes became increasingly popular, Clinton's Ditch decided to invest in the unused line and turn it into one capable of filling a range of can sizes, including 7.5, 8 and 12 oz standard, 12 oz sleek, and 16 and 24 oz cans. The "flex can line initiative" included the installation of a number of new machines, change parts and retrofits. Scrapping two 36-year-old conventional palletizers, Clinton's Ditch purchased a high-speed robotic case palletizer, the Model LP-7500 from Conveyor & Automation Technologies, which installed the system in April 2014.
"We had two old 1978 palletizers that could not be modified to handle the variety of packs we needed to run," Millert says. "Packs they could run were not handled gently or efficiently and, consequently, we had package and container damage and breakage. We also wanted a machine that would allow us to easily add new container, pack or pallet sizes for a reasonable cost."
With the new flex can line, filled cans can be sent to any one of four secondary packaging machines to be packed in cartons, trays, shrink packs or Hi-Cone ring packs, all of which are handled by the new palletizer.
The Model LP-7500 has three Fanuc robots: two LR Mate 200iD six-axis row-placement robots and one palletizing robot, the M-410iC. During operation of the line, finished packs travel on a full-case conveyor about 550 feet from Clinton's Ditch's front production area to another building where its palletizing area is housed. Here, the packs travel down an incline to the 48-in.-high robotic palletizer infeed, where cases are metered, with at least a 3-in. gap, into the layer forming section of the system. Next, the two LR Mate 200iD robots gently turn and/or position each package in one of three zones on the conveyor according to an HMI screen-selected pallet pattern. Packages then travel in their appropriate sequence and position to the layer accumulation area, where the layer is formed, ready for palletizing.
The second robot, the M-410iC, with a payload of 690 lbs., is fitted with a custom servo-driven end-of-arm layer pick tool with an undercarriage that picks, squares and places an entire layer of cases on the pallet at one time. The tool allows for any layer that can be held on a pallet up to 40 x 48 in. to be palletized with the same tool. At Clinton's Ditch, pallet sizes include 36 x 43.5, 36 x 42 and 40 x 48 in.
One of the system's greatest benefits to Clinton's Ditch is its flexibility and easy changeover—making it a fitting selection for the flex can line, says Gus Sarikas, vice president of sales at Conveyor & Automation. "It's a really quick changeout," he says. "The operator selects the recipe they are going to run, changes the end-of-arm tools on the row placement robots—a task that takes less than 5 minutes—and adjusts one infeed rail, and the system is ready to run a new product."
This was key for Clinton's Ditch because of its range of secondary package sizes. "They've got variable pack heights, variable can diameters and variable case sizes. They also have variable pallet dimensions," Sarikas says. "To be able to accommodate all that and do a quick changeout—because they probably run four to six products in the course of a day—was vital."
Conveyor & Automation has programmed 11 pallet patterns for Clinton's Ditch and has supplied the corresponding 22 end-of-arm tools for the two row-placement robots.
Since converting its small can line to the flex line, Clinton's Ditch's output has grown substantially from 4.3 million cases of cans in 2012 to an estimated 8.8 million in 2015, a volume that the new robotic palletizing system is well equipped to handle.

Robots facilitate rebirth of pasta producer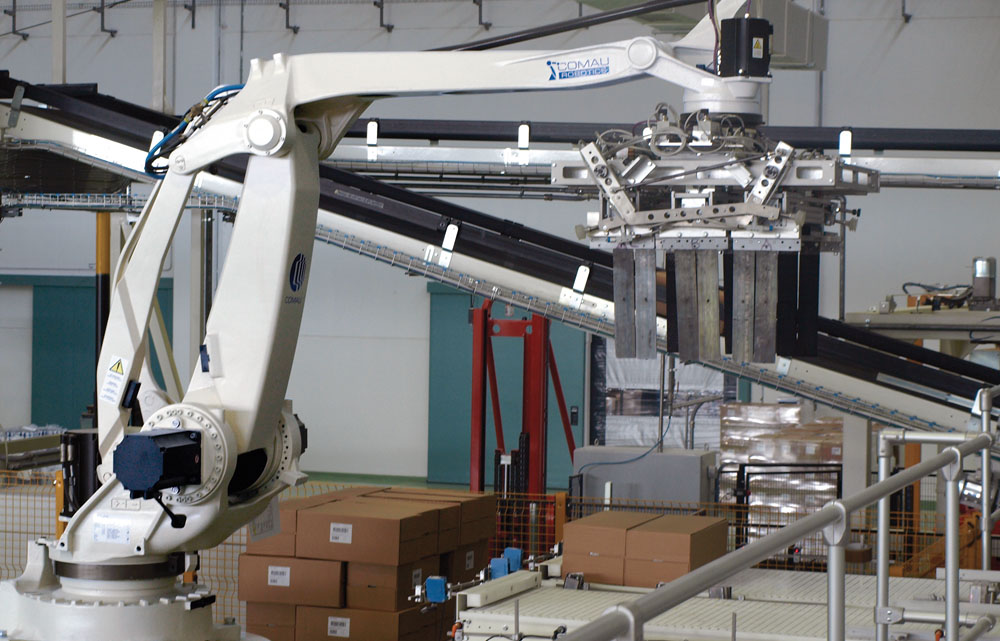 The four-axis robot gently and precisely places cases of pasta on a pallet—vital to ensuring a stable load for transport outside of Italy.
For Italian pasta maker Pastificio Ghigi, automation provided the path to its rebirth and return to competitiveness after the financial crisis of 2007. Founded in 1870 in Rimini, Italy, Ghigi was for 130 years a major buyer of durum wheat, supporting local wheat producers and other suppliers of raw materials for pasta. At its peak, Ghigi employed 400 workers and produced 220 tons pasta/day. But in the two decades preceding the recession, Ghigi lost its footing in an increasingly competitive market and was forced into bankruptcy, shuttering its facility in 2008.
Not long after the plant closure, the Agricultural Consortium of Forlì, Cesena and Rimini, recognizing the important role Ghigi had played in the local economy, reopened the company in San Clemente, Italy, to help reinvigorate and develop the Emilia-Romagna region. The new plant covers about 330,000 square feet, and is noted for its high degree of automation; in fact, virtually every activity in the plant is automated. "Automation is the only way to be truly competitive in the market," says Bartolo Aprea, plant manager and IT manager for Ghigi.
To supply and integrate its eight packaging lines, Ghigi worked closely with Tiber Pack, an Italian packaging machine provider. Ghigi's main system requirements—particularly for its end-of-line machines—were flexibility to carefully handle a range of product and package types, and reliability to keep pace with its 750,000-ton/year dry pasta capacity. To this end, Tiber Pack installed four Smart PAL 180-3.1 palletizing robots from Comau.
The Smart PAL 180-3.1 is a four-axis robot with a 180 kg payload and a 3,100 mm reach. At Ghigi, each of the robots handles product coming off two packaging lines. Case sizes range from about 5 1∕8 x 10 x 10 in. to 27 1∕2 x 15 3∕4 x 12 in., and weigh 7.7-86 lbs.
The positioning of the cases on the pallet is vital, according to Aprea. Ghigi exports 90 percent of its product, so cases must be placed carefully and securely on the pallet to maintain quality during transport. "Our packaging changes in terms of shape and weight depending on several factors, including the type of pasta it contains, the type of box used (some boxes use less corrugated and have special shapes), and the country to which the products will be sent. This means that we cannot allow mistakes during the packaging and palletizing phases," he says. "These variables require that the robot is capable of handling different boxes, in different positions, of different weights, and with a different sensitivity depending on the movements to be made. Furthermore, the robots must be able to absorb, in terms of capacity and sensitivity, the inaccuracies that may result from the pasta shaping, which, over time, can occasionally produce pasta of slightly different weights and dimensions compared to the standards. The Comau robots handle these activities and these variables without exception."
To delicately handle the cases of pasta, the Smart PAL is equipped with a gripper end effector that uses fingers to grip the case. Changeover is quick and easy, allowing Ghigi to meet its high production rates.
According to Aprea, installation of the Comau robots has not only brought positive benefits to Ghigi itself, but also to its workers and the producers of raw materials who make up the consortium. "Automation has allowed us to provide high-level training for the operators who work with us," he says. "The people who work in our factory are not just workers; they are skilled employees able to lead automated lines as their responsibilities have grown continuously over time."
Aprea lists a wide range of benefits. "Our production rates, the increase in productivity, our results and efficiency at different stages, the reduction of costs related to waste, and the quality of our products—which is guaranteed by the sophisticated controls at the start of the line—allow us to significantly reduce our production costs and, as a result, we have more resources to invest in raw materials," he says. "In this way, Ghigi has been able to spread the value that the plant is able to generate across the entire value chain."

Satisfaction spurs repeat robot orders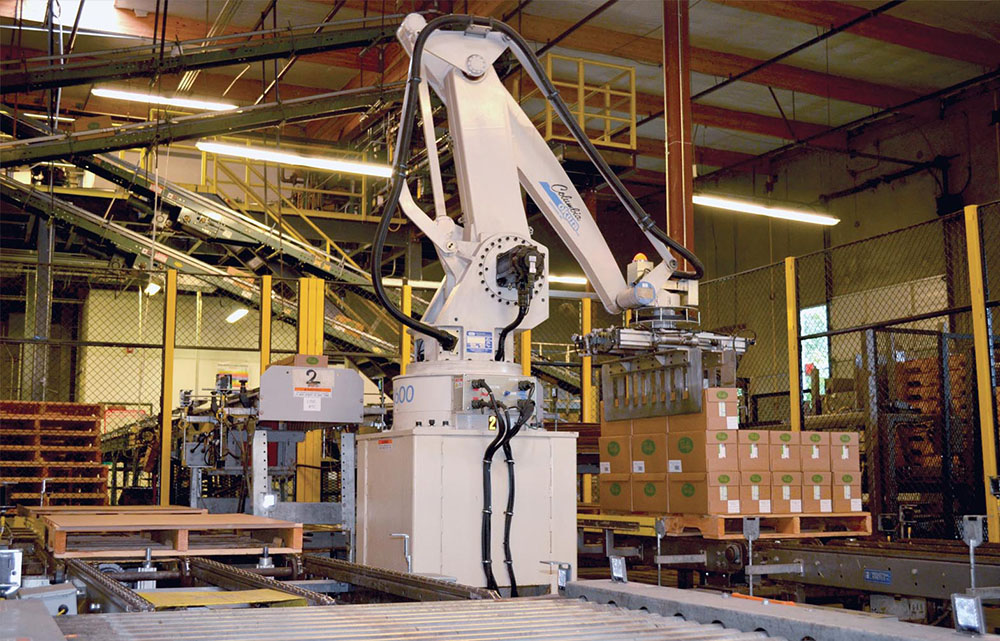 The five robotic palletizers at Pacific Foods' facility are compact, easy to program, and flexible enough to adapt to changing packaging formats.
For the past decade, Pacific Foods of Oregon has continually added to its installed base of palletizing robots as its offerings in the natural and organic foods category have grown in number and in popularity. Since it was founded in 1987, the company has seen double-digit growth virtually every year. It currently produces more than 300 million pounds of organic broths, soups and chowder annually. It also delivers a range of other shelf-stable products, including soup starters, non-dairy beverages such as almond and hazelnut milk, and ready-to-eat meals, sides and sauces. In all, the company manufactures more than 200 SKUs on a 24/7 schedule.
To preserve the freshness of its natural ingredients, Pacific Foods uses aseptic and retort cartons at its Tualatin, Ore., facility equipped with nine aseptic and two retort lines. In 2006, the company purchased its first robotic palletizer, the A1600 from Columbia/Okura, to handle palletizing, with various case patterns, from four of its production lines. Over the years, Pacific Foods has installed four more of the same model robot, and is looking to install a sixth at year-end 2015.
"Some of the robots successfully replaced a conventional palletizer, while some were purchased as an answer to our palletizing needs generated by our growth," explains Gabriel Vizireanu, director of engineering for Pacific Foods.
One of the company's requirements for a robotic palletizer was ease of use, Vizireanu says. "The lifetime of these machines is 15-20 years," he says. "We had to ensure that the robot would be relatively simple and could be operated easily, so we wouldn't increase the complexity of our process more than necessary."
Space was another issue. "Real estate is at a premium, especially when you are located in the middle of a city, as we are," Vizireanu says. "Minimizing the footprint while optimizing the pedestrian and forklift flow were critical requirements of this project."
Pacific Foods also needed a solution that would be flexible enough to handle new formats as it continued its tradition of innovation to improve its packaging and reduce its carbon footprint.
Columbia's A1600 is a compact four-axis robot that can handle up to four production lines at once. An operating screen, with detailed graphics and easy navigation tools, allows operators access to 50 standard pallet patterns created with advanced software. Operators can also program custom patterns via a simple offline process or through the operating screen.
At Pacific Foods, the robots are used to palletize its cases of product onto finished goods pallets. "We load several magazines with pallets, pallet pads and tie sheets," Vizireanu explains. "Multiple conveyor lines bring in cases of product to the robot. Based on a specific recipe for a specific SKU, the robot dispenses an empty pallet from the pallet stack, places a protective pallet pad on the top of the empty pallet, and then adds several layers of cases."
The robot uses lateral compression, with a clamp-style end effector, to grasp and lift a row of cases. The A1600, with a payload capacity of 310 lbs., easily handles the weight of Pacific Foods' cases, which Vizireanu says are "less than half the weight the robot arm is capable of moving around." Each robot typically handles two production lines, he adds, with the palletizer operating at an average rate of 20-25 cases/min—depending on the packaging format—at 75 percent capacity.
"We enjoy working together with Columbia/Okura and their partners to bring robotic solutions to our operations," Vizireanu says. "Although Columbia/Okura has other types of robots, this specific model fits elegantly with our production lines."

Custom solution minimizes damage of delicate snacks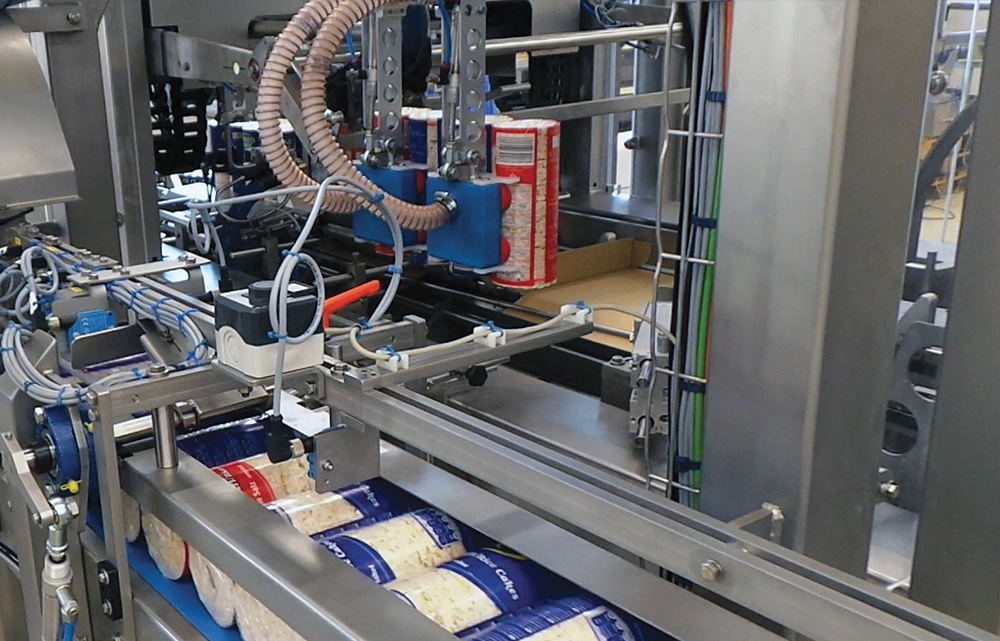 To eliminate handling steps and minimize product damage, a Delta-style robot rotates product from a horizontal to vertical position before placing it into a tray or case.
When packaging such delicate snack foods as corn or rice cakes, every step in the process adds risk of damage to the product. That's why in February 2015, SanoRice—the largest corn/rice cake producer in Europe—added a new wraparound case packer with a customized robot and end effector at its plant in Veenendaal, The Netherlands, to minimize product handling.
With its existing case-packing equipment, rolls of film-wrapped rice cakes were conveyed to the case packer and turned from a horizontal to a vertical position by means of a belt transport system. Then, while in a vertical position, the rolls were pushed into rows until a complete caseload was assembled. From there, the full configuration was brought to the case by means of a pusher system. To eliminate these steps, SanoRice worked with equipment supplier BluePrint Automation (BPA), which in the past had supplied the company with more than 15 standard case packers.
Other requirements for the system included a changeover time of less than 5 minutes, the ability to handle different wraparound case or tray configurations, and increased speed, explains Ed Mets, sales director, Netherlands, for BPA.
The solution comprised a standard wraparound case packer designed specifically for the food industry, with a stainless steel frame and automated 5 minute changeover, integrated with a BPA delta robot with a special suction end effector. "Combining a case packer with automatic changeover and a delta robot, we were able to reach maximum flexibility," Mets says.
With the new system, rolls of product are carried horizontally on an infeed conveyor to the case packer, where they are presented under the head of the robot. The robot takes one complete row of the pattern, lifts it from the infeed conveyor, and moves it toward the open case. While in transit, the robot head rotates 90 degrees, turning the rolls vertically. They are then placed in this position into the case, row by row, until the case is filled and conveyed to the closing station.
Automated changeover from one case size to another is accomplished through the use of seven set points. "We are using motorized spindles with pre-settings in the program," Mets explains. "So you can choose a recipe, and the machine will change over automatically."
Providing product and package flexibility, the system handles case sizes from about 10.6 x 7 x 6 in. (for a 3 x 2 configuration) to 14 x 10.6 x 6 in. (4 x 3), and 90 mm diameter rolls in lengths of 150-250 mm. Products can be packed in low or high trays, or in full wraparound cases. The case packer operates at a speed of 80 rolls/min or 13 cases/min—a 12 percent increase in speed over SanoRice's previous process.
The new system also uses less floor space, provides more than 99 percent efficiency, and is easier to operate than the company's standard case-packing systems, Mets says. The company has been so satisfied with the solution, that it has ordered a second system from BPA.