The rapid growth of e-commerce and its need for an always-on supply chain means that manufacturers are having to rethink the way they move materials to and from stock and around the factory floor. It's a key driving force behind material-handling advances as companies seek to meet customer expectations for nearly instantaneous order fulfillment.
Robots—especially mobile robots—are playing a growing role in material handling. Just as collaborative robots (cobots) are beginning to offer more flexibility than their stationary counterparts in manufacturing, so too are autonomous mobile robots (AMRs) providing more flexibility than more traditional automated guided vehicles (AGVs).
It's all part of the shift from fixed, single-purpose assets to a more agile infrastructure that can handle multiple tasks and move where it's needed, according to Ed Mullen, vice president of sales – Americas for Mobile Industrial Robots (MiR).
"AGVs, for example, are kind of similar to old-style robots that had one fixed purpose," he says. "Today's mobile assets deliver a lot more value to manufacturers, who want to drive the most productivity out of every aspect of their expenditures. Bringing on a mobile robot is like hiring a temporary worker. You want to keep him busy all day long no matter what tasks you need to have done."
This mobile robot trend is changing what type of businesses can make more use of robotics. "Robotics was once aimed at automotive companies and others who dealt with large components," comments Scott Melton, director of Fanuc America West. "But today, many of the advances are focused on the needs of consumer goods manufacturers, warehouses and distribution centers."
Aethon, which was launched to provide AMRs for hospitals, has now introduced mobile robots for warehouses and manufacturing. "Broad segments such as manufacturing, healthcare and hospitality all face challenges in moving materials through the facility," says Tony Melanson, vice president of marketing. "While AGVs have long been available to move very heavy and large loads—say, greater than 2,000 lbs—many manufacturers who need to move medium to smaller loads also want to automate their material handling."
This is where AMRs come into play. "Implementing a totally autonomous system is now technically viable, as well as cost-effective," Melanson says. "Substantial markets such as automotive, automotive components, other transportation products, electronics and appliances all want to reduce material handling costs. This is a global phenomenon and not isolated to certain labor markets."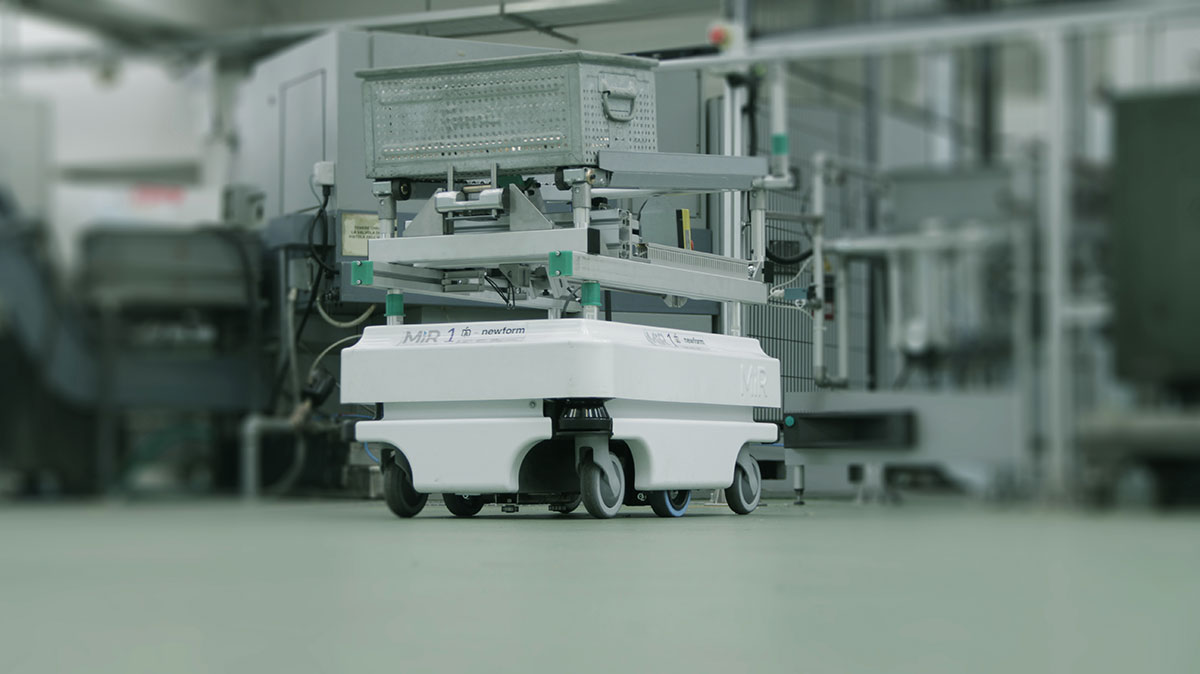 Italian bath fittings maker Newform uses MiR robots to move processed materials from machines to a stocking area.​
Smaller factories, which often need to be more flexible and versatile than their larger counterparts, could stand to benefit most from using robots for material handling. Newform, an Italian manufacturer of bath taps and fittings, uses MiR robots for internal logistics at its production plant in Serravalle Sesia. Integrated with Newform's production planning systems, the robots move processed materials from tool machines and lathes to a stocking area.
Technical assistant Damiano Marconi cites time and production optimization as key benefits. "Now our lines are active on a 24/7 basis because they're automatically loaded and unloaded," he says. "The robots are activated with just a couple of clicks using a simple and intuitive interface. You just need a smartphone or a computer with an Internet connection."
MiR's software also provides a real-time overview of the transfer of materials, guaranteeing production control, Marconi adds. "The software can communicate with both our machine tools and our data server, so we can easily track every piece, its position and condition in real time."
New life for familiar tools
Even traditional AGVs are getting a new lease on life as manufacturers install lightweight robotic arms on them to load and unload parts. "AGVs continue to evolve as a valid technology in factories," says Keith Vozel, product manager for software and robotics products at Yaskawa Motoman. "By putting a robot arm on top of a mobile platform, you are providing more flexibility for the workplace."
Robotic lift trucks from Yale can autonomously transport, deposit and retrieve materials.​
Lift trucks, long ubiquitous in factories and warehouses, are also being transformed. Yale Materials Handling has introduced robotic lift trucks, including a model that is capable of both horizontal point-to-point transportation and vertical movement, so it can autonomously retrieve or deposit pallets from elevated spaces.
The lift trucks use LIDAR (light detection and ranging), a navigation technology similar to that found in autonomous over-the-road vehicles. "This laser-based technology looks at walls, pillars, racking and other structural elements to provide data points for navigation," explains Lou Micheletto, manager of integrated solutions for Yale. "It builds an internal map by driving around a facility and then compares its stored map with what it sees in real time, allowing the lift truck to make independent navigation decisions to avoid obstructions. Because they don't require extra infrastructure like magnets, the autonomous lift trucks reduce startup time and cost, and adjustments can be made on the fly when layout configurations change."
Robots still evolving
Robots themselves continue to be the subject of much development work. "There are many different technologies that must be employed along with robots to equip them to achieve a customer's objectives," says Rick Brookshire, group product manager for Epson Robots. "Today, industry often relies on system integrators to make this happen, but suppliers are making progress in providing customers with total solutions by building vision, communications and other capabilities into robots. We've also developed more powerful software so that an operator doesn't have to be a programmer to install or use a robot."
As frequently happens, solving one technical problem can create another. "Customers want both faster cycle times and more precise control, but faster speeds can cause vibrations that reduce precision," he explains. "You could add bigger motors, but Epson chose a more efficient solution that integrates gyro-sensors to detect vibration and a real-time resonance feedback system. It's based on the quartz technology we developed for Seiko watches, which Epson Robots manufactures today."
Once found mostly in high-volume manufacturing operations, robots are now being used by smaller manufacturers and in a wider variety of applications. This is especially true of multi-axis Cartesian designs, which make robot arms simpler to control. Cartesian robots are already being used in a wide variety of applications such as automated storage and retrieval, pick and place, liquid dispensing, packaging and machine tool auxiliary operations.
In contrast to six-axis SCARA or articulating robots, which can function in very tight spaces and are often used for assembly operations, the simpler Cartesian system can be more affordable. Its basic building blocks can be customized with mounting brackets, actuators, motors and controls as application needs change.
Other advances
The variability in manufactured products, such as the size or weight of parts or boxes, often makes applying robots to material handling tasks challenging. But a wide range of technical advances—such as 3D vision, more operator-friendly software, vibration control, laser-based mapping systems, harmonic drives and advanced grippers—are broadening their application range.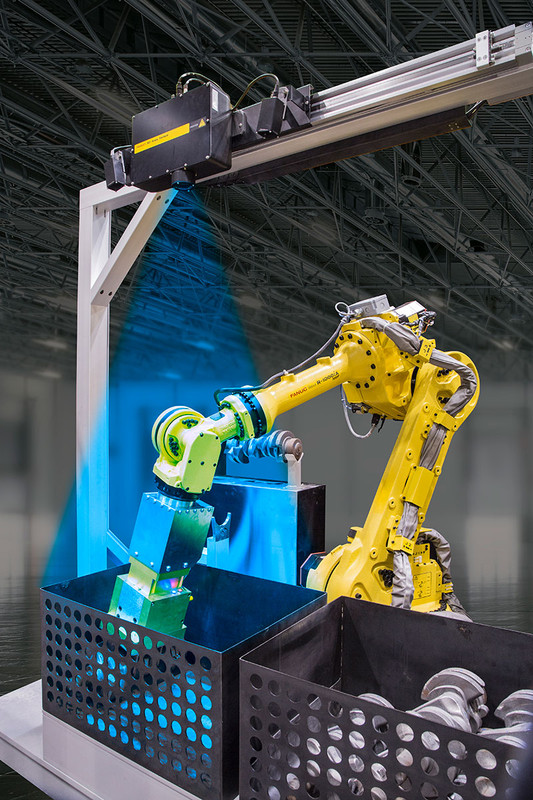 Magnets and 3D vision enable a Fanuc robot to pick up randomly located metal parts.​
"3D vision is enabling robots to pick parts that are randomly placed in containers, so you don't have to organize them by orientation," Melton explains. "These new systems address technical issues such as lighting, speed, vision recognition and type of materials. They're designed to plug into a standard robotic controller with a menu-driven installation process, which makes them easier to implement and operate."
Danish manufacturer On Robot, which was founded by several people formerly associated with Universal Robots, is introducing customized grippers that function more like human hands, enabling more material handling flexibility for cobots.
"Most traditional grippers work by using compressed air, which takes up a lot of space, is energy-intensive and far too complicated for many users," says Gary Eliasson, North American general manager for On Robot. "On Robot's new grippers are an electronic solution that is easy to mount, very flexible and can be modified by an operator on the factory floor without the assistance of an engineer."
Copenhagen-based gear manufacturer Osvald Jensen found that collaborative dual grippers from On Robot decreased production cycle time for loading and unloading parts from its CNC machines. An unexpected side benefit was that, by creating a more stable and repetitive environment, they also improved part quality because there were fewer operational variations in temperature, humidity and other factors.
Human-centric robotics
Robotics and other automation technologies are transforming material handling on the factory floor, much as they're doing in other processes. But rather than being seen as harbingers of the Age of the Machine and a rather dystopian future for humans, many experts say it is a sign that a more human-centric industrial world is taking shape.
Cobots and AMRs can function side-by-side with human workers, divvying up tasks so that each does what they do best. Robots are taking over repetitive, monotonous functions, freeing humans for more mentally challenging, higher-value roles. In this situation, a robot becomes just another tool in a worker's toolbox.
The use of AMRs and other robots to move materials on the factory floor and in warehouses is still at an early stage, according to Bob Doyle, director of communications for the Association for Advancing Automation (A3). His organization, which combines the efforts of three trade associations—the Robotic Industries Association (RIA), machine vision association AIA, and the Motion Control & Motor Association (MCMA)—is working to educate manufacturers about the potential benefits.
"Companies need to meet the needs of their customers in order to stay competitive," Doyle says. "And that means there will be both more robots and more jobs for humans in the future. We've seen that at Amazon, and at many other companies in different industries, which keep adding robots as they also add human workers."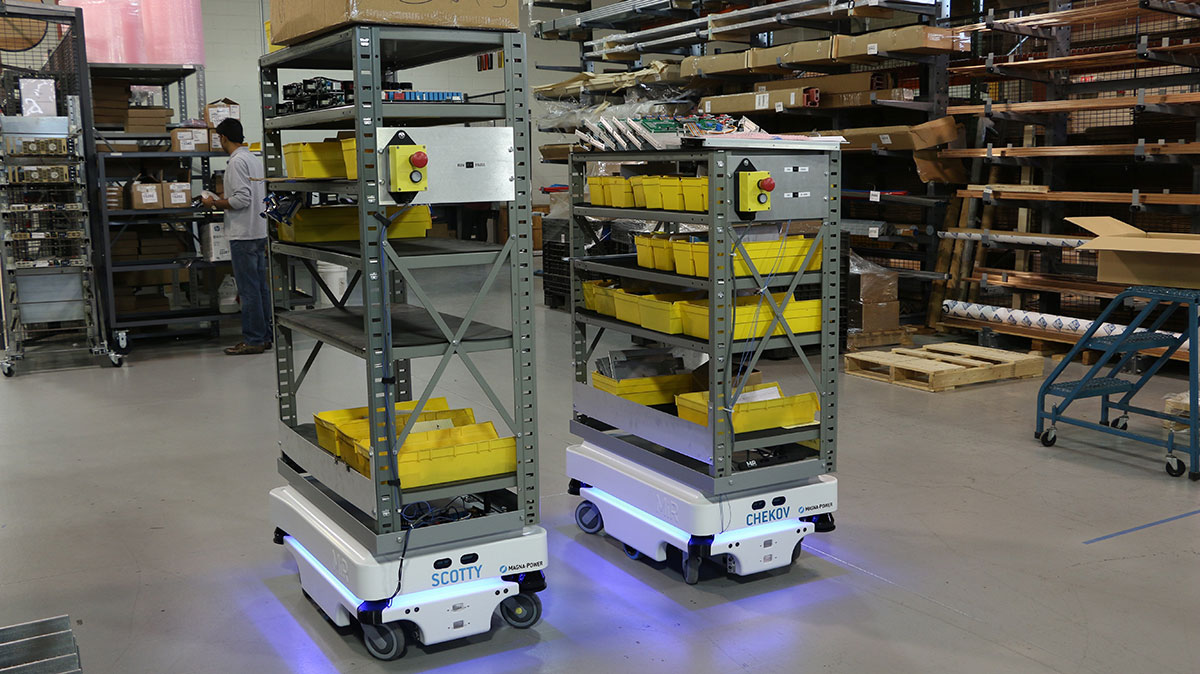 MiR mobile robots move materials through the Magna-Power Electronics facility.​
The task of moving materials to or between work cells and warehouses seems to be an ideal one for robots. Magna-Power Electronics, a New Jersey-based manufacturer of programmable power products, was able to free the equivalent of three full-time employees for other tasks by deploying two mobile robots to move parts and assemblies from the stockroom and through its manufacturing process. Magna-Power's products are made to order and sold globally. Short leadtimes are as essential as price in maintaining the company's competitive advantage.
Using robots from MiR also made stockroom operations more efficient. Instead of waiting on long lines of employees trying to deliver or access parts, stockroom workers are able to concentrate on assembling the kits required for each customized power supply. They simply load up the robot and move on to kitting the next project.
"The purpose of the robot is not to replace employees, but to make them more efficient with their time," says Grant Pitel, Magna-Power's vice president of engineering. "Now they can focus on the things that we can't get a robot to do."
Is the future Industry 5.0?
As manufacturing shifts from high-volume mass production to lower-volume, more customized goods, so too will workers shift from being the servants of machines—as they functioned on old-style assembly lines—to being the brains guiding a networked production operation. This is what some are calling Industry 5.0, which merges human dexterity and problem-solving skills with the Industrial Internet of Things (IIoT), robots, artificial intelligence, smart instrumentation and data analytics.
A survey of more than 500 manufacturing executives by consulting firm Accenture found that 85 percent expect to see human-machine-centric environments commonplace in their production processes by 2020. The likelihood of such a radical transformation happening so quickly is significantly lower, however, given that only 22 percent said they have actually begun to take action to introduce supporting technologies like robotic process automation.
No matter the eventual timetable, digitizing and automating crucial business processes, while keeping humans at the center of decision-making, will ultimately transform the adaptability, change-readiness and responsiveness of the manufacturing environment. The use of robots to automate material handling is just one step in that journey.
Companies in this article