Today, flexibility is a requirement for all successful manufacturers, but it is particularly important for high-mix, low-volume (HMLV) manufacturers whose machinery and equipment must often handle parts and components of various different shapes and sizes, all while ensuring consistent output quality and rapid changeover capacity.
Myriad factors have contributed to the rise of these small batch manufacturers over the past several years: Supply chain uncertainty requiring less make-to-stock and more just-in-time manufacturing, increased demand for customization, and shrinking margins that require more value to be squeezed out of a single asset or piece of equipment. More recently, skilled labor shortages and social distancing requirements within plants and machine shops have only heightened the need for these manufacturers to be increasingly flexible.
Until recently, it's been difficult for HMLV manufacturers to meet these challenges without relying on custom machine builders. In response, a growing number of flexible technologies are integrate robotics with vision and intelligence. One example of this trend is Engineered Vision's Flex-Bot flexible feeding system, which combines a SCARA robot, machine vision system, flex feeder, hopper, robot end-of-arm-tooling (EOAT), safety system, and human machine interface (HMI) into a single product for HMLV parts feeding tasks.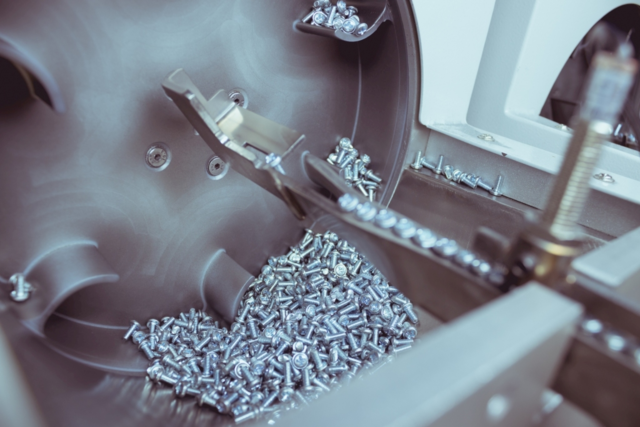 According to Engineered Vision, the Flex-Bot offers an alternative to single part vibratory bowl feeders by allowing for multiple part flexibility and additional orientation capabilities via robotic placement.
By pairing an Epson precision robot with its own machine building innovation, Engineered Vision designed the Flex-Bot to be an affordable, turnkey solution for manufacturers of all sizes. Capable of handling simple to complex parts sized from 5 to 40mm, the Flex-Bot can be used with a variety of materials, ranging from plastic and rubber to metal.
According to Engineered Vision, the Flex-Bot is suitable for applications such as: mechanical and electronic assembly; medical device handling and assembly; kitting, palletization, and tray loading; and material handling. The Flex-Bot also reportedly offers ease-of-integration by allowing users to program it for any number of applications using a point-and-click interface. Moreover, the need for special tooling is eliminated, as the machine is unaffected by minor part variations, giving it a significant advantage over more typical single part feeder bowls.
"The ability of the Flex-Bot to not only process parts of multiple sizes but also to easily become a part of any existing manufacturing line truly shows how this robotic cell is at the forefront of vision flex feeding technology," said Seth Brewer, head of business development at Engineered Vision.
Flex-bot pricing begins at $75,000 and includes programming and installation services, as well as a 1-year manufacturer warranty.
"Turnkey deployments of flexible automation systems with this capability do not exist for $75,000," said Chad Stroud, president at Engineered Vision. "The Flex-Bot is going to help U.S. manufacturers compete in the global marketplace."
Epson also offers its own flexible feeder system that integrates robotics, vision, and flexible material handling requirements. Read more about Epson's Intelliflex series.
Companies in this article