When it comes to remote operations, process industries have some of the remotest, toughest conditions out there. Take that a step further—or higher or lower—and you've got mining. Control engineers are trying to get mining operations up and running high on mountain tops, out in the driest deserts, amid political unrest, or a mile or more below ground, struggling with connectivity or even power lines.
When trying to commission a new mine or upgrade an existing operation, chances are you want to make extra sure you get it right the first time.
Red Chris Mine is an open pit copper and gold mine in northwest British Columbia, Canada, owned by Imperial Metals. It's a remote location on top of a mountain, near Alaska. Spartan Controls, the integrator that worked to get the mine up and running about a year and a half ago, is based in Vancouver, B.C. To get to the operation from the southern part of the province requires three flights followed by a two-hour bus ride.
"There are a lot of challenges around logistics," says Andrew Yick, technical specialist and lead process engineer at the Red Chris project for Spartan Controls. "If something goes wrong in a junction box, the consequences of that can be pretty serious. It can be an entire week of delay." In a situation like this, testing everything beforehand was an essential aspect of commissioning.
Mines already are no small feats to bring online. But engineers at the Red Chris Mine found themselves under more pressure than usual when another mine in the Imperial Metals family had an environmental breach and had to shut down. "That plant was the main cash flow provider," Yick says. "This put a really big stress and compression on the schedule for Red Chris."
Like other process industries, mining is taking advantage of a shift to universal I/O to help make setup and commissioning easier and more flexible. With electronic marshalling technology from Emerson Automation Solutions (formerly Emerson Process Management), Spartan Controls was able to "design it once and build it many times," Yick says, placing junction boxes throughout the plant.
As if conditions weren't tough enough already, the mine also had no power lines at the site while trying to get everything set up. "They were building a new electrical line out to the plant, but it was going to be a couple months before we could get power," Yick explains. "So we said let's load the DeltaV database on a laptop and start commissioning with generators. We started commissioning loops without power to the facility, and got a two-month lead time on the project. We started in September [2014] and didn't get power to the plant until November."
Commissioning was done by February 2015 and the mine reached commercial production levels by July 2015, notes Thomas Gross, a process control and automation specialist in the Red Chris Mine. "For our company, it was really a big success to be able to run production in this short a time," he adds.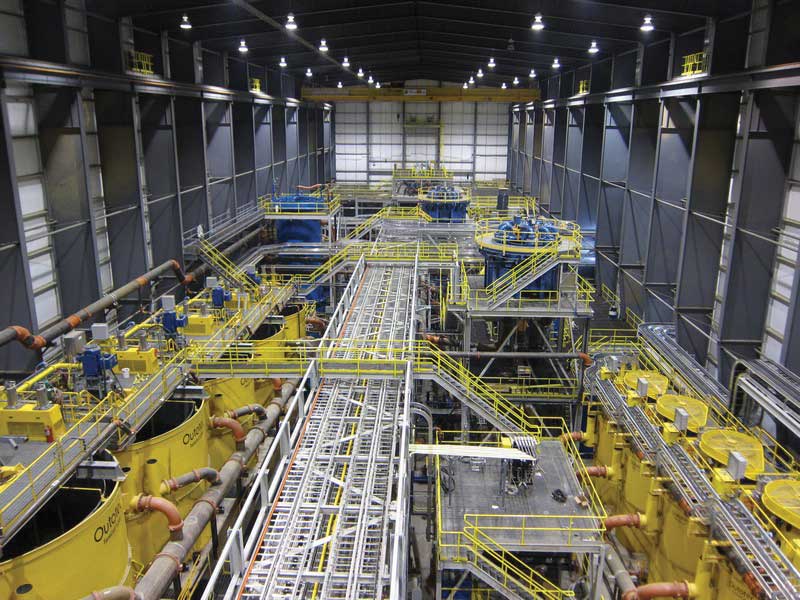 Cable trays at Red Chris Mine's flotation circuit, installed when the plan called for use of traditional marshalling, go largely unused now.
Electronic marshalling also provided considerable savings in time and cost. Spartan Controls estimated 3,380 hours of engineering time saved and 1,840 hours of installation hours saved—at a combined total of more than C$690,000 (~US$515,000). The cost of materials saved came to C$124,500 (~US$93,000), which was actually held back by the fact that the mine was initially designed for traditional marshalled engineering. "We put in standard cable trays throughout the plant, then didn't use them when we changed to electronic marshalling," Yick says. "So there was a huge cost associated with that—probably at least a half a million dollars of cable trays."
The driest savanna
Take a remote location and add to it dry desert conditions and political unrest, and you have mining conditions in parts of Africa. Another commissioning project that Spartan Controls was involved in took place in the dry savanna of Namibia, near the Namib Desert. With a mission to provide a reliable control system on time and on budget, Spartan again turned to electronic marshalling.
The engineering timeline was tight, and the on-site commissioning time allotted was even tighter, says Don Umbach, manager of process systems for Spartan Controls. A traditional workflow—waiting for a final I/O definition, having to make a cutoff decision that P&IDs are complete enough—was unlikely to get the job done.
The flexibility of electronic marshalling provides lower installed cost, lower project risk, fewer drawings, faster commissioning, and a decoupling of the hardware manufacture from project changes, Umbach notes. "It reduces the capital cost through engineering and installation even compared with good projects; but compared to projects gone bad, it's even better," he says.
And the situation at the B2Gold Otjikoto Gold Mine was not ideal, according to Jess Wilson, senior electrical engineer for Metso Minerals Canada. "It's the day before factory acceptance testing [FAT] and we don't have an I/O assignment yet," he laments. "We got the I/O layout the night before FAT."
But electronic marshalling and Characterization Modules (CHARMs) significantly reduced junction box engineering and eased change management. "It was really simple to add another CHARM I/O point where it made sense," Wilson says. "We could make on-the-fly I/O changes without affecting the cable organization or the overall project timeline."
And that timeline was tough in itself. "The commissioning timeline was very tight and we had a very small crew," Wilson says. "We needed to commission instruments extremely fast but with only one person on that task."
In the end, B2Gold had a highly successful commissioning of the Namibia mine—meeting the tight four-month schedule on time and on budget. Electronic marshalling ensured that late I/O assignments didn't impact the project, Wilson says, and engineering costs were reduced by close to 50 percent.
B2Gold now has another engineering project going on at the Fekola mine it acquired recently in Mali, and it will leverage electronic marshalling again, Wilson says. "It worked flawlessly. We never had a failure. I still haven't heard of any issues with it yet."
Anglo American's greenfield iron ore project in Minas Gerais, Brazil, used Rockwell Automation's PlantPAx process automation system to integrate each section of the project, including the mine, concentration plant, slurry pipeline, filtering plant and port. It was one of the largest mining projects in the world, with minerals piped through a 529 km pipeline. The project was also long in the making—seven years beginning in 2007.
That's a long time even for a mining project. People come and go, and bring different ways of thinking. Warranties expire, and field equipment starts breaking. In 2007, when the project started, the price for iron ore was about $100. Then it rose to $120, then $150. That really pushed the project to accelerate.
Ultimately, the standardized PlantPAx system helped to reduce commissioning and startup time. Standard faceplates and HMI reduced training time for operators and maintenance personnel, and communication streamlined support activities across the project.
Keeping it running
Of course, it's not just the commissioning process where mines need help. Like any other manufacturing industry, mines are being pushed to do more with less—dig up and process more precious metals in less time with the same dwindling workforce that all manufacturers are dealing with. But in many cases, they're trying to get all of this done well below the earth's surface, where Internet signals are loathe to go.
This is not to say that the mining industry is immune to the trends around the Industrial Internet of Things (IIoT). Under pressure to improve production efficiencies while also optimizing safety and asset security, mines are increasingly connected and making use of the information gleaned from Big Data.
Mines are embracing the Industrial Internet and Big Data not just to pull ore and minerals from the ground faster, but smarter as well, GE Digital notes. South African platinum producer Lonmin is using IIoT advances to get a better understanding of what produces bottlenecks in its smelter operation.
Rather than bring in new equipment to fix production problems, Lonmin invested in GE's Mine Performance software, built around the Predix platform. Using the system to monitor and evaluate the filtering and drying process, the company was able to increase throughput in the section that feeds the furnaces with raw material by 10 percent. Lonmin later decided to apply the same technologies to its slag plant, eliminating spillages and improving platinum recovery by 1.5 percent.
Just as Rockwell Automation speaks of the Connected Enterprise, the supplier has transferred that model to the Connected Mine. IIoT technology enables operators to collect, coordinate and share data internally to help improve decision-making and consistency. And with it getting harder to find skilled workers for remote areas in particular, remote monitoring helps to increase efficiency and safety.
It's not just the greenfield projects getting connected. Boliden's mine in Garpenberg, Sweden, which produces primarily zinc, lead and silver, has been in near continuous operation since 1354. Through ABB's System 800xA automation platform, it is now one of the world's most integrated and advanced mines.
Operators and engineers are linked to tablet-equipped workers through a wired and wireless communication network. This makes it possible for everyone to access the same data, notes Lennart Evrell, Boliden's president and CEO. Operators with mobile tablets have instant access to information to let them know if equipment a kilometer or more down requires attention.
Almost every device and piece of equipment is integrated into the 800xA, helping the mine to work with one brain, notes Lena Nyberg of ABB's Process Automation division.
The SmartVentilation system deep within the Boliden Garpenberg mine can vary the amount of ventilation depending on workers and equipment in the area, saving considerable energy costs.
Boliden continues to increase the level of technology at its disposal to make the Garpenberg mine more productive and also safer. Mine employees are tracked, as are trucks, to know their whereabouts at all times. Tracking the trucks contributes to the SmartVentilation system. Also integrated into the 800xA, knowing what trucks are where enables the system's variable-frequency drives (VFDs) to run blowers at just the speed needed.
Making the connection
Cisco, which partners with Rockwell Automation to provide a common network and security environment for mining operations, also makes reference to the Connected Mine. Cisco has had similar success with tracking workers and equipment at Goldcorp's Éléonore mine in northern Canada.
With Cisco, Goldcorp manages its communications and mining operations on one multiservice, secure IP network. With the ability to track people and equipment at all times, Goldcorp can respond to emergencies immediately, locate equipment, and manage ventilation. As miners and vehicles pass into various areas of the mine, the ventilation system powers on the fans only as needed, even adjusting the fan speed based on the carbon emissions expected from the specific vehicle type. This allows the mine to optimize ventilation and reduce energy costs. Goldcorp has been able to cut its air use in half over conventional ventilation systems.
The connected mining environment has also enabled remote diagnostics, troubleshooting and preventive maintenance. "The Cisco technology allows us to push the limit and raise the bar in terms of getting information out of the mine in a real-time manner, so that we can better control what's happening with our operations," says Pascal Morin, manager of technology and communications at Goldcorp, in a case study from Cisco. "Éléonore is our pilot project for this technology, and we are optimistic about applying the technology in other mines."
The mining industry is not one that typically leads others in the use of new technologies. But it is applying learning from other process industries to combat what are some pretty extreme environments around the globe. They continue to drive the technology to improve productivity and safety.
Companies in this article