If you've been to even one of the process-focused conferences or user group meetings held over the past several years—Emerson Exchange, Schneider Electric's Connect, Siemens Oil & Gas, Honeywell Users Group, ARC Industry Forum, you name it—you can't have failed to hear the directive coming repeatedly and forcefully from ExxonMobil: Standardize and simplify automation in the oil field; make commissioning easier, faster and cheaper.
Sandy Vasser, now retired facilities instrumentation and electrical manager for ExxonMobil Development Co., has long been on a mission to bring automation suppliers around to his list of demands. And those demands have been a huge factor behind the development of more standardized systems from all of the automation suppliers—suppliers that want a piece of the ExxonMobil action, that is.
Vasser was a key driving force behind several developments to come from automation suppliers over the past few years. Smart configurable I/O, remote I/O and virtualization, to name a few, will enable a more standardized approach to project execution. These technologies not only simplify the commissioning process, but also allow engineers to take automation off the critical path.
"All those things are technologies that allowed the contracting engineer that's doing the work for ExxonMobil to continue changing their designs and still allow us to build a control system," says Chris Lyden, senior vice president for process automation at Schneider Electric.
The problem
That's been the problem with project execution thus far. Not only has the typical project been overrun with hundreds of custom-engineered junction boxes and miles of wire and cable from the field, but work on automation often has to be done and redone as changes are made to facility plans.
"Invariably, an automation engineer makes all this progress, and then a process engineer or a machinery engineer makes one little change, and we have to go back to the beginning and redo many of the drawings," Vasser explained at last year's ARC Forum. "This doesn't just happen one time. It happens over and over and over again. Right up until startup, we're making changes."
The work must be done in parallel to compress the schedule, but those dependencies only add to the fact that projects in general are getting larger and more complex. With the lower cost of oil since 2014, lower returns make these projects that much more daunting. "The problem today is we can't make projects economic," Vasser says. "So we've got to come up with a different approach."
Off the critical path
That's the reasoning behind what's called "taking automation off the critical path"—allowing designs to be changed without making the automation team scrap their work over and over again. Smart configurable I/O (or universal I/O), placed in standard cabinets and/or field junction boxes, is a big part of this.
Whether called universal I/O, intelligent marshalling, soft marshalling, electronic marshalling, etc., all the key automation providers have introduced some form of this, enabling more flexibility for I/O changes even as projects near completion.
Other key technology pursuits, as outlined by Vasser, include:
Virtualization, to a broader extent than is being done already.
DICED I/O (auto-detect, auto-interrogate, auto-configure, auto-document) so that systems can be automatically commissioned without the need for human interaction.
SIS logic solver directly programmed using translated cause and effect. This product has actually been out for many years, Vasser says, but people weren't buying it.
Seamless integration between automation and electrical systems.
Use of smart I/O to replace control wiring for motor control centers (MCCs). This is an evolution of smart I/O that would eliminate most of the hard wiring.
Standard assembly to convert multiple discrete signals to a single analog signal (a need borne out of expanded use of smart I/O).
Simplified package interfaces.
Wireless field instruments.
Increased use of DC power to eliminate many of the inverters.
Overall the idea is to reduce customization, reduce complexity, reduce a lot of the dependencies, either reduce documentation or automatically generate it, manage risk, and develop and enable trust with suppliers.
All of these changes outlined by ExxonMobil Development are focused on upstream oil and gas operations. But on the downstream side, Don Bartusiak has led a similar charge for ExxonMobil's refineries and chemical operations. It's the same essential business problem—how to take costs out of the projects needed to deliver process control systems—and many of the demands are the same. But the perspective is somewhat different.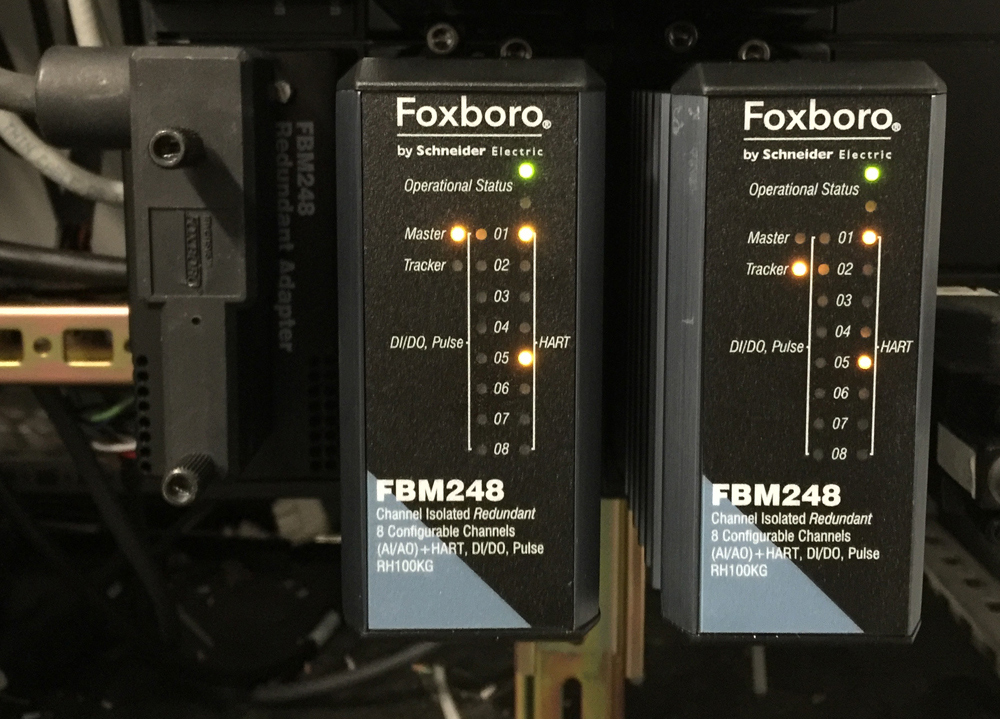 With the Foxboro Evo FBM248, Schneider Electric introduced redundancy capabilities to its Intelligent Marshalling, its form of universal I/O.​
While upstream is focused on getting equipment up and running quickly, a chemical plant or refinery is more concerned with keeping things running for decades to come, points out Alex Johnson, system architect for next-generation systems in Schneider Electric's Process Automation group. "So he's thinking: What can I do to minimize obsolescence without compromising production? How do we incorporate new ideas quickly and easily, and avoid the cost of bulldozing? What are you going to do to make that possible?"
ExxonMobil's downstream operations are facing the need to replace a significant percentage of its regulatory control equipment over the next 10 years, notes Bartusiak, chief engineer of process control for ExxonMobil Research & Engineering. It's critical to not only lower the cost of upgrading or replacing a DCS, but also to derive more value from that system.
"We're not getting enough value from the control system," Bartusiak said at the ARC Forum last year. "Over the last 20 years or so, the majority of plus-value applications for us have been deployed at the level of the computing stack above the DCS. It's an unequivocal fact."
Much of the concern downstream is around oil and gas producers being stuck with products and services from a single vendor, so the standardization drive centers around an open system that lets them effortlessly integrate best-in-class components, regardless of provider. It would also preserve the asset owner's application software, significantly lower the cost of future replacement, and employ an adaptive intrinsic security model.
ExxonMobil caused a stir in the industry early last year when it named Lockheed Martin as system integrator in the early-stage development of a next-generation open and secure automation system for process industries. This move had largely to do with Lockheed's experience with The Open Group's Future Airborne Capability Environment (FACE) Consortium, which had the kind of experience in the avionics industry that ExxonMobil was hoping to achieve in oil and gas.
ExxonMobil approached The Open Group to develop a similar consortium in process automation, and the Open Process Automation Forum recently kicked off (see "The Work of the Open Process Automation Forum").
Broader standardization push
Beyond ExxonMobil's specific drive for rethinking process automation, there's been a general push in all industries to standardize technology at various levels. It's been from industries outside of process, in fact, that ExxonMobil has drawn its inspiration, particularly telecom and avionics.
"The push for standardization comes from every stakeholder in the business because, put simply, standardization is proven to lower overall project costs and schedules," says Steve Royston, principal engineer at ABB. "Almost every industry—from pulp and paper to metals, minerals and mining—can and has supported standardization for many years now, and the oil and gas industry should be no exception."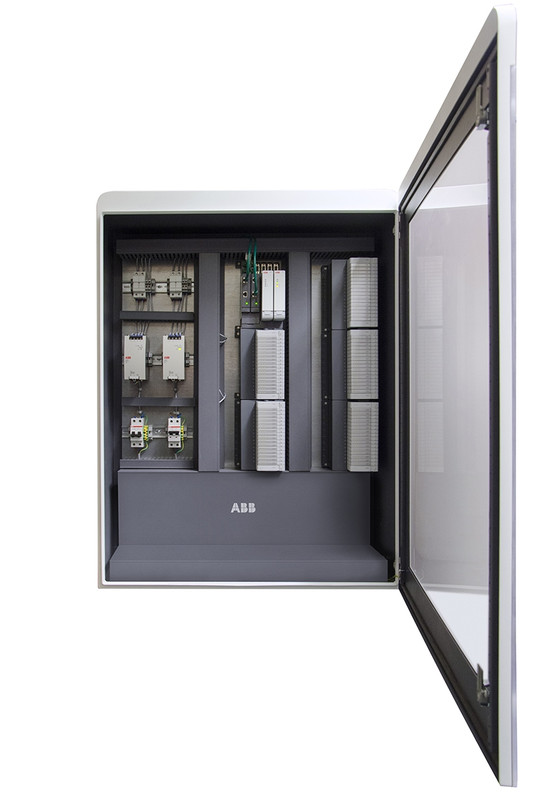 Select I/O and standardized cabinets allow ABB to further decouple hardware and software to make late project changes and decisions.​
Nearly every element of a project in the oil and gas industry can be standardized—from procedures and documentation on through to the human-machine interface (HMI). The major oil companies are uniting further and further on this point, says Dan Overly, vice president, global head of products for ABB Oil, Gas and Chemical. "They need to because it affects the EPCs as well, since they will have to change the ways projects are procured and designed," he adds.
The NORSOK standards, developed by the Norwegian petroleum industry, are a good example of the oil and gas industry recognizing the value of standardization, Royston points out. The intention is to replace specifications from individual oil companies as much as possible, helping to ensure safety as well as cost-effectiveness.
Out-of-control project costs
The need for standardization and other changes in project design and execution is based on a problem felt by all the major oil players—huge project cost overruns.
At the 2015 Emerson Exchange, Jim Nyquist, president of Emerson's Systems and Solution business, painted a clear picture of the need to bring project budgets under control. "We have a project crisis in this industry," he said, detailing how more than 65 percent of projects greater than $1 billion fail. They're at least 25 percent over budget or 50 percent over schedule. Some 35 percent of projects with smaller budgets are failing as well.
The plunging price of oil beginning in 2014 certainly has played its part in convincing oil producers they need to take a different approach, but it's been a longer time coming than that.
"Losing major money on poor projects hurts no matter the oil price," Overly says. The original proprietary nature of the industry came from protection of IP and the belief that unique approaches brought a competitive advantage, he says. "In some parts of the industry, that is still true. But on the commodity parts for the industry, that belief is going away."
The industry can't keep doing things the same way, Nyquist said in 2015. "The lower oil price might be the wakeup call that we get, but the way we operate needs to fundamentally change."
Regardless of industry segment, Johnson says, producers have seen the need to reduce the cost of a new project. "Whether greenfield or brownfield expansion, they've got to drive cost out of that," he says. "It's not easily achieved by looking at individual pieces of a project."
Vasser has said as much in his talks. Improving individual pieces of what the industry has already been doing will bring only incremental improvement. And that's just not enough.
Looking only at cost is also not enough. The push comes from the need to reduce risk and improve quality as well, Overly notes. "Less customization allows for mass production of standardized hardware and even software," he says. "This means more predictable performance in the final solution."
Standardization also removes the engineering effort required in designing, building and testing, which in turn lowers project costs and schedules. "Standardization de-risks projects and allows every stakeholder to reduce risk mitigation contingencies in their cost estimates," Royston says. "Standardization not only reduces the factory (capex) costs, it also reduces the total cost of ownership (opex). Standardization reduces the effort required by site-based engineers and operational staff to familiarize themselves with project-specific requirements and solutions."
The entire initiative is likely to create considerable disruption for the business models of automation suppliers. But Bartusiak thinks that, despite the challenges, suppliers could benefit from reduced systematic costs, increased margins by focusing on differentiating advantages, and a pro-competitive expansion of market opportunities.
"Accepting a standard means change on both sides—users and vendors," says Jörg Schubert, PACT technology account manager for ABB. But the forum's approach is in line with ABB's product strategy for its 800xA DCS, he adds. "ABB is quite active in different technology standardizations with the goal to guarantee interoperability of ABB products with different vendors' products to provide fully integrated solutions that meet the customers' needs best at an optimized cost."
As oil producers push for ways to drive costs down, the automation suppliers themselves have to find more ways to get their own costs down. As oil prices dipped, pressure increased for lower automation prices. As the price of oil comes back up, those automation prices are not coming along for the ride. Instead, they just have to get ready for the next crash.
"If they want to do the projects at the lower cost of oil, the justification becomes harder and harder," Lyden says. "What they're really looking for is productivity from their suppliers. So they push the suppliers to do things more cost-effectively. We have to be in this continual state of finding ways to do things more cost-effectively."
The Work of the Open Process Automation Forum
ExxonMobil's Don Bartusiak, Steve Bitar and others were back at the ARC Industry Forum this year to get more support for ExxonMobil's Open Process Automation initiative. In large part, that means rounding up more partners—end users, suppliers and system integrators—to participate in the newly launched Open Process Automation Forum.
Schneider Electric's Alex Johnson, who co-chairs the technical working group with ExxonMobil's Bitar, calls the Open Process Automation Forum the "biggest thing going on in the process world." Most of the major DCS vendors (minus, notably, Rockwell Automation) are part of the forum, along with end users like ExxonMobil, Aramco Services, BASF, Dow, Shell, Merck, Praxair and Koch Industries.
Who's not represented yet are the engineering, procurement and construction providers (EPCs), Johnson notes, but they're working on that. These are matters that profoundly impact both the supplier and end user, so it makes sense for EPCs to be involved as well. "There's got to be an impact on the guy in the middle," he says.
Bitar, R&D program manager for ExxonMobil Research & Engineering and the program lead for ExxonMobil's open architecture initiative, pointed out how the Future Airborne Capability Environment (FACE) Consortium—the model for this latest endeavor—went from zero to 90 members in only four years. "We're going to have to do something similar," he said at last year's ARC Forum. "That kind of pace is remarkable, and it sets the bar for us."
As of late January, there were 20 member organizations in the Open Process Automation Forum.
"We have to be able to demonstrate that we can do things with the new architecture that were very challenging with the old architecture," Bitar says. "And I think we have to do it collectively as a community, as an industry, working together."
The goal of the forum is to develop an open standard framework and reference architecture that should benefit any manufacturer in a continuous or batch process industry. In addition, the forum will create business models that will benefit the entire ecosystem.
Companies in this article