If you're looking for technology that's smarter, faster, smaller or easier to use, look no further than the controllers and industrial computers that sit at the heart of any automated system. Whether the computers that control industrial machines and processes sit within a programmable logic controller (PLC), programmable automation controller (PAC) or industrial PC (IPC), these foundations of automation continue to evolve as suppliers add new capabilities to each of these form factors.
Though the hardware continues to improve, software has become the most important aspect of industrial control, making previous questions about format increasingly irrelevant. "The debate over whether to use a controller or a PC in an application is now moot, because the same software development environment is used for both form factors," says John Kowal, director of business development for B&R Automation.
B&R is working to achieve a single point for control and visualization on a machine by integrating robots, motion, human-machine interface (HMI), logic and safety on the same screen, using a single processor and program, Kowal says. One of the ways the company achieves this is through hypervisor software, which allows Windows or Linux to run alongside its own real-time operating system.
The parallel processing capabilities of hypervisor enable a virtual network connection that allows applications to exchange data between operating systems. The technology lets users combine control and HMI applications on a single IPC, or to use an IPC to double as both a real-time controller and an edge controller that sends preprocessed data to higher-level systems and the cloud via OPC UA.
"Interoperability extends the control ecosystem far beyond the controller," Kowal adds. "The result is faster execution and response, and greater scalability and synchronization. By integrating all these systems, you can achieve better coordination and more efficient operation."
Control programming itself has become much simpler with mapp (modular application) technology, which B&R has incorporated into its Automation Studio. Mapp deploys modular, preconfigured and pre-tested blocks for basic machine functions. The company says this approach can reduce new machine development time by 67 percent.
In addition to last year's launch of a new family of compact, fanless IPCs, available in both cabinet-mounted and integrated touch panel formats, B&R also introduced networked safety and safe motion, control intelligence distributed down to the I/O slice for 1 µs response times, and the first mobile equipment control created in the same integrated software development environment used in industrial automation.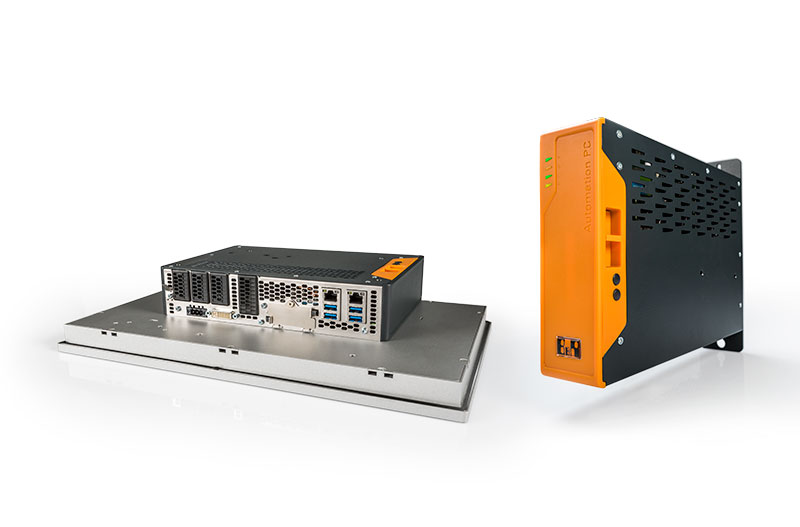 B&R Automation's new family of cabinet-mounted and integrated touch panel industrial PCs.
A common language
Think of it as an "easy button" for simplifying automation. That's how Dean Elkins, senior general manager of industrial robotics maker Yaskawa Motoman, describes the company's efforts to make it easier to integrate robots on the factory floor. "We're working to become language-agnostic, since more people know how to program PLCs than know robotics languages," he says. "To create a technology platform for programming across the factory floor, it's essential that you use the languages people already know. It makes robots easier to integrate into a company's existing skillsets and production systems."
That was the rationale for the company's introduction of its MLX300 software, which translates PLC commands into robotics languages. The language conversion tool consists of function blocks on a card that is inserted into a robotic controller. "You no longer need a black box, since everything is embedded in the robotic controller, which means you get more horsepower in a smaller package occupying less floor space," Elkins says.
Language conversion software enabled Red Devil, a maker of hand tools and products like caulk and spackling, to quickly automate its palletizing operations using a five-axis Motoman robot. Because the robot's software works in PLC ladder language in a single control environment with the PLC, no special programming or controller was required and redundant interfaces were eliminated. Red Devil employees are able to quickly change palletizing configurations for different products without help from a robotics programming expert or integrator.
IPCs keep shrinking
Though getting ever smaller, IPCs continue to expand their processing performance. One example, at just 132 x 132 x 67 mm, is the new Beckhoff C6030 IPC with a multicore processor. It combines an exceptionally small footprint with four core processors, capable of handling highly complex control of entire machines and robots, as well as the new TwinCAT vision software platform.
In addition to being 50 percent smaller than Beckhoff's previous compact IPC, this lower-cost version has available mounting adapters so that it can be oriented to line up with all incoming cables. This saves additional space while simplifying cabling efforts.
To accommodate OEMs looking to shorten time to market for custom-made machines, Siemens will begin manufacturing its Simatic Microbox and Micropanel IPCs this spring in Lebanon, Ohio. The compact, fan-free embedded IPCs will be built with sixth-generation Intel Core-i processors, providing a significant performance advantage for complex and demanding control, data collection and communication tasks. The IPCs offer a range of options, including CFAST cards, memory and operating systems.
The new IPCs will be assembled to the same standards used for units produced in Germany, undergoing more than 50 tests, including a 36-hour burn-in test for quality. They feature new configuration options, as well as high compatibility for easy integration into existing plants.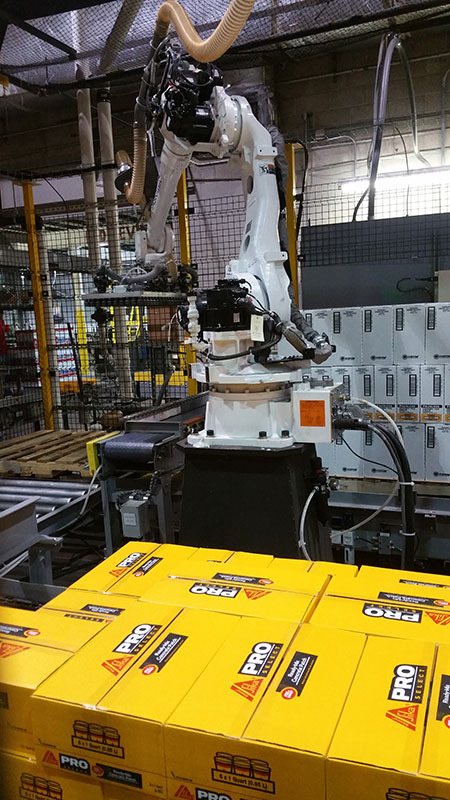 By translating PLC language into robotics language, a Yaskawa Motoman robot allowed manufacturer Red Devil to quickly automate its palletizing operations.
Scalability and safety
Two Rockwell Automation developments center around next-generation safety controllers, to be introduced in early 2018, and new scalable compute offerings that came to market in 2017.
By integrating safety on a high-performance controller, users can achieve faster safety reaction times, leading to shorter safe distances. It also helps to reduce the overall footprint of the machine.
The GuardLogix 5580 and Compact GuardLogix 5380 controllers, in combination with the Kinetix 5700 ERS4 servo drives, increase safety integration with drives and motion. They are capable of five safe-stop functions and three safe-speed monitoring functions, all over an EtherNet/IP network, leading to improved machine cycle times and reduced operator injuries.
The key scalable compute offerings include VersaView 5400 industrial computers and the Allen-Bradley ControlLogix compute module. The company will expand its portfolio in 2018 with the Allen-Bradley CompactLogix 5480 controller. These offerings combine Rockwell Automation control technologies with the Windows 10 Internet of Things (IoT) enterprise operating system, and they enable high-speed data access to ControlLogix processors via the backplane.
By driving compute functionality closer to the source of the information at the device level, these scalable compute offerings are designed to give operators more usable information to solve productivity and efficiency challenges and achieve desired business outcomes.
Small is powerful
The Productivity 1000, introduced in November 2017, is the newest stackable micro PLC from AutomationDirect. "This is the next, natural progression for our Productivity series of controllers and responds to customer requests for a smaller, less expensive version that still maintains the benefits they've grown to like and expect," explains Jeff Payne, automation controls group product manager.
Key features include tag-based programming; 50 MB of program memory that allows storage of all project documentation on the CPU; and built-in communications that include plug-and-play USB programming, EtherNet/IP and Modbus TCP industrial protocols, as well as serial (RS-232/485) and custom protocols.
The new micro PLC enables data logging up to 32 GB of process data to an optional microSD card and web server access to system status and data log files. The form factor, with ultra-slim I/O, allows users to easily mount the controller and its I/O on the local machine. A lower total cost of ownership is achieved, according to Payne, because the PLC's compact size reduces DIN rail and enclosure.
Another small PLC designed for powerful performance is IDEC's MicroSmart FC6A Plus, which the company introduced in January 2018. It can handle up to 2,060 local I/O, enabling it to control and monitor the largest machines or even entire small-scale manufacturing facilities. IDEC says the new MicroSmart PLC provides large PLC capabilities with simpler programming and implementation in a smaller, less expensive form factor.
It's one of the first micro PLCs with full-featured app access from any iOS or Android smartphone or tablet. The apps can be downloaded for free from the Apple App Store or Google Play, providing one-touch access and superior speed, but they can also be accessed via browser.
The WindEdit Lite app, for example, allows users to upload and download programs, monitor and control parameters in the PLC, monitor and clear PLC error status, start and stop the PLC, send and retrieve program and logged files to a cloud database, and manage the SD memory card. Access control can be configured with different layers of user privilege and passwords, and connection from a PLC to the app can be established using Wi-Fi Internet or Bluetooth.
The PLC can function as a web server when one of its two built-in Ethernet ports or the HMI Ethernet port is connected to the Internet. Default or custom web pages, each of which can be configured for remote monitoring and control, provide IoT capability.
Web pages are created within standard Internet Explorer, Firefox or Chrome web browsers using pre-built objects and symbol factors via simple drag-and-drop functionality, so no HTML programming is required. The PLC's Ethernet port also provides email and text notification functionality.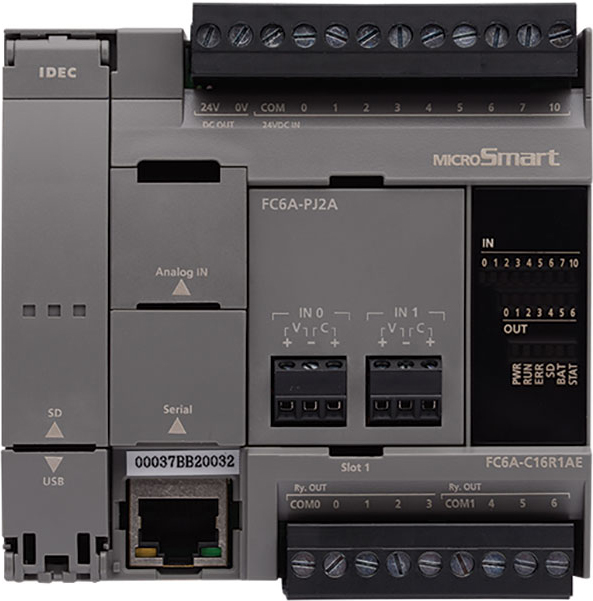 IDEC's MicroSmart controller can handle more than 2,000 local I/O.
Next-generation communications
Automation suppliers continue to expand the communications capabilities of their control products to meet customer demand for sending ever-larger amounts of data more quickly.
Bosch Rexroth, for example, is working with 10 other companies and the Industrial Internet Consortium (IIC) to develop standards and best practices for connecting devices in anticipation of 5G telecommunications, which are expected to start hitting the market as soon as 2019 with local network solutions. Wide area network solutions will take longer because telecommunications companies will need to upgrade their infrastructures.
"The development of Time-Sensitive Networks (TSN) and 5G will increase system reliability and throughput speed and reduce hardware costs, eventually extending machine communications to wide area networks," says Allen Tubbs, Bosch Rexroth product manager.
TSN is a method of communication that uses standard Ethernet where only the application level is unique. "This removes the need to alter the lower levels of Ethernet to achieve real-time communications," Tubbs explains. "That will make the protocol more important as far as interoperability and connecting, especially when considering devices already in the field. The nature of Sercos, the real-time fieldbus that Rexroth uses most often, means existing field devices won't need to be modified to use TSN, which can be directly accessed from the network architecture."
Technologies like augmented or virtual reality need high data throughputs to be useful, Tubbs also notes. "Communication reliability for real-time machine communications has typically been limited to local networks," he says. "Efforts to harmonize communication standards outside of the manufacturing sphere will allow collaboration with technologies that are optimized for the entertainment and business sectors. This will benefit manufacturing, making it more efficient, safer and, frankly, more interesting."
Companies in this article