If 90 operators at a wake boat manufacturer can produce 600 customized cushion parts a day, how many parts a day can one operator produce? That's a trick question. What Nautique found was that, without real-time visibility, management had a hard time gauging which operators were hitting their targets or what was a realistic cycle time for parts. Manual time studies were too costly and time consuming to deliver any actionable intelligence.
So Nautique made the leap and integrated a job tracking manufacturing app into its processes. Designed by the team's process engineer on the Tulip Manufacturing App platform, the app has empowered Nautique with real-time insights into everything from average cycle time to specific operator performance on individual upholstery assignments. Managers can now provide better coaching and targeted feedback, and the visual dashboards and key performance indicators (KPIs) have motivated individual workers to step up their game and try to outmatch fellow operators on the shop floor.

"Operators can now see how they are performing in real time, and compare that to their past performance and to their peers," says Joe Revels, Nautique's upholstery manager. "When they see themselves compared to their coworkers and see where they are on the scale, they want to do a better job. So it drives efficiency throughout the whole shop."
Nautique is part of a small but growing fleet of manufacturers introducing mobile apps to plant floor and maintenance staffers. Close to one-third of respondents to the latest Automation World survey are using mobile device apps as part of their production processes and as a means to interact with automation systems. Of the 30 percent that have gotten their feet wet, almost half are using more than one app. In fact, 13 percent have gone all in with four or more mobile apps.


Widespread deployment of smartphones and an incoming generation born and bred on mobile technology are paving the way for mobile apps, but the trend is still fairly nascent given the conservative nature of the manufacturing sector as well as limitations associated with legacy plant floor equipment that remains siloed and bound by closed, proprietary industrial networks.
"Five years ago, everything was done manually and you couldn't serve up data in apps because nothing was digitized," explains Jean-Philippe Provencher, vice president of manufacturing strategy and solutions for PTC.
Modern Industrial Internet of Things (IIoT) platforms like PTC's ThingWorx make it much easier to integrate and connect systems and create mobile apps that can open up this previously difficult-to-access plant floor data. "The challenge for the operator on the shop floor is that they often have to use five or more different systems over the course of their day, logging in and out of systems to get their job done," Provencher explains. "Apps help pull silos of information together and present it in context."
Though users are well acquainted with mobile apps on a personal level, there isn't the same familiarity with industrial mobile apps—another factor slowing acceptance, according to our survey results. Of those respondents who have yet to use a mobile app in the production process, more than 42 percent said that they were not aware of any apps that would be helpful to their operations. Nineteen percent are opting out due to concerns related to security and IT issues, including the headaches of supporting a Bring Your Own Device (BYOD) strategy. Currently, 41 percent of survey respondents are using mobile operator apps on company-supplied devices; 32 percent are using their own devices; and 27 percent use a combination of the two.
Nevertheless, most respondents were optimistic that mobile apps would have an impact on industrial operations at some point in the future—61 percent are just now at the beginning of the production app journey, with more to come. Only 14 percent of respondents chalked up mobile apps on the shop floor to little more than hype; and 9 percent said app technology has already reached its full potential.
"This is the stuff information workers take for granted," says Natan Linder, CEO of Tulip. "If you took away their apps, phone and computer, they wouldn't have a job. Why not provide the same capabilities for plant floor operators?"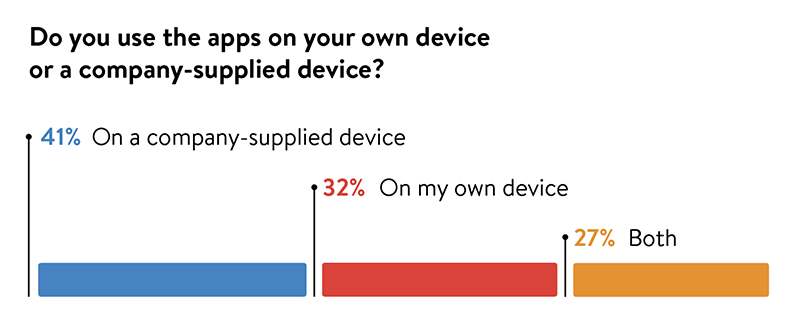 Real-time visibility
Empowering plant floor personnel, including operators, with the same anywhere/anytime flexibility and real-time information access as office workers was part of what drove Linder and his colleagues to create the Tulip Manufacturing Apps Platform. The platform is billed as a simple, self-service environment that allows process engineers and non-coders to create apps using drag-and-drop visual tools, Linder explains. It can deliver rule-based triggers based on events as well as analytics capabilities and an open framework.
Customers are leveraging the platform to create a range of operator apps, including those for smart work instructions, training, machine monitoring, root cause analysis of problems and even visual quality inspection. "Process engineers can create apps that help lower mistakes operators make with paper-based work instructions," says Saul Lustgarten, product marketing manager at Tulip. "They can use the app to get instant feedback from the tool they are using—for example, whether they are using a torque gun correctly or not."
Boat maker Nautique leveraged Tulip's platform to create an app that streamlines workflow for upholstery line operators. Source: Tulip
Among our survey base, respondents found that mobile apps were most useful for alarm notifications (45 percent), remote equipment management (39 percent), on-site management of production operations (35 percent) and insights into operating equipment (34 percent). Operator training is still at the early stages of mobile app usage, tapped by only 6 percent of respondents.
GE Digital is seeing an uptick in demand for mobile apps, according to Matt Wells, vice president of product management for GE Digital. Thanks to the web-based human-machine interface (HMI) on both its iFix and Cimplicity SCADA systems, GE customers can tap into in-plant mobile capabilities, allowing operators and technicians to leverage smartphones or tablets to do real-time monitoring of equipment from remote locations, get critical alarms and alerts for faster troubleshooting, and replace paper-based work instructions with more interactive and visual content.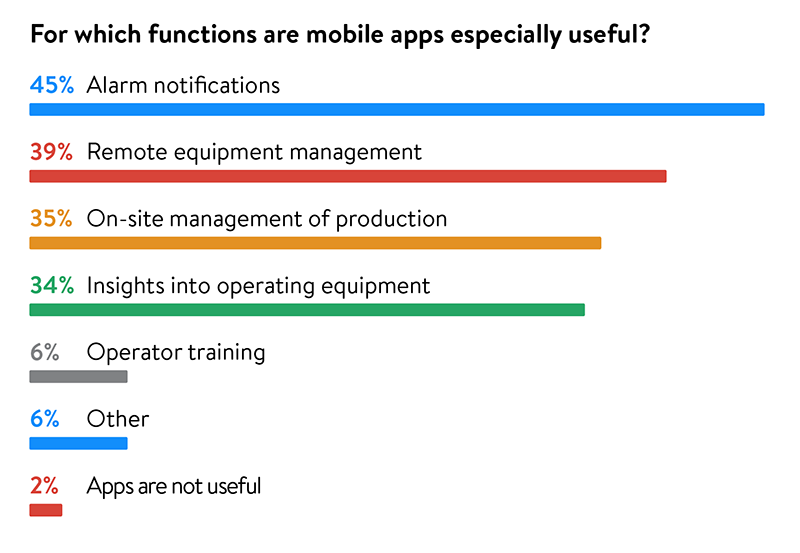 Leveraging mobile capabilities to assist in troubleshooting scenarios is where GE sees the most traction. "The biggest demand we see is for low-staff facilities or when someone is out of the plant or control room and they get a call for help," Wells explains. "Normally, an operator would have to radio back to someone in the control room to figure out what kind of changes to make on a process. With a mobile device in hand, they don't have to do that. So it reduces the amount of labor to run plants and the time it takes because they don't have to run back and forth."
Schneider Electric—now called Aveva, since its industrial software business merged with Aveva—has also experienced increasing interest in mobile operator apps from its customer base, mostly to access pertinent data in a read-only mode, not as a tool to directly interact or change a process, notes John Krajewski, Aveva's director of product management for HMI/supervisory control products.
As part of its early mobile app portfolio, Aveva offers Wonderware SmartGlance, an app that delivers historian and plant floor data to smart devices, providing real-time access to critical KPIs along with notifications so operators off the floor have direct insight into what is going on. Wonderware InTouch, the company's HTML5-compliant HMI visualization software, can also be accessed on mobile devices, although it's not a true app. Customers are currently tapping into InTouch on mobile devices in a read-only mode to interact with control systems for greater insights, and to deliver anywhere access; but it's still early in the adoption curve, Krajewski says.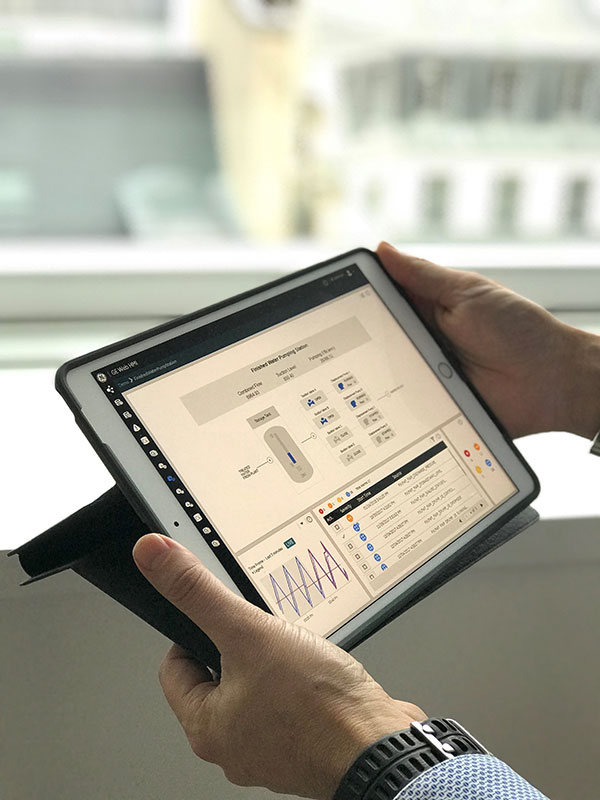 Web-based HMI capabilities for GE's iFix and Cimplicity SCADA systems allow for in-plant mobile access. Source: GE Digital
Moving forward, capabilities like augmented reality (AR) and IIoT will drive even greater use of mobile operator apps. Leveraging AR technology from its acquisition of MWPowerlab, Aveva sees potential for more intuitive and in-depth plant floor training or to aid service operators for maintenance tasks. "You will be able to provide the mobile operator information at the point of the asset while bringing in key information from a supervisory database and making it available on a headset or phone," Krajewski explains.
PTC is also banking on its Vuforia AR technology to enhance mobile operator apps over time for a variety of use cases—from more engaging and easy-to-follow work instructions to assisting operator maintenance. "AR is a natural evolution of apps for customers. It's just a more efficient way of delivering the same data to different people, whether they are a maintenance operator or a plant floor manager," Provencher says. "With work instructions in an AR experience, you can look at a process assembly and have an overlay right on top of it of the next part, which makes assembly instructions very clear."
While its AR mobile apps are being developed, PTC currently offers the Navigate suite of role-based apps, which includes Production Advisor for real-time visibility into operational KPIs; Asset Advisor for a maintenance operator view, including alerts for remote troubleshooting; and Control Advisor, which allows control engineers to remotely monitor plant floor equipment.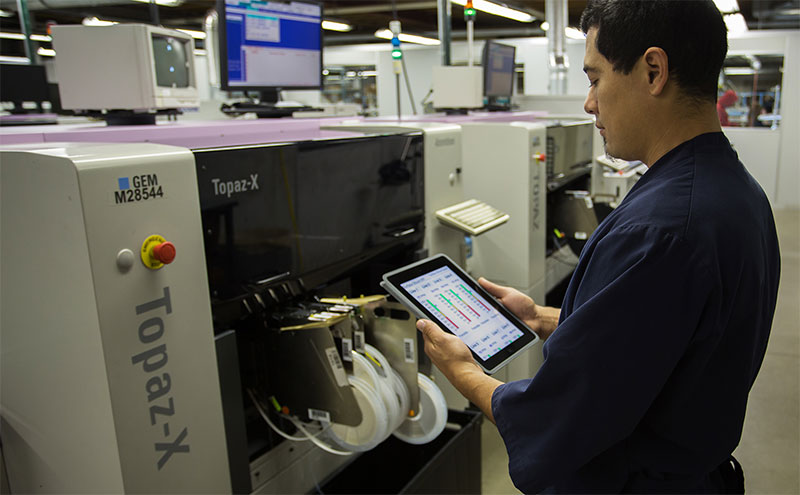 Groov is a zero-programming, web-based tool for building and deploying IIoT applications, including mobile apps. Source: Opto 22​
Challenges ahead
Despite the growing interest in operator apps, implementation hurdles lie ahead. For one thing, building mobile apps can be a challenge for many manufacturers, which simply do not have access to IT talent or the internal programming expertise required for design. That's where Opto 22 sees potential for groov, its zero-programming, web-based environment for building and deploying IIoT and edge applications, including mobile apps. Based on a Node-RED development environment, groov marries an industrial-rugged hardware platform, data visualization capabilities and connectivity support for multiple data sources, including devices, databases and third-party APIs.
"There are not many platforms out there that provide flexibility to create screens that are specific to your needs and simple to build," explains Benson Hougland, Opto 22's vice president of marketing and product strategy. "Typically, it means getting IT involved, getting developers experienced in Android or iOS, and building apps that you push through the app store. It gets complicated."
Connectivity is another obstacle because many manufacturers still have legacy industrial equipment that remains isolated due to the use of proprietary industrial networks, says Daymon Thompson, automation product manager at Beckhoff. "The first step in using apps is getting devices connected," he explains. "Some facilities are just at the point where they are connecting equipment and data from various third-party assets."
Beckhoff's TwinCAT Windows-based control software supports more than 30 communications protocols, thus it can serve as a communications gateway for connecting legacy machines, Thompson says. In addition, the TwinCAT IoT Communicator app, released last year, extends the software to allow remote operators to monitor and analyze TwinCAT process data on their mobile devices.
Part of the reason that Nautique's team turned to the Tulip platform over a traditional manufacturing execution system (MES) or basic digital work instruction provider was because its ease of use and self-service capabilities addressed the key challenges associated with mobile operator app development, according to Drew Pope, Nautique's process improvement engineer. The upholstery app lets operators check out parts with a barcode scanner, work on them and check them back in upon completion. Plant floor management is now able to keep track of who worked on what part, what boat it was for, which order it was part of, and how long the part took to make.
"We can now have objective conversations about performance supported by the data we've collected via Tulip," Pope explains. "That lets us provide more valuable feedback and coaching to operators to help them perform better, and the data is driving a healthy competition between operators, which has increased their engagement and driven efficiency throughout the shop."
Now that it's no longer in uncharted waters, Nautique's plan is to move full speed ahead with mobile app development. "Following the success in this area, we're now expanding to other manufacturing areas as well," Pope says.
Companies in this article