It was the worst-case scenario. On March 23, 2005, hydrocarbon vapor encountered an errant spark and ignited at BP's refinery in Texas City, Texas. Fifteen workers were killed in the ensuing explosion, and more than 180 were injured. The refinery, the third largest in the U.S., was seriously damaged. The aftermath—both in human costs and damage to BP's reputation—was beyond measure. The harm is still being felt.
Workplaces have gotten a little safer since then, with a 1.5 percent overall reduction in serious accidents in 2017. But the numbers are still unacceptable: More than 5,000 workers were killed on the job in 2017—on average, more than 14 deaths in the U.S. every day. And the financial cost of serious workplace injuries has even grown—to more than $58 billion last year, a 3 percent increase over 2017.
Industry standards bodies have done much work in the past few years, and regulatory requirements are more stringent than ever. Automation vendors are even beginning to include safety as part of their Industrial Internet of Things (IIoT) and analytics technologies. In addition, physical safety devices are becoming smarter and more connected than ever.
Productivity and safety
The powerful machines that control processes represent increasing risk to the people who operate and maintain them, says George Schuster, industry specialist for Rockwell Automation. But the perennial perception that increased safety comes at the cost of reduced productivity is beginning to crack.
Modern integrated safety technologies incorporate standards and complement automation, turning the conventional wisdom upside down. "With the proper methods and understanding of the standards, we can improve productivity while also improving safety," Schuster says.
Paired with the introduction of new tools and safety controls, the growing recognition that safety need not reduce efficiency has helped raise the awareness of worker safety. "The industry is embracing safety at a face pace," says John D'Silva, safety technology manager for Siemens. "The technologies are getting better and better, more and more cost-effective."
The leading automation vendors are selling safety embedded in their core systems. To be successful with that requires an understanding of human nature and the ways people are likely to interact with the equipment they're using. "In order to do that the right way, we have to understand how people are interacting with the machine," Schuster says. "We have to choose the safeguard that does not decrease productivity."
One route is to make it easier for safety to be enabled. Rockwell Automation, for example, is incorporating passive safety mechanisms into its controls. The concept is analogous to automotive air bags (passive) vs. seat belts (which require action by the user). Passive safety measures are embedded in machine logic, so the operator does not have to take any action to enable the safety system, explains Steve Ludwig, program manager for safety and security for Rockwell Automation. The goal is to create easy, fast machine access that improves cycle and repair times while also promoting safety.
Safety products designed for easy human interaction are also making it possible to detect threats in environments that were previously inaccessible. Emerson's wireless Rosemount 928 toxic gas detector was designed to protect personnel at difficult-to-access or remote locations such as well heads or tank farms. The detector can be calibrated in a lab or on a benchtop, and the sensor and battery can be replaced without tools or declassification of the surrounding area, notes Ryan Bowlds, director of product management for flame and gas detection at Emerson Automation Solutions.
The instrumentation that Endress+ Hauser makes to control pressure and temperature in piping also has embedded safety capabilities that do not require human intervention.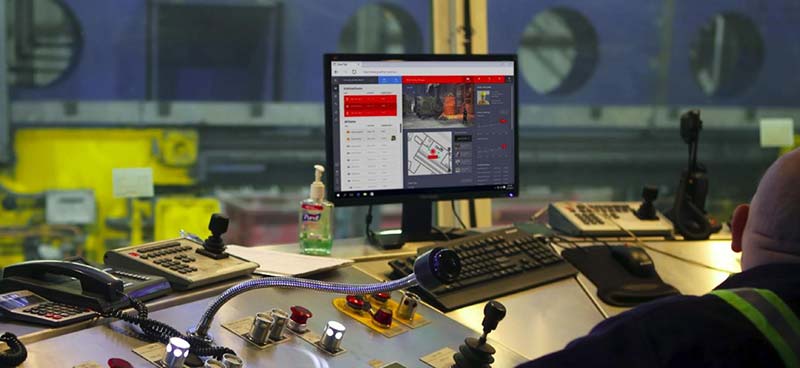 A safety operator monitors workers through the Guardhat web application.
Developing standards
Accidents like the one that happened in Texas City have propelled the development of standards designed to prevent such incidents. Governmental bodies such as the Occupational Safety and Health Administration (OSHA) monitor incidents and audit compliance under the basic principle that work should not hurt the worker. Industry-specific groups such as the American Petroleum Institute (API) also oversee safety committees responsible for creating safety regulations that are adopted both within and outside an industry.
In his role as a national product manager for Endress+Hauser, Dean Mallon works on standards with API and other organizations. API 2350, for example, covers overfill protection in tall-storage fuel vessels of the sort that caused the Texas City explosion.
"We help mitigate risks to worker safety," Mallon says. "You can never eliminate them completely."
Another standards effort, the Industrial Internet Consortium's Connected Workforce Safety testbed, is working to demonstrate how IIoT technologies can be used to improve worker safety and well-being.
"The goal of the testbed is to evaluate how sensors, IoT, analytics, edge computing and advanced communication technologies all come together to improve worker safety and productivity," says Madhu Pai, lead on the Connected Workforce Safety testbed. He also leads global IoT partner engineering for system integrator Wipro.
The convergence of these technologies, along with highly scalable and cost-efficient data storage in the cloud, is opening up possibilities for safety applications that would have been unimaginable just a few years ago. "Sensors are now very cheap and ubiquitous," Pai says. "Advanced data analytics capabilities are available to address the business outcomes of safety and productivity."
For example, a manufacturer might do time and motion studies to understand worker movement, enabling it to introduce sensors at different locations to sense when something is going wrong. They can immediately alert the line manager to make a quick decision on what to do—before an accident happens.
Vendors are also introducing sensor technology into personal protective equipment (PPE). Pai's group is working with a manufacturer called Guardhat on hard hats that contain sensors. Guardhat systems can sense an array of things, including hazardous gases, biometrics, slips and falls, geofencing violations, proximity issues—or even a forklift gone awry. "There are SOS signals integrated into the hard hat itself," Pai says.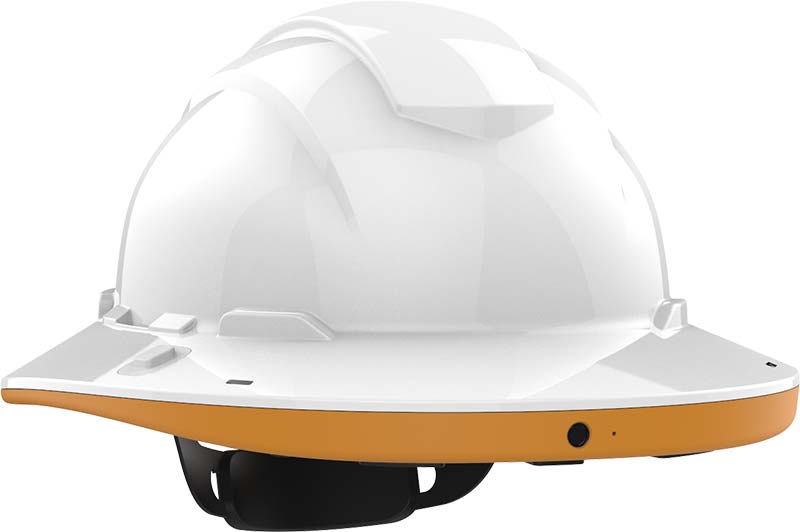 Guardhat hard hats contain embedded sensors that can detect a wide range of conditions affecting worker safety.
The Guardhat system integrates with a wide range of PPEs via an Android app and also has a tag version that can be worn by itself, according to CEO Saikat Dey. This technology provides a human-centric, rather than device-centric, view of safety.
Data from sensors and IoT technologies constantly provide actionable insights to the worker and supervisor on worker motion and the environment, Dey says. Insights yielded by this data can be fed back into worker safety training initiatives, so the information provided to the worker is up to date on recent near misses, injuries, hazards and fatalities, and contextually relevant to the worker's job profile.
The illusion of safety
With the ascent of advanced safety technology, one problem has arisen, especially at large manufacturers. As controls and safety systems become more complex, they are being applied incorrectly. There's a widening disconnect between the environmental health and safety (EHS) staff and the control operators. Most organizations, even the largest, lack cross-functional safety and risk teams, which increases overall risk, according to Jeff Winter, a consultant and director of the safety practice at Grantek, a system integrator. A department head might check off "safety" on a new control but know nothing about how the feature works.
"Most companies don't have good standardization of how safety is supposed to interface with engineering," Winter says. "As technology progresses, there is a larger gap of ownership between those two things."
The lines used to be clearer. For example, a machine might once have had a metal barrier in front of it to protect workers. Now, there might be a laser scanner built in that delineates a shape within which it is unsafe for a worker to go. But control engineers often can't explain how the technology works or how it fits with standards and policies, and EHS staff is often unaware of what is being used.
"If no one in EHS is familiar with the safety technology, how can EHS develop proper policies, procedures, training and inspection protocols to keep employees safe?" Winter asks.
Winter frequently educates EHS leadership teams at Fortune 500 companies about new safety technologies and how they are making their way into a company's manufacturing processes, whether they realize it or not. Take laser scanners, for example. "Most laser scanners have the ability to program many zones or 'shapes' in their software, which are often automatically changed based on what a machine is doing at that particular moment," Winter explains. "If you didn't even know this was possible, how can your training and policies be right?"
Closer collaboration is needed between engineering and EHS. "The worst thing that can happen is having some new really great safety device accidently misapplied that, due to a lack of understanding, ultimately just creates an illusion of safety," Winter says.
Safety features are now being built into many automation devices and programmable logic controller (PLC) platforms, both driving down overall hardware costs and opening up the possibility for more advanced, productivity-enhancing systems. This development is shifting the specification and purchase of most safety systems away from EHS personnel to engineering teams.
"Ten years ago, it was quite costly to add safety to a machine, and usually required an entire rework of the machine," Winter says. "Now, safety is quite often an option in software that you can choose to utilize."
In addition to such technology advances, better organizational governance is needed to make sure built-in safety features are taken advantage of.
Industrial safety today incorporates the idea that machines can complement workers—combining the tirelessness of the machine with the adaptability and intelligence of humans. The latest safety system designs harmonize with the tasks that people need to perform.
"The promise is to create systems where the person and machine can interact in a much more intimate way to get a complex task done safely," Ludwig says.
Companies in this article