Elizabeth Hawkins grew up on a small farm in Ohio. She and her siblings are the family's seventh generation to work the 1,000 acres of corn, soybeans, wheat and hay, so she understands the importance of crop yield and its direct impact on a farmer's livelihood.
In recent years, the Hawkins family farm—established in 1814—has evolved from conventional to genetically modified crops to increase productivity and profitability, and has moved from traditional tillage to no-till practices to better manage the soil. Now run by Hawkins's father and brother, the farm also now manages resources via global positioning system (GPS) for planting and spraying. And, just this past fall, they added a yield monitor that combines the GPS with sensors to collect data on crop performance.
Yield monitors measure and record such information as moisture, area covered, and global location, all of which are displayed in colorful maps. These maps reflect data, but not knowledge. The map can't explain why one area is producing more than another—it would have to be fed into an agricultural intelligence tool to do that. But the bigger problem is that the data is not even complete enough to analyze.
Hawkins, however, is on a mission to change that.
Today, as a graduate student in Purdue University's Department of Agricultural and Biological Engineering, Hawkins is researching data collection and processing. She is developing methods that ensure the quality of the metadata unearthed related to soil type, topography, weather conditions, herbicide information, and even planting maps locating where each seed went into the ground. All of this will help farmers make better decisions.
"If I can provide farmers with an easier way, or even a list of things to be aware of when in the field in order to collect information that will add value to the yield data at the end of the season, I'd be happy with that," Hawkins says.
Eventually, once the quality of data is consistent, she sees a time when Big Data analytics—among other technologies—will play an important role in the smart farm of the future.
Farmers, while still very focused on cultivating crops, are just like manufacturers in the sense that they are turning to wireless technologies, automation, and eventually the Internet of Things (IoT) and analytics, to stay competitive and create sustainability. They must contend with regulatory pressure related to water consumption, and the traceability and safety requirements of the food and beverage producers they serve (see "Barilla Embraces the Connected Food Movement").
But most importantly, they are faced with finding new ways to produce more food for more people with limited natural resources. After all, there will be some 9 billion people in the world to feed by 2050.
"The complexity of the field is similar to what you find in an industrial environment," says Adam Setzler, McCrometer's product manager for Connect, a wireless remote tool for irrigation and crop management. "There are so many little data points and pieces of information. Being able to assimilate it all in order to make the right decision is very challenging."
Taking technology to the field
Farmers are paying closer attention to technology as a way to enable precision farming, which is the ability to produce more yield with fewer resources. To that end, they are using flow measurement and sensors to monitor irrigation systems or soil characteristics. And harvesting combines can be connected to controller area networks (CAN) to report on data collected.
But to dig deep into that data is a cumbersome task for a farmer. Let's face it—there's no IT department back in the barn. So many of them are leaning on vendors to help collect and manage the data. And that requires a communication infrastructure, storage, processing power and more.
Companies like McCrometer, which makes flowmeters and wireless telemetry products for agriculture applications, not only provide parts of the communications infrastructure, but also the backend database. Sensors in the fields and remote terminal units (RTUs) sample, select, store and then transmit data back to McCrometer's centralized database. Customers don't have to manage the data. Instead, they can securely log in to access their information from a mobile device or desktop to see historical data trends or current crop patterns.
In one example, Briggs and Eggers Orchards in Arizona uses McCrometer tools to protect apples, peaches and pears from frost during a sharp temperature drop at night. McCrometer Connect tracks critical low temperatures via weather stations, and farmers monitor status using a smartphone. If a critical temperature is hit, Connect triggers frost alerts sent out via email or text to voice messages, as well as location information to help managers identify which wind machines to activate for frost protection. According to co-owner Lance Eggers, during a severe freeze one year, they were able to minimize frost damage to 20 percent of the crop while neighboring fields without this type of alert system lost 80 percent of their crops.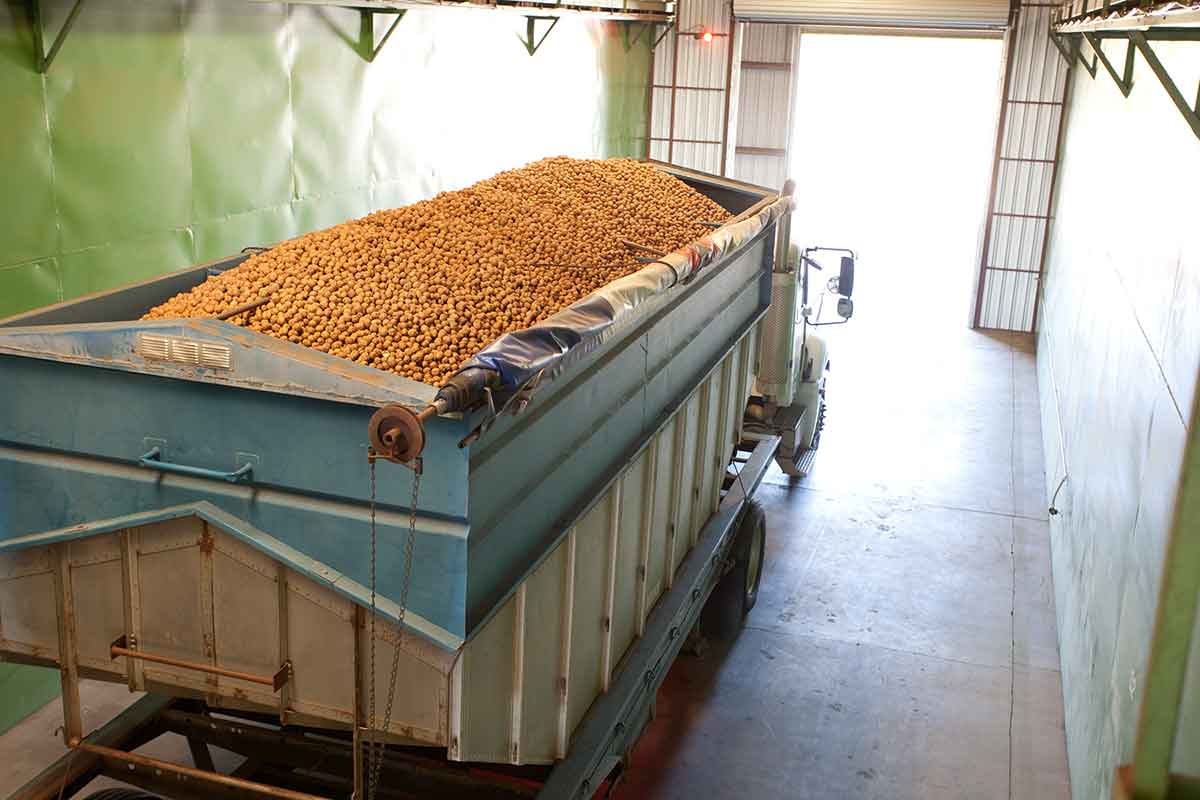 By monitoring the moisture of the bins and automating door controls, Fedora Farms is able to dry walnuts to the exact requirements and immediately ship them out to free dryer space.
Similarly, control technology from Opto 22 helps walnut grower Fedora Farms manage the moisture level in its bins. Walnuts keep well when holding below 8 percent moisture. But under-drying the walnuts can cause rot or mold, and over-drying can be costly.
"As with any agriculture product that needs to be dried, you get paid for the weight," says Don Osias, a system integrator at Applied Instrumentation in Concord, Calif., who worked on the original drying automation project at Fedora Farms. "If you dry 2 percent more [than needed], you just gave away 2 percent of your income and paid the power company for doing so," he says, referring to the energy consumption costs.
The drying facilities are large, but built to be inexpensive because they are only used for six to 10 weeks per year. Automation helped scale down the cost.
Originally using older Opto control technology, the drying bins were eventually upgraded to the company's SNAP programmable automation controller (PAC) system to monitor moisture levels, open and close the bin doors, and turn off fans and burners when no longer needed. "Any individual bin can start and stop without having to run the facility in batch mode," Osias says.
In this setup, Fedora Farms was able to drastically reduce energy consumption—using half the energy it did in the 1970s—while ensuring the quality of the walnuts.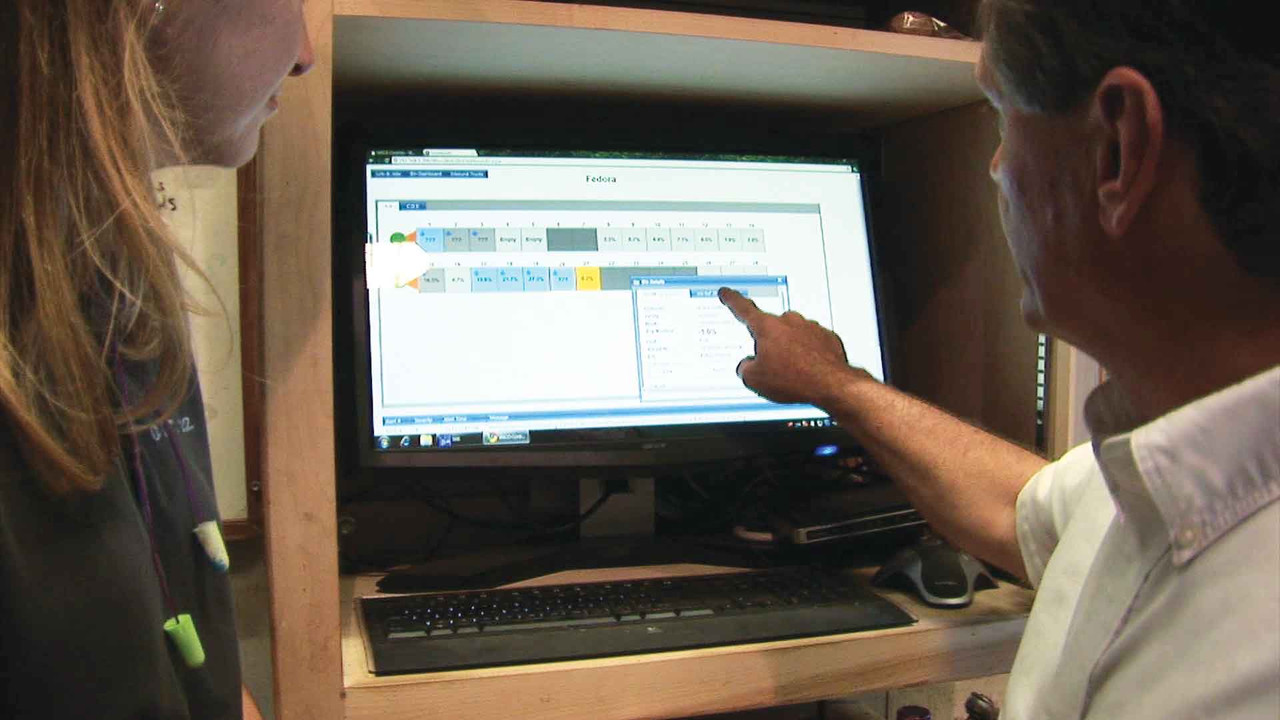 At Fedora Farms, walnuts in multiple bins are monitored for moisture content. The information from each bin is sent to a PC so that an operator knows how the drying process is progressing.
Osias started this project 30 years ago, making Fedora Farms a very early adopter of automation. But farmers are jumping on the automation bandwagon quickly. The issue, however, is finding equipment that can scale from small to large jobs as well as integrate with a variety of other vendor equipment, he says.
The theme of integration extends beyond the physical equipment to the variety of data excavated from the earth that will need to be shared across the supply chain. Ultimately, it would be best to take all of the information rooted in the ground and store it in the cloud to be accessed and analyzed. But first, there need to be privacy measures in place, because farmers—like manufacturers—are a sensitive bunch when it comes to sharing proprietary information. And second, there needs to be an industry standard for transferring and storing information generated by a variety of vendor applications.
The good news is that new research and infrastructure developments are underway to solve both of these problems. The bad news is that it's unclear how ubiquitous the emerging standards will be or, more specifically, if farmers will adopt them. And with a variety of organizations working to solve the same problem, it feels very similar to the work going on by different groups to solve the communication gap of the IoT.
As safety regulations and supply chains tighten, the question remains: Are the agriculture and food processing industries solving interoperability issues or facing a possible standards war?
"Different groups are looking at how we as an industry can set up standards for data so that it is available to combine and use in new ways," says McCrometer's Setzler. "And the industry has different opinions right now. But they [agree] that the grower owns the data.
Cultivating common ground
At Purdue University, the work that Hawkins is doing is part of the Open Ag Technologies and Systems Group (OATS), which is working to align the many layers of data in the field to help farmers make better decisions.
What are the layers? Start with a single spot in the field and all the elements influencing it—from the weather before and after a pass of a combine over it to the chemical applications applied, the machine settings during planting, and how deep the seeds were set in the soil.
The goal is to collect better data to feed Big Data. "Everyone is waiting for the promise of Big Data in agriculture to be delivered, but the truth is that much of the data we deal with is poor data," says Dennis Buckmaster, a professor of agriculture and biological engineering at Purdue.
Ultimately, the core of agriculture is logistics. Getting the seed in the right place at the right time, applying the chemicals at the right time and rate, and harvesting at the right time. "If we can generate some applications and data collection approaches that improve logistics, then people will immediately collect better data," Buckmaster says. "When we have better data, the longer-term promise of Big Data will be more fruitful."
Taking it a step further, OATS is working with the Open Ag Data Alliance (OADA), which is developing a data ecosystem for agriculture that enables security, interoperability and privacy. The data may be stored in the cloud, but OADA is not about the cloud. "It's about the application program interface (API)," Buckmaster says.
According to OADA, the representational state transfer (REST) API specification will allow data from any precision agriculture platform in any format to be easily exchanged. The API combined with the industry standard OAuth 2.0—an open access authorization protocol—will have common data sharing semantics that ensure only farmer-approved trusted agents or vendors can have access to the farmer's shared data. The API will have operations that allow data to be shared both permanently and temporarily as the farmer sees fit. It also enables farmers to choose best-in-class products from precision agriculture vendors with confidence in the data security and privacy and no danger of vendor data lock-in.
Similarly, AgGateway, a non-profit consortium focused on reducing the cost and complexity of managing data between growers and retailers, has developed the Ag Industry Identification System (AGIIS), an interactive database that holds reference data for conducting electronic business. AGIIS contains identifiers for more than 140,000 agricultural products ranging from crop protection chemicals to seed and fertilizer. These identifiers are used to support business transactions such as electronic ordering, sales reporting and product tracking.
In addition, to deliver on the promise of precision agriculture, different manufacturers' hardware and software must be interoperable. AgGateway's answer is the Standardized Precision Ag Data Exchange (SPADE) project, a framework of standards to simplify mixed-fleet field operations, regulatory compliance, crop insurance reporting, traceability, field or crop revenue management, and sustainability assessment.
Sustainability is a small piece of the puzzle, but when it comes to the big retailers, it's just as important as food quality and safety. So many farmers are feeling the pressure to turn to technology for survival—literally.
Feed the world
There is a critical need for sustainability in agriculture. According to the Food and Agriculture Organization of the United Nations, food production must increase by more than 75 percent over the next 30 years. We can go the route of genetically modified crops or create a farming system that is more sensitive to resources. But it's not all on the farmers. The entire food chain—from the seed provider to the restaurant owner—must work together.
Enter Field to Market, an alliance focused on supply chain collaboration to define, measure and advance sustainability in agriculture. It has a common set of metrics as part of its Fieldprint calculator to measure sustained improvement of land use, greenhouse gas emissions from cropland, water quality and sustainability, soil conservation and energy use efficiency.
Right now, farmers can go online to access the Fieldprint calculator and enter information. In the future, it will be more interactive. "We are moving to a place where the calculator will be more of a broader platform integrated with other tools and software increasingly used by farmers to organize their information about how they are farming, the kinds of products they are using, fertilizer applied, seed varieties and even yield monitors coming off the tractor when harvesting," says Rod Snyder, president of Field to Market.
The information collected can eventually be used for Big Data analytics. "We are not going to be Big Data managers ourselves, but we need to understand how this is evolving in the industry," Snyder says. "Not all data is created equal. If it is not calibrated properly with the right context, it won't be useful."
Elizabeth Hawkins agrees. "I spend a lot of time looking at how a combine operates, and there are inherent errors in yield data because of the combine," she says.
The biggest obstacles farmers may have today have nothing to do with technology and analytics, but with digging out more valuable and accurate data from the field.
Companies in this article