It wasn't so long ago that many in the automation industry insisted that Ethernet would never extend to the sensor level; that instrumentation and sensing would always remain within the fieldbus province. Today, Ethernet is, in fact, making inroads within the smallest devices at the tail end of the automation system—but how to best do that is still hotly debated.
With the advent of deterministic Ethernet protocols and zero failover redundancy protocols, some industry suppliers contend that the time is right to develop sensors that connect with EtherNet/IP, the Ethernet protocol managed by ODVA. Other suppliers have no plans for Ethernet-enabled sensors, saying IO-Link, HART or WirelessHART can connect sensors to control systems and, from there, into an Ethernet network. Some suppliers serving process industries have banded behind potential new standards that could bring Ethernet to the sensing level via fieldbus connectivity.
Ethernet end devices—including sensors and I/O drives—will play a "pivotal role in the connectivity-enabled business strategies of the future," wrote Chantal Polsonetti, vice president at ARC Advisory Group, in a blog post earlier this year. She follows the Industrial Internet of Things (IIoT) space, including industrial Ethernet switches and devices. To extend the reach of enterprise analytic capabilities, she says, industrial Ethernet must be extended to the last devices in the automation chain: sensors and I/O.
As executives look to leverage plant-floor information to a higher degree for business decision-making, they're turning their attention to the type of granular intelligence and performance capabilities end devices like sensors and I/O can provide. The capability to funnel data to cloud-based applications further fuels the need for Ethernet-enabled end devices capable of large data throughput and standards-based integration—tasks that fall beyond the capabilities of most dedicated legacy automation networks, Polsonetti writes.
Industrial Ethernet devices are up to the job of serving the needs of IIoT and Industry 4.0, "cementing its position as the industrial network platform of choice going forward," Polsonetti adds. "Both initiatives rely on connectivity and integration to fuel critical business drivers, such as reduced machine downtime and production flexibility, and both Ethernet and wireless will be primary enablers to those ends."
Positioning: A place to start
Automation supplier Turck made its first foray into Ethernet at the sensor level just over a year ago, with the release of its RS-107/108 and RM-105/106 EtherNet/IP encoders.
The RM-105/106 EtherNet/IP encoders, released early
last year, were Turck's first foray into Ethernet at the
sensor level. Source: Turck​
Advances in industrial Ethernet have enabled new sensor applications, says Tony Udelhoven, Turck vice president. "People thought Ethernet would stay at the network level for behind-the-scenes intelligence gathering. But with the increased network speed, the data can get from the sensor or the point of action at the speed of the application," he adds. "Before, there'd be a delay, so you needed to plan ahead in order to interpret information."
In the past, the challenge for industrial Ethernet networks in automation has been in achieving the required speed, agrees Matt Hankinson, marketing manager for MTS Sensors. Typically, the Ethernet packets exchanged on a network do not come with consistent delivery times at a level required for automation applications. In addition, the requirements vary for different types of components. Drives and other high-speed devices, for example, might require update times of 1 ms or faster. Other devices, such as controllers or terminals, might only need 10-100 ms updates, he says.
MTS Sensors brought EtherNet/IP connectivity to its model RH and RP high-accuracy linear position sensors, which are part of the company's R-Series of magnetostrictive sensors. MTS recertified the series in accordance with ODVA's EtherNet/IP CT12 composite conformance test revision, enabling the upgraded devices to interface with a broader spectrum of EtherNet/IP-compliant hardware.
The Turck encoders offer a compact EtherNet/IP encoder with device-level ring (DLR) capability, Udelhoven says. For position applications that require feedback, the encoders are an optical-based product with electronic multi-turn capabilities for customers using the EtherNet/IP and Common Industrial Protocol (CIP) interface, he adds. Common applications include automotive production, logistics, metal processing, textile applications, and printing and packaging machines.
Industrial Ethernet also has the potential to grow for sensor connectivity in the factory setting because it offers shielding and robustness against harsh manufacturing environments, Hankinson says.
Cost considerations
Though Ethernet-enabled sensors might become more common in the future, not all sensor types will likely become Ethernet-ready, Udelhoven says. "We're thinking about other sensor technologies in which we could provide Ethernet with benefit," he says. "But the only one we have today is the rotary encoder, which allows for speed, direction and velocity, and setting limit alarms."
Cost is a big consideration. "An inductive proximity sensor—which is basically a switch that senses a target—I can't imagine being Ethernet-enabled because the cost isn't there for what you'd get out of it," Udelhoven says.
For a complex device that requires configuration, diagnostics and setup, on the other hand, Ethernet could deliver value, Udelhoven says, offering a temperature sensor as an example. "In its simplest form, it senses temperature. But certain sensors can be configured so the temperature of the process is kept between certain limits," he says. "That needs to be programmed by hand. And if it's integrated with EtherNet/IP, it could be configured over the IP network."
Cost is a considerable factor that could keep Ethernet from making much headway at the sensor level in the long run, according to Sandro Quintero, product manager at Festo. "I think Ethernet is a trend for the communication protocol or for the controller, but not to the sensor level," he says.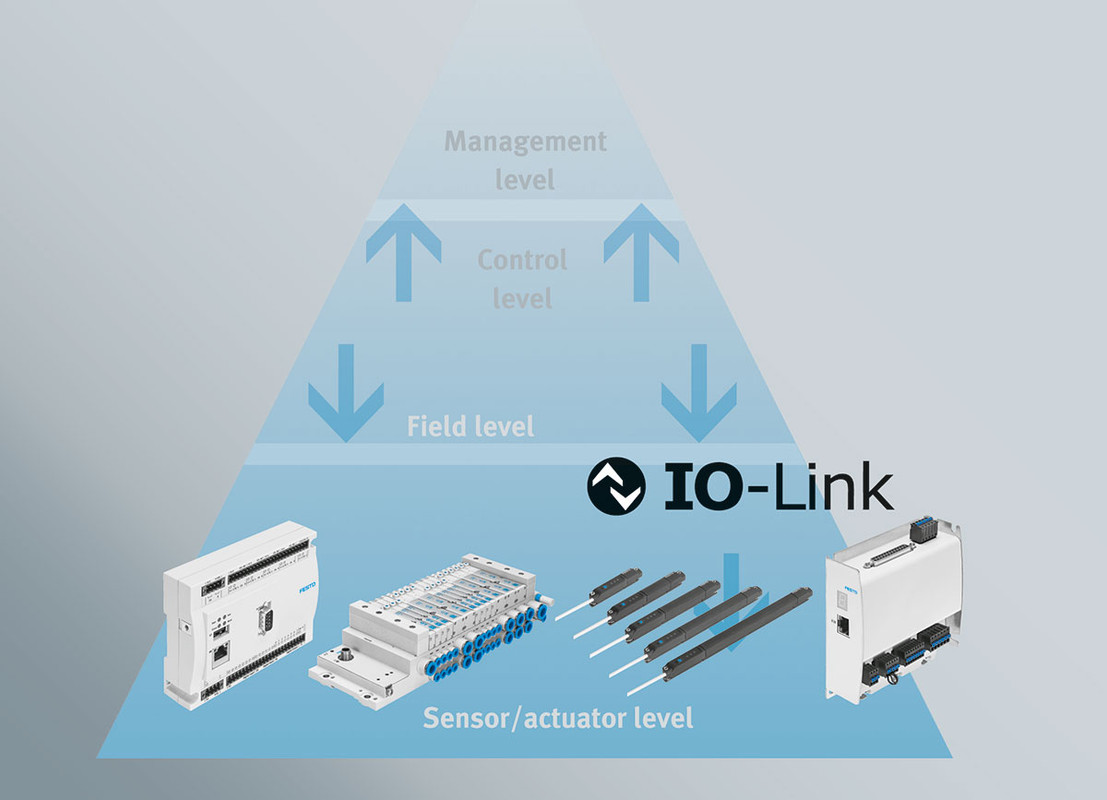 Standardized IO-Link technology makes communication with sensors and actuators simple and economical. IO-Link enables point-to-point communication between field devices and the automation system. Source: Festo​
For discrete applications with large numbers of sensors—such as packaging or automotive—it's too costly for companies to replace existing instrumentation with IP-enabled devices, Quintero says. Rather, the IO-Link device communications protocol will likely serve to connect field devices for those applications, he adds.
IO-Link enables point-to-point communication between field devices and the automation system. It connects field devices for discrete applications while HART and WirelessHART connect field devices within process applications. All three protocols work with Ethernet networks to connect sensors to control systems and business-level enterprise systems.
IO-Link allows users to "know how sensors are doing at all times," Quintero says. "You can monitor the sensors with IO-Link. You can change the sensor parameters while the system is still running. And it can be easily installed onto devices."
IO-Link is the first I/O technology to be adopted as an international standard (IEC 61131-9) for communication with sensors and actuators, and lets devices from various manufacturers communicate with each other.
Processing push
Meanwhile, some in the process industry are at work on other methods to drive Ethernet to the sensing level within their automation environments. This can be difficult because of older technologies and wire requirements.
"Currently, there are Ethernet gaps at the edge of the automation system," says Jörg Hähniche, head of development and integration services at Endress+Hauser Process Solutions. "Our vision is that of a single network paradigm from the cloud to the field devices."
Industrial Ethernet can bridge information technology (IT) and operations technology (OT), most controllers and user interfaces, and many field applications, but a number of practical concerns limit the use of Ethernet at the field edge within the process industry, Hähniche says. He cites the limited 100 m distance for wire and the high implementation cost of making the smallest components Ethernet-enabled.
Currently, a variety of non-Ethernet solutions—typically buses or point-to-point links—augment Ethernet. But issues with such a mixed system include the additional complexity of application gateways and proxies, the need for a specialized skill in many networking technologies, and the lack of IP-related protocol convergence for IIoT and related usage, Hähniche adds.
An industry standard is needed in the process industry to ensure older fieldbus and gateway devices can be connected to the Ethernet. Hähniche serves on the IEEE 802.3cg standardization project, which aims to set standards for 10 Mbps single-twisted-pair Ethernet architecture, a move beyond the already-established single-pair architecture, he says. The standard is meant to connect all aspects of the automation system by making fieldbus components Ethernet-enabled.
Such a standard would specifically benefit process applications, where the distance between field devices and field switches are 200 m rather than the 100 m now set by standards. It would allow Ethernet to more easily reach to the sensor level without requiring the building of an expensive (and completely new) system of specially enabled sensors, Hähniche says. Standardized Ethernet-ready devices would mean easier initial setup and fewer setup costs because there would be no additional components, gateways or proxies to deal with, he adds.
Hähniche and other industry partners are hoping the standard will be adopted by the end of 2019, with chipmakers and others beginning to make compliant technologies shortly after that.
However these potential solutions advance, those in the automation industry are seeking a way to leverage Ethernet at the automation edge. It's just a matter of time before the networking system reaches those devices.
Companies in this article