The need to accommodate more customized products and packaging, the demand for greater uptime to generate increased yield from the same assets, and the drive to automate more processes to improve quality and reduce costs are shaping the product development activities of automation suppliers across all industries.
Being able to better monitor and measure the performance of production equipment and processes is essential to these efforts, so it's no surprise that manufacturers are looking to vision and sensor technologies to help them achieve their goals. The continuing evolution of these technologies is giving rise to products that provide more comprehensive offerings for customers.
Vision takes off
Vision systems are advancing on many fronts, including deep learning software, 3D vision and modularity that supports process flexibility and user choice.
Cognex, for example, has introduced the first deep learning software for its VisionPro machine vision system. It enables users to detect unpredictable defects while tolerating variations, it identifies anomalies in milliseconds on high-speed lines, and it learns in minutes based on a small sample image set, explains Ron Pulicari, senior marketing manager for Cognex.
"Deep learning will allow machines to develop their own product specifications and solve problems that previously could not be tackled, such as differentiating between a smudge on a cellphone and a defective scratch on its cover," he says. In addition to cosmetic and functional defect detection, the software makes it possible to classify texture and material, verify assembly and locate deformed parts, and read characters, including distorted print and optical character recognition (OCR) text.
"This specialized software can analyze categorized data sets, such as images tagged by human operators, to program itself on what represents a good or bad part, as well as other factors," Pulicari says. "This will revolutionize the technology as we know it, enabling applications previously beyond the ability of machine vision."
As machine vision systems grow in speed and power, 3D machine vision is moving out of controlled industrial environments to unstructured industrial environments. Laser displacement systems and laser profilers from Cognex, for example, can generate high-resolution 2D and 3D models using a single compact sensor.
Modular vision allows customers to choose what kinds of embedded lighting and optics they want in their smart cameras or add barcode scanning and basic machine vision functionality to a device like a standard smartphone. "In the future," Pulicari says, "modularity will likely expand to more subassemblies of machine vision systems, extending the usable life of these components."
Accommodating change
Integrating vision with software and automated production systems enables the greater flexibility needed these days for making and packaging products for e-commerce. "Customers want to mix and match products, creating their own custom variety packs," says Laura Studwell, industry marketing manager for Omron.
Omron vision systems are able to differentiate colors or identify text on shiny surfaces, and new illumination systems will adapt to changes in products by automatically adjusting wavelengths, angles and heights, Studwell notes. All of these factors make it easier to meet the needs of flexible manufacturing. "Vision systems need to be able to accommodate many changes in products and materials, as well as detect contaminants or tears," she adds. "The earlier you can detect non-conforming products, the less material is wasted."
The traceability and record-keeping that vision systems enable are becoming increasingly important to combat the massive counterfeiting that's occurring in industries like automotive, pharmaceuticals, medical devices and components. "New systems are using ink that can't be seen by the human eye to imprint codes that can be hidden in any color or image or even under paint," Studwell says. "These identification codes can be detected with special capabilities, such as Omron Microscan's X-Mode algorithm on the MicroHawk product line."
Traceability is also essential for the growing use of medical devices designed for patient implants, Studwell adds. "In addition, manufacturers need to protect themselves from retailer fines for faulty products, making it imperative for them to use vision systems to keep a record of part and product images as well as serialization codes coming off the production line."
An integrated architecture
A major new platform that integrates motion, vision and machine control will be introduced to the U.S. market by Beckhoff Automation in a pilot program later this year. Full commercial release is planned in 2019.
Using one powerful CPU to run motion, vision and machine control will reduce the cost and simplify the architecture of automated production systems, says Daymon Thompson, North American automation products manager for Beckhoff. The integrated approach, called TwinCAT Vision, will allow the three systems to function in real time for greater precision, higher throughput and less waste. Programming will be unified as well using the same IEC 61131 languages employed for programmable logic controllers (PLCs); it also adds the option to program in C++.
"This integrated platform brings vision systems into the world of PLC programmers. It represents a convergence of OT and IT, and opens up a wide range of new applications for vision," Thompson says. "By integrating motion, vision and control into one real-time system, which no one has ever done before, we can reduce hardware costs, make programming easier and couple vision results to motion feedback. This will enable faster reaction times, more accurate positioning and tighter process control."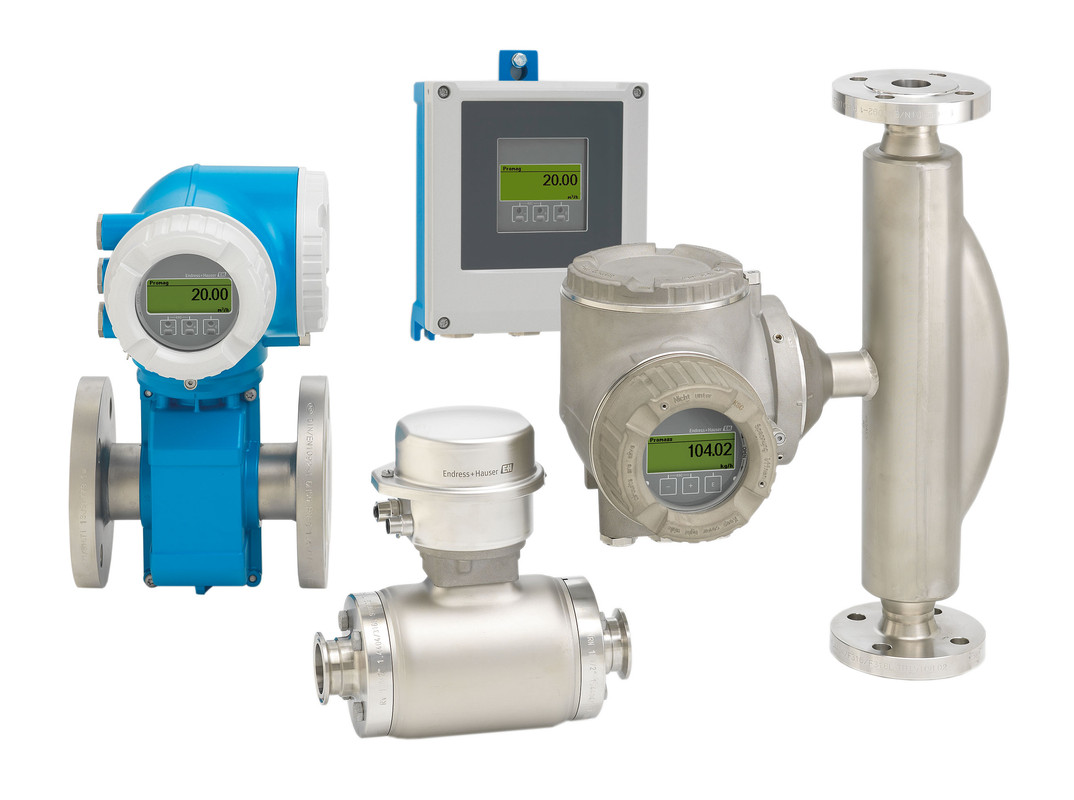 Endress+Hauser's new Proline smart Coriolis mass and electromagnetic flow instruments
Greater accuracy, easier troubleshooting
Significant developments are also occuring in process sensing, specifically around connectivity, communications and digitalization.
Endress+Hauser has introduced Proline 300/500, a family of industry-optimized smart Coriolis mass and electromagnetic flow instruments that simplify installation, speed commissioning and streamline both operations and maintenance activities. "Companies today have fewer and less specialized staff, so we've made these instruments with no moving parts, requiring less maintenance and less interaction with employees," says Nathan Hedrick, national flow products marketing manager for Endress+Hauser.
The flowmeters are available in a wide range of sizes and include models suitable for high temperatures, corrosive fluids, and hygienic and sterile process applications. They feature Heartbeat Technology for diagnostics following the Namur NE107 guidelines, classifying events by criticality and providing guidance to remedy a problem. "When customers have to manage equipment in large geographical areas, this diagnostics feature tells them whether they need to send out a technician and what part to take, making operations more efficient and reliable," Hedrick says.
On-demand verification of status creates a digital chain of documentation for traceability to meet international quality management standards. Wireless LAN capability and the option to use cloud services or a VPN simplifies communication from remote locations. The instruments' OPC UA server capability provides a layer of flexibility that skips the need for additional edge devices.
Maximizing production
Siemens has tackled problems like accurate measurement and aeration in pipelines for the oil and gas industry with an increasingly digital portfolio of sensing instruments such as Coriolis meters, multivariable transmitters and gas void fraction eliminators (GVFEs), according to Eric Heilveil, product marketing manager. A GVFE is designed to maximize production volumes in oil pipelines by removing 99 percent of gases from the flow.
"Unlike analog instruments for measuring temperature, flow, level and pressure, the signal from these digital devices doesn't degrade over long distances," Heilveil says. "So you can get additional information remotely for troubleshooting. You're able to see problems from a central control room and use this predictive data to reduce downtime costs."
Sensor makers like Siemens are also making their digital devices easier to use, install and set up, which reduces turnaround time, Heilveil says. In addition to more accurately measuring liquid and gas flows, digital meters are easier to interface with control systems using industrial Ethernet networks like Profinet.
"Digital devices also frequently consume less power than analog instruments," he adds. Somewhat ironically, multivariable transmitters are now often powered by solar cells rather than diesel engines or gas diverted from oil wells to which they are connected.
More data, more quickly
To meet customer demand for more data from their equipment, Turck is introducing sensors with IO-Link version 1.1. This upgrade will increase data transmission rates to 230.4 Kbaud with 32 bytes of process data, allowing more data to be transmitted to the master.
"Users will get more accurate data faster," says Tony Udelhoven, vice president of Turck's sensor division. "And the parameter assignment server function allows them to set up new sensors more quickly. They'll be able to store parameters in the IO-Link master the sensor is connected to. So if the device is replaced, the parameters can be automatically uploaded to the new device without additional programming. The master can also be used to make sure the proper device was installed, ensuring greater machine reliability."
Designed for factory automation applications, where there's a huge installed base of PLCs that are often analog, IO-Link can also operate as an analog device, according to Udelhoven. "With ultrasonic sensors, for example, IO-Link can generate temperature compensation settings. It also has a lockout teach function and can get position data, effectively becoming a digital analog sensor."
Companies in this article