While technology is changing rapidly in the industrial world, expectations are changing even faster. If a consumer can access information from anywhere in the world over the Internet, then the next logical question is: Why can't I do that in my business?
In their thirst to know what's going on—and what might be going wrong—more and more companies across all segments are connecting their equipment to the Internet. Among the more recent developments in this area—often referred to as the Industrial Internet of Things—is the use of consumer technology to make machine-to-machine (M2M) and machine-human connectivity easier and less costly. Whether it's through smartphones or tablets, companies are now able to get better information from their machines to help them improve their business processes and how their employees do their jobs.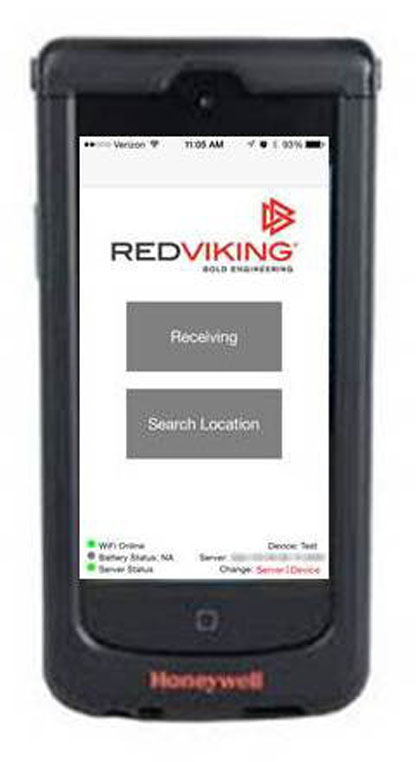 RedViking developed a secure scanning solution using iPods to streamline parts receiving for a Detroit automaker.
One Detroit automaker is using an iOS application on iPods to streamline a parts receiving process that used to require workers to manually enter parts into a spreadsheet at a stationary workstation. A hardened cover on the iPods enables workers to scan barcode IDs from the parts, explains Doug Brown, senior software engineer at RedViking, a member of the Control System Integrators Association (CSIA). The app then auto-fills the part number and quantity and displays where the material needs to be stored. Data is automatically uploaded to a secure cloud portal through an encrypted connection, which shares the information with managers in real time to support the plant's just-in-time inventory process.
"It was a cost-effective way to achieve the company's objective. It didn't require the use of expensive single-purpose scanners, so it was easy to implement. The operators were already familiar with the hardware and the interface, so it didn't take much training," Brown says. "We know that if a solution requires a lot of training, then we're doing something wrong."
Interfaces are evolving and more consumer hardware and applications are being developed to handle traditional industrial functions such as HMIs, Brown adds. "Commercial technology is cheaper, and can be faster to implement and easier to use because operators have been using it in their homes for years," he says. "It helps lower costs, shortens lead times and makes it easier to develop solutions. Not every company can afford multimillion-dollar data collection systems. Commercial technology is making this more affordable for smaller companies."
Machines as a service
One of the most potentially transformative developments for machine builders is the idea of machines as a service, says Doug Bellin, senior global manager for manufacturing and mining at Cisco. "Companies are starting to buy the parts output rather than the machine, which will fundamentally change how machine builders do business. Since an OEM needs to guarantee the output, he must be able to track production and maintenance information."
Cisco is working with machine builders to build machines that integrate with a customer's network to avoid security risks. "By putting a secure piece of equipment on the machine, almost like a reverse VPN network that communicates outward, information can flow to the OEM to monitor a machine's performance," Bellin explains.
The key to making this concept secure is determining who, by function and location, has the right to access machine information, Bellin says. "It's another level of intelligence—who and where you are—so that if you're near the machine you can control its operation, but if you are in an office or other remote location you can just view or analyze the data."
Preventing downtime
"There are two aspects to M2M," says Mike Fahrion, director of product management for B+B SmartWorx. "One is cultural; we've been trained as consumers to expect instant access to information. The other is about enabling things to be more automated, which means fewer workers are needed to protect systems against unplanned downtime. If you can monitor equipment and alert maintenance people when critical thresholds are about to be crossed, rather than waiting for the system to fail, your operations will be more productive."
Wireless technology is often the key enabler for remotely monitoring and managing industrial systems, Fahrion adds. He points to one example of a system used by Aggreko, a supplier of temporary power and temperature control rental services, in deploying large power installations in remote, developing locations.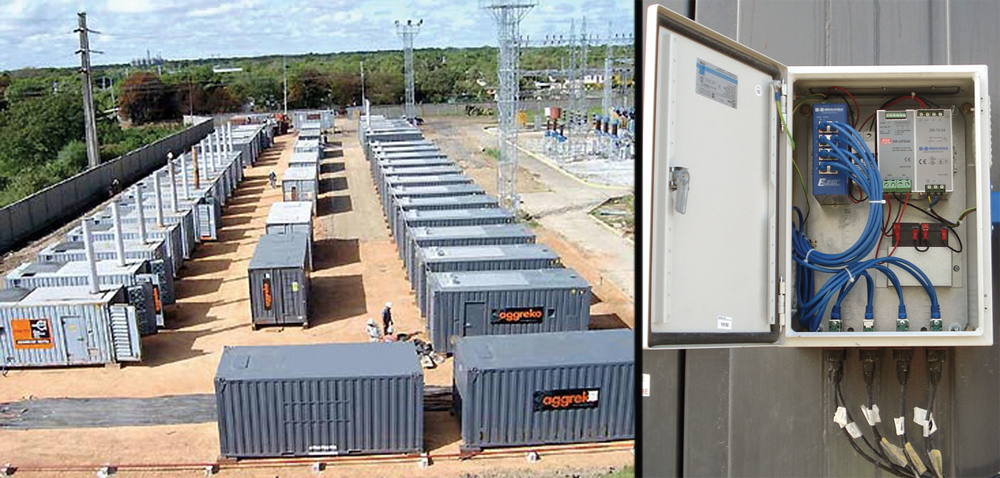 Wireless and custom panels from B+B SmartWorx enable Aggreko to monitor and manage remote power systems.
Using custom panel assemblies from B+B SmartWorx that incorporate industrial Modbus Ethernet to serial gateways, an Ethernet-based SCADA system and wireless technology allows Aggreko to remotely monitor and control all the generators on a site through a PLC. Generators are linked to manage total power available. The PLC determines how many generators are required, checks on machine availability, evaluates faults and automatically starts the machines as required.
Wireless devices in the generators eliminate the cost of traditional Ethernet cabling and allow data communication through the air. The system improves fuel efficiency, reduces operating costs, speeds generator start/stop commands, decreases unnecessary generator operations, regulates grid voltage and frees personnel for other tasks.
Limits to wireless
Though wireless plays a growing role in M2M communications, it has some important limitations, according to Joey Stubbs, North American representative for the EtherCAT Technology Group (ETG), a 3,000-member association formed to promote the EtherCAT protocol. "Ninety percent of wireless protocols aren't full-duplex, which means they can't send and receive traffic at the same time," he says. "Wireless Ethernet also has an active power-saving mode, so you have to communicate with devices more often just to keep them awake, which adds expenses for traffic management."
Inside machines is where hardwired connections and high-speed communication systems will remain the dominant approach, Stubbs says. "The use of EtherCAT has been adopted as a standard by the semiconductor industry and is gaining in packaging, pharmaceutical manufacturing, robotics and automotive because it is precise, efficient and low-cost."
Determining whether to use wired or wireless depends on how critical an application is in the production process. "If consumer wireless goes down, it's nothing more than an annoyance for the most part," says Ariana Drivdahl, product marketing manager for industrial wireless at Moxa. "If a production line goes down, however, it can cost companies $50,000 an hour or more. That's why wired networking is still the industrial standard. While there have been significant advances in wireless technologies, it will never be as reliable as a wired network."
It's not an either/or choice, however, Drivdahl says. "You get the best of both worlds by combining the reliability and redundancy of wired networks with the flexibility and mobility of wireless networks. Most people looking at wireless are aware of this, as wireless is typically seen as an extension of a wired network."
Boundaries disappearing
Keeping food and other perishable goods at the right temperature during their transit through the supply chain is the business of PakSense, which specializes in cold chain monitoring. The company partnered with ILS Technology to develop a cloud-based solution.
"The OT/IT boundary is dissolving as companies begin to understand how data analysis can lead to better business planning," says Kaz Lawler, PakSense CTO. He says the recession forced his company and its customers to find new ways to do more with less. "By turning to ILS to help us design a system for automating the collection of data, we were able to get to market rapidly with new capabilities at an affordable price and show customers how straightforward it was to implement. I think you'll see radical adoption by people who have been skeptical in the past."
PakSense works with major food retailers in the U.S. and around the world. "Temperature monitoring information is frequently misplaced," Lawler says. "Retailers were only seeing a very small part of the data they actually had."
The PakSense monitoring system uses built-in algorithms to determine whether a data point is of interest. Alerts are issued only when something is out of range, so people can make better decisions. "Now a quality assurance manager can direct employees to pay particular attention to certain trucks based on actual trip temperature data," Lawler explains. "Since information can be forwarded from the retailer to the supplier and the shipper, we're moving beyond finger pointing to improving the quality of entire systems."
Fred Yentz, CEO and president of ILS Technology, says cold chain monitoring is critical to the entire food supply chain, from growers to retailers, exporters to restaurant owners. But it also has applications in other industries where temperature control is essential to final product quality, such as electronics, chemicals, pharmaceuticals and biologics. "We're able to give operations people tools they understand," he says. "Temperatures just appear on their phones."
"Wireless is a great way to avoid IT barriers," Yentz adds. "We can get information to the person who needs to see it faster and easier, without going through the hassles of multiple system layers. You see very fast innovation and new idea generation when people are able to see data."
Smarter mine trucks
As electronics get smaller and cheaper and wireless and cellular technologies improve, industries like mining and trucking have become early adopters. "Bringing advanced data analytics and networked machine communications into tough industrial environments means you need exceptionally durable hardware," explains Andreas Simanowski, vice president of architecture for Cirrus Systems. In other words, what happens behind the scenes in terms of components and networking still needs to be industrial grade, even if the machine-human information interchange deploys consumer devices.
At a Nevada open-pit gold mine, Lantronix serial-to-Ethernet converters were embedded in mine haul trucks to feed real-time position data to a Cirrus Systems automated traffic control system that prioritizes haul truck flow. The mine achieved a 12 second drop in average truck intersection transit time by replacing stop and yield signs with smart traffic control.
By safely prioritizing truck transit through an intersection, the mine operators were able to minimize the stop/start and decelerate/accelerate cycle associated with traditional truck operations. The increased productivity, reduced equipment wear and tear, and fuel savings from just one high-volume intersection are projected to have an annual revenue impact of $700,000.
One of the biggest trends in M2M is open technology, according to Vishal Kakkad, director of product management for Lantronix. "We're moving beyond single-vendor integrated systems to a more open environment that bridges the gap between IT and OT (operations technology)," he says. "Phones and apps are, in many cases, replacing traditional HMIs and the cloud plays a big role in driving this integration. The phone has become a service interface for monitoring and maintenance."
Phone apps for industry
The partnership between Apple and IBM to create customized apps for business is an example of how consumer technology is expected to spur more industrial innovation. "Apps for smartphones and tablets are the wave of the future," says Andres Suazo, product marketing specialist for Phoenix Contact. "Industry is morphing to non-proprietary Wi-Fi and cellular networks and greater use of apps for specific applications. You can now create a cellular or Wi-Fi network, or add to an existing one, for a group of upstream oil and gas wells or a water/wastewater treatment system and obtain a wealth of information."
Agriculture is another segment where cellular networks have shown great potential—and serves as a great example for industry as a whole. "Ranchers can now give smart pills to sick cows and monitor their temperatures and other factors through a smartphone app," Suazo says. "The pills stay active for two or three years, helping ranchers prevent the spread of disease to the rest of their herds."
Another system uses ear tags with sensors to wirelessly monitor the health of herds in feedlots.
In response to this kind of industry activity, telecommunications companies are investing heavily in high-bandwidth LTE phone networks (also known as 4G) to keep up with the exploding demand for wireless services, Suazo says. "LTE networks are good for data transmission, so telecoms will be able to handle more devices and increase coverage at lower cost."
Companies in this article