On July 20, 1969, a pair of cryptic error codes almost cost the U.S. the moon landing. The "1201" and "1202" alarms reported by Buzz Aldrin were as much a mystery to mission control as they were to the astronauts in the midst of a harrowing descent toward a boulder field on the moon. But unless they could figure them out, with only seconds left before fuel ran dry, they'd have to abort the first landing of the $25.4 billion Apollo program.
Fortunately, the lead engineer for the lunar module's flight software, Margaret Hamilton, was standing by with her team in a back room at the Massachusetts Institute of Technology's Draper Lab, ready to deliver the translation: 1201 and 1202 were nothing to worry about and the mission could continue.
A variation of this story has played out far less publicly in countless control rooms in every industry that depends on programmable controls. Some valve or sensor reports an exception, and a screen or control board reports a code, which has to be interpreted by a human controller, who then has to make a decision: shut down the line (i.e., abort the mission) or let it continue. As in the Apollo missions, money and sometimes even lives are at stake.
"That's a great analogy," says Robert Trask, senior systems architect at Beckhoff Automation, about the moon landing's relation to process automation. He also asks the question: What's an operator or a human controller to do when a Margaret Hamilton isn't standing by?
It's not an idle question, says Glenn Schulz, managing director of the FDT Group, whose FDT technology is dedicated to ensuring greater interoperability between devices. "A significant factor in recent years has been the downsizing of the in-house engineering staff at the end users." In the event of some kind of mismatch between machines or between machines and their humans, operators are left to consult the manual themselves or err on the side of caution and shut down for inspection—a potentially costly move.
Fortunately, increasing numbers of controls and other equipment can make the call themselves, automatically, while also keeping human controllers in the loop with reports that provide much more detail than cryptic exception codes.
The emerging era of connectivity, sometimes termed Industry 4.0, is not only allowing processes to run more smoothly, but is also enabling a host of new capabilities. "Today is all about networking," says Fred Yentz, CEO of Telit IoT Platforms, formerly ILS Technology. "This is the any-to-any networking paradigm that's going to bring a whole bunch of new value."
Making the right connections
For Opto 22 regional sales manager Dave Engsberg, stationed in Wisconsin, interoperability can mean connecting machines that are separated by miles of open terrain. He cites the case of a rural water utility with 16 widely separated pumping stations that, with his help, got new controls—and along with them, new connectivity.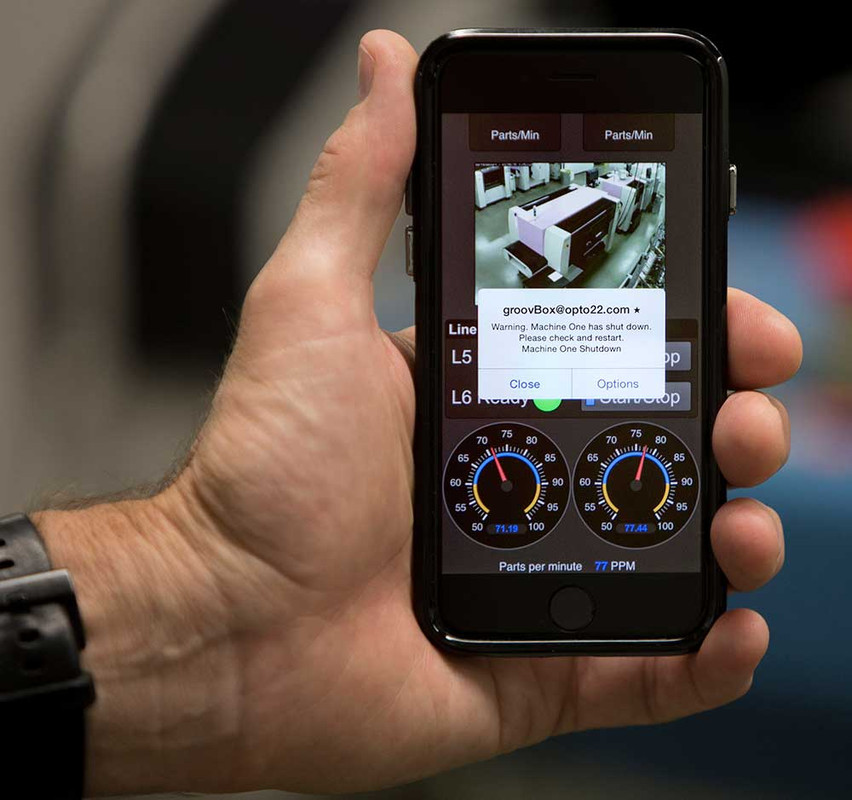 With mobile connectivity, managers can be alerted via their smartphones if something goes wrong. Source: Opto 22
Until a year ago, a field technician had to visit each site to ensure that all was well. "What if something happened the minute after he leaves Station No. 3, and he doesn't come around to Station 3 again until tomorrow?" Engsberg asks. Now, if a pump fails, managers are alerted via their smartphones, wherever they happen to be, no site visit or interpreter required.
Mobile connectivity is also key for end users of an OEM client of Engsberg's. The end users depend on the client's bio isolation chambers to keep them safe from potentially infectious samples and livestock while they monitor and control equipment from outside. The system is easy enough to use that no dedicated engineers are required for adjustments. Users can set their own requirements for exception codes and define how alerts are to be sent and under what conditions. "They go in," says Engsberg, "and say, 'If the humidity goes above 90 percent, I want to get a text.' They can go in and do that themselves. That's huge for them."
For plant managers seeking such advantages brought by greater interoperability, FDT's Schulz advises careful planning before implementing improvements. "Start with a clear 'future state' model for the plant that describes the features, characteristics and capabilities for the plant," he says. "This model should cover the next two to three major capital campaigns."
Greg Hood, product manager for Rockwell Automation's PlantPAx process automation system, agrees that planning is everything, whether you're starting from a clean slate or advancing an existing process. "You can't overestimate the value of a functional design spec or user requirement specification that OEMs and vendors like Rockwell can design to." Ideally, he says, the planning process starts with the end user, but it can benefit from the input of the other players involved.
Bringing new equipment in to mix with the old, Schulz says, requires some additional engineering to ensure that connections, both physical and software-based, play nicely together (see "Finding Support for Legacy Control Systems"). "Engineer 'legacy bridges' that make the best use of what is available in the older machines," he suggests. And don't expect perfection. "Compromise is the operative word for these legacy bridges, as older machines will lack much of the desired features of the future state."
Protocol soup
The key to connecting machines both old and new is using a controller that can understand all of the relevant the protocols, says Adam Kennedy, director of sales for the Americas at automation software developer Kepware Technologies. "A lot of people in this space will keep their equipment running for 10+ years," he says. "We have communications protocols in our software that are able to reach back that far."
Two open standards that can provide common ground between a wide range of machines using different protocols are OPC Unified Architecture (OPC UA) and FDT.
"For us it's a no-brainer," says Beckhoff's Trask. "OPC UA is absolutely a force to be reckoned with." With an OPC UA server running on a PC-based controller, machines of different types can send and receive data through the OPC UA "middle-man" acting as a translator. Built-in security features such as message encryption and user authentication also make OPC UA well suited for sharing data over the Internet for remote operations such as automatic alerts.
It helps if machines are compatible with open standards out of the box, Schulz points out. "If all machines support the OPC and FDT open standards, for example, then it is much easier to aggregate data from a variety of machines," he says. "This data can feed a variety of systems and applications such as a manufacturing execution system (MES), quality and maintenance management."
Open standards have the added benefit of providing a layer between the user and disparate control architectures, allowing for a unified interface for control and monitoring. "Open standards such as FDT provide a means for the end user to obtain rich workflow support and consistent benefits without needing to drill into the minutia of control architectures," Schulz says.
Soon, users will be able to take advantage of the best features of both OPC UA and FDT in one installation. "The FDT Group and the OPC Foundation are concluding a joint effort to integrate OPC UA into FDT," Schulz says. "The end solution will make the FDT application appear as an OPC UA server, exposing the control system topology along with real-time device data and device health. This will allow any OPC UA client to directly access this rich pool of FDT managed data from any location in the world—as allowed by the security architecture."
It's that ability to connect to and from anywhere in the world that brings a host of additional benefits that can help optimize the efficiency of an end user's entire enterprise as well as within an individual plant.
Connecting people, suppliers and processes
Experts at Rockwell, Beckhoff and elsewhere agree that demand is increasing for greater connectivity not just within the plant, but outside it as well. "Customers indeed know what they want," says Rockwell's Hood. They want more information with which to make their plants run more efficiently.
This information, Hood says, "focuses on the performance of the line, for example, which then drives down to the individual performance of the OEM machines that make up the line: the uptime and availability, the root cause for downtime, length of downtime—all of that type of data is important for the end user."
Besides optimizing the performance of a line, data from the machines can also help optimize regulatory compliance, sustainability measures and more—for example, by tracking the amount of energy used by each piece of equipment.
And now, with expanding options for connectivity beyond the plant, data for optimization can also come from suppliers and other key outside players.
Beyond a plant's walls, the most common type of communication is through portals into the supply chain, according to Khris Kammer, information partner and competency manager for Rockwell. "The plant can see in a portal upstream of themselves what's happening in terms of raw material availability and raw material quality," he says. Communication can go the other way, too, from a plant to suppliers, who can adjust their own output in response to upcoming demand, he adds.
The industrial world is still in the pre-smartphone era as far as implementing the connectivity that consumers take for granted, though, Trask says. "My smartphone does amazing things. Why? Because it's standardized on interfaces between stuff," he says, pointing out that consumers can operate their smartphones without knowing how the various systems inside connect with one another. He'd like to see the automation industry moving toward that ideal as well, with the machines of an entire plant routinely functioning like an interconnected, seamless whole.
From what he's seen, Engsberg thinks we're getting there. "We've just got to get guys over the hump," he says. Change does seem to be in the air. Engsberg sees that customers are increasingly savvy to the benefits that connectivity as well as interoperability can bring. "It used to be you had to educate your customer," he says. "Now, a lot of people educate themselves."
Companies in this article