For Finnish elevator and escalator manufacturer Kone, the quest for better asset utilization means more than just a smooth ride to the top floor. It's been much more of a journey, leading into the cloud, where outside specialists can offer its engineers and technicians remote services for maintaining and managing equipment in the field.
For a growing group of manufacturing companies, information technologies like cloud computing are a means for taking advantage of the increasing interconnectedness of control systems, automated equipment and other devices. Rather than letting the increasing sophistication of technology overwhelm their maintenance staffs, these companies have embarked upon a journey for turning the technology to their advantage. Along the way, they are asking specialists at their automation vendors to be their guides for monitoring, maintaining and managing equipment.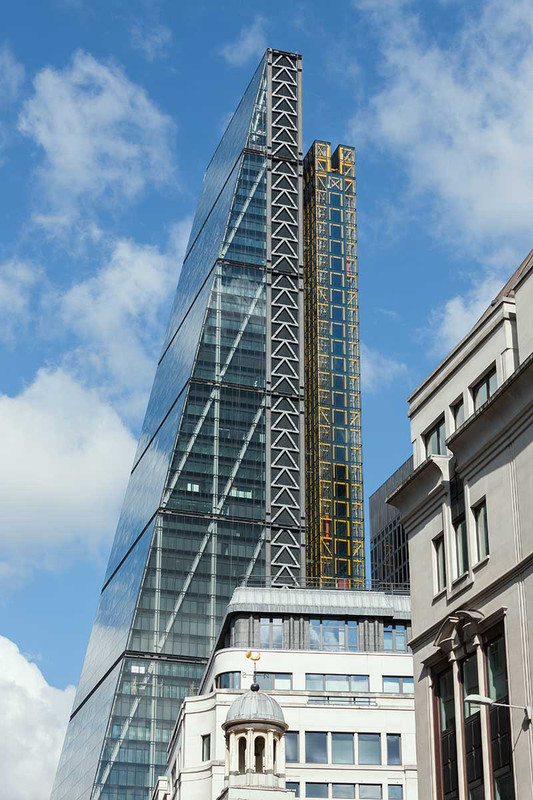 IBM's Watson IoT plaform enables Kone to deliver cloud-based, asset management technology and services to Leadenhall Building in London. The platform gathers data from sensors in elevators, escalators and doors and applies analytics to track and optimize performance. Source: Kone
Kone's journey began in February, when it signed a multiyear agreement with IBM for cloud-based asset management technology and services. "We operate in a connected world," notes Henrik Ehrnrooth, Kone's president and CEO. "And by working with IBM, new solutions like remote diagnostics and predictability means we will deliver even better services to our customers."
IBM's Watson Internet of Things (IoT) Cloud Platform will optimize millions of Kone's elevators, escalators, doors and turnstiles working in buildings around the world. The platform will gather data from sensors embedded in the automated equipment and deploy analytic packages to help Kone track performance and predict any developing problems.
The goal is to minimize downtime and cost by moving toward a proactive program based on actual performance data, rather than on maintenance schedules and post-failure repairs. "Based on information coming directly from the assets in real time, you might determine that an escalator needs some maintenance," says Skip Snyder, partner at IBM's Global Business Services. "If you were to wait until it broke, it could be down a lot longer and cost substantially more to repair." Taking corrective action earlier also permits planning the maintenance for times when traffic is low.
The problem with following maintenance schedules developed by OEMs is that these schedules tend to be generic and do not take the operating context into account, according to Don Barry, associate partner at IBM's Global Business Services. If, on the other hand, the OEM is actively involved in how its equipment is being used, then its experts can tailor the maintenance recommendations to the application as a value-added service.
From the factory floor
Machinery builders are bringing the practice to manufacturing. "One of our customers, an OEM, configured all of its machine controllers to send operational data from the machine to a cloud database, which requires only a simple Internet connection," notes Daymon Thompson, automation specialist at Beckhoff Automation. This data includes alarms, runtimes and downtimes, average cycle times, and temperature of the controller's CPU.
The builder's engineers use information collected from its installed base of equipment to drive continuous innovation from one generation of machine design to the next. "Knowing the most common causes of alarms across a wide installed base of a machine type provides the OEM with priceless feedback on machine performance that may otherwise be impossible to gather by traditional methods," Thompson says. "This knowledge promotes better allocation of engineering and design resources."
Read how new technologies are making onsite maintenance staffs more effective.
Although much of the technology and concepts behind these maintenance and management services have been around for a long time, more users have shown interest in them lately. "A lot of the supporting technology is becoming quicker, cheaper and faster," IBM's Barry explains. And because of the interconnectedness that exists today, he argues that the fundamentals of asset management are needed more than ever.
Cost pressures have also contributed to a greater interest in remote maintenance and asset management. "Assets are interconnected for a reason, namely, productivity," notes Ryan Williams, product manager for asset management and reliability services at Rockwell Automation. "The pressure for uptime on equipment is far greater now. There is just no availability of equipment for maintenance."
For this reason, manufacturing facilities are looking to perform maintenance and make upgrades on the fly or during operator breaks, rather than on a predetermined schedule.
Many users are looking to automation vendors to help meter equipment and keep it running. And vendors are responding by fitting their products with automatic recovery functions. "If a device goes down or is experiencing a symptom, its control system can actually recover itself or mend itself for a period of time," Williams says.
Ethernet's role
Perhaps the most important technical development permitting remote monitoring and management of automated assets has been the proliferation of Ethernet and IP-based communications. "This has made it more feasible to gather operating information from automated systems, transmit it at little or no cost over the Internet, and monitor the equipment from anywhere in the world," argues Keith Blodorn, director of wireless programs at ProSoft Technology.
An example is a modular filtration system that Milwaukee-based Stonehouse Water Technologies has developed for producing 3,000 gallons of potable water from various freshwater sources. These self-contained units transmit data from Ecuador and other remote places to a central server. "With our PLCs, they were able to set up an easy-to-use interface that helps them monitor the health of their systems and provide technical support from halfway around the globe," says Charlie Norz, I/O product manager at Wago.
Because Ethernet has become commonplace in manufacturing only within the past decade or so, Blodorn identifies legacy equipment as a leading obstacle to remote asset management. "Companies upgrade their IT rapidly, but manufacturing machines are expected to last 20 years or more," he says. "That means that a lot of machine data exists on older serial or proprietary fieldbus networks."
Consequently, there is a need to import this data into a PLC or convert it to an Ethernet-based protocol before users can take advantage of the emerging remote monitoring and asset management technologies. For older equipment not originally designed with IoT in mind, Norz suggests the MTConnect standard, an open, extensible protocol for passing data from equipment to monitoring and data-analysis software.
Reinforce your best practices
Remote monitoring and asset management technology can help reinforce a company's best maintenance practices across the enterprise. For example, the Des Moines Metropolitan Wastewater Reclamation Authority (WRA) installed enterprise asset management (EAM) tools from Infor Global Solutions. EAM Enterprise not only supports best practices at each of WRA's facilities, but it also provides a window into each asset's performance. Infor's EAM Asset Sustainability and EAM Advanced Reporting modules provide the analytics for asset and cost management.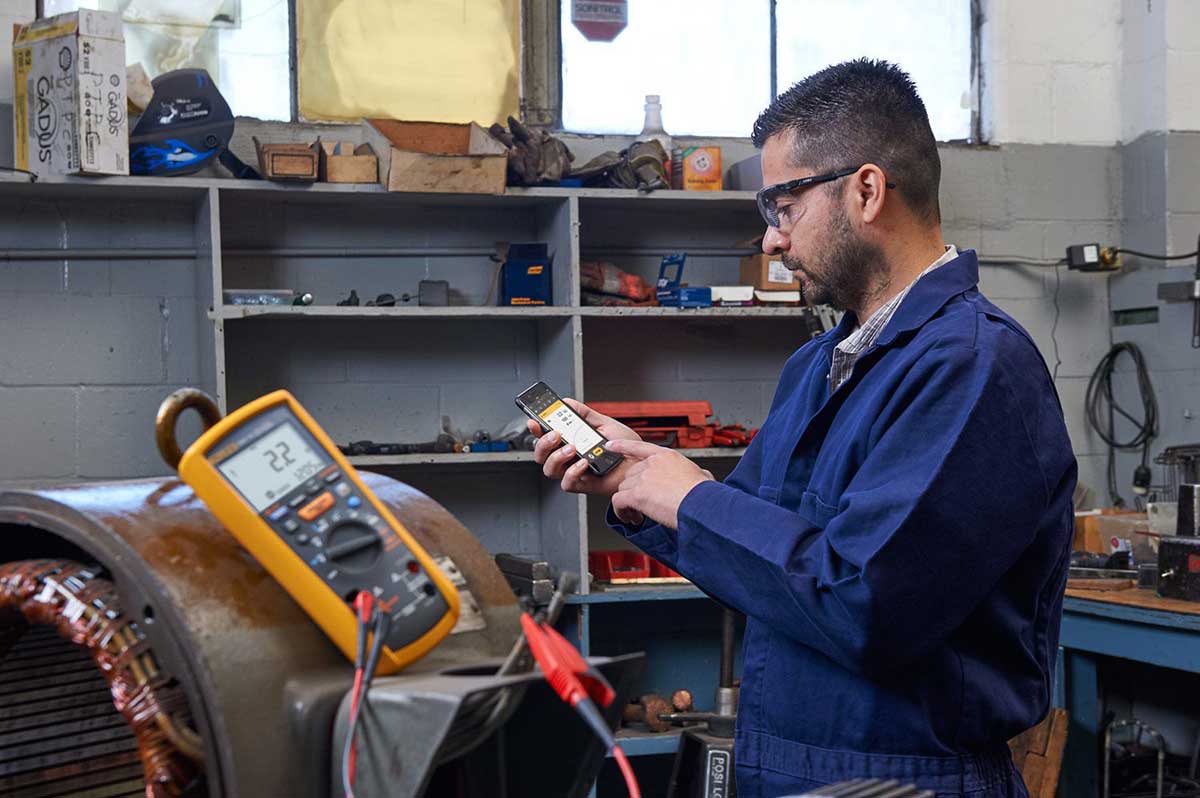 Smartphones and other mobile devices are making important contributions to asset-management programs. A technician can call up analytical data on a web-enabled device, as well as enter hand measurements and record any repairs that were made. Source: Fluke
These analytics, visualization and management capabilities sit atop a three-tier architecture in WRA's SCADA system. The base tier collects real-time data from individual assets, and the middle tier stores the gathered data in a repository.
"We adopted the saying that 'you can't manage what you can't measure,' and began identifying what we needed to quantify in order to provide an accurate picture of how each component in the environment was performing," recounts Bill Miller, risk and reliability manager at WRA.
Using this data, EAM Enterprise determines the root cause of suboptimal performance for each unit and formulates an improvement strategy aimed at optimizing the performance of the whole facility. For example, the software avoids spikes in flow rates at peak demand times when the electricity needed to run its high-power pumps is more expensive. "Just on energy costs alone, we've been able to reduce our original payment by over $250,000 a year," Miller reports.
The ability to capture problem, cause and resolution at the work-order level has quadrupled maintenance productivity, and life expectancy of WRA's equipment has risen by 20 percent.
Unleash pent-up capacity
Better asset management can also generate extra production capacity and obviate the need for new capital projects. This is why management at Wacker Chemie in Burghausen, Germany, asked experts at ABB to analyze its control systems.
ABB's engineers used remote-enabled diagnostic and implementation tools to review 139 control loops and study 109 in detail. "They used an ABB ServicePort to extract data from the plant's ABB Freelance Control System," notes Dave Biros, global product marketing manager for process automation service at ABB.
ServicePort focused the attention of ABB's engineers on problems that had no obvious root causes. "They found controls that were no longer valid, but were still being used," Biros says. "They also found missing setpoint values that jeopardized operations and obsolete programs that burdened the system unnecessarily."
Recommendations included changing some control structures to boost performance and suggesting ways to use the Freelance Control System more effectively, improving plant performance and profitability.
A crucial success factor for getting results like this is having a work process and strategy in place. "Too many companies will start with technology without defining a work process for using it," says Bart Winters, product director for asset performance management solutions at Honeywell Process Solutions.
Winters urges users to follow the example of a mining company that implemented Honeywell's Uniformance Asset Sentinel. Aimed at keeping its existing fleet of trucks running, the company changed its maintenance philosophy from break-and-fix to preventive maintenance.
"They started with a work process and then deployed our technology to automate the prediction, detection and notification of problems to provide early warnings and help keep equipment running," Winters says. The result was a 15 percent improvement in fleet availability.
Winters believes that the chief constraints on getting these kinds of improvements in asset utilization are inappropriate strategies, inefficient work processes, and the lack of a plan. "We're not technologically limited at this point in time," he says. "So focus on what's eating your lunch. What are your bad actors, from both a production-loss standpoint and a frequency standpoint? Focus first on the things that have the highest impact, instead of trying to boil the ocean."
Companies in this article