Editor's note: One of the earliest, and possibly originating, reference to the term Operator 4.0 appears in a paper written by David Romero, Johan Stahre, Thorsten Wuest, et al, which can be accessed at: https://theconversation.com/introducing-operator-4-0-a-tech-augmented-human-worker-74117
Tucked within the emerging technology enclave in Brooklyn, N.Y., is a little-known company putting state-of-the-art technology like 3D printers and collaborative robots (cobots) to work to create a manufacturing production facility that can compete with the likes of traditional injection molders.
At Voodoo Manufacturing, a couple hundred low-end 3D printers churn out product from dawn to dusk. With human operators tending to the printer farm, Voodoo saw only a 30-40 percent printer utilization rate—dropping to nothing overnight when operators weren't around. All of that changed when Voodoo put a Universal Robots UR10 cobot into play. Now, the UR10 automates a key task in Voodoo's 3D printing workflow—harvesting parts and swapping out the build plate—and the company is looking to expand the operation to include removal of scaffolding material. With laborious maintenance tasks automated through the use of cobots, Voodoo can now redirect operators to attend to more pressing business matters that still require human intervention.
Voodoo Manufacturing employs cobots to automate the loading and unloading of plates in its 3D printing manufacturing farm.
"By doing this, we keep our printers up and running 24/7 so we get more utilization out of the factory and we make more money," explains Jonathan Schwartz, co-founder and chief product officer for Voodoo Manufacturing. "Operators can then work on processes that require more of a human touch—vetting orders for manufacturability, for example, or deciding on the best way to carry out production of orders. Our vision for factory employees is not to have them be the ones responsible for keeping systems running, but to do things that require more skill and creativity."
As the fourth industrial revolution and smart factories begin to take shape, there is lots of talk and apprehension about automation and robots commandeering the workplace and replacing human operators on production lines and maintenance crews. The International Federation of Robotics is forecasting 18 percent growth in industrial robot installations in 2017, with 15 percent growth for the years between 2018 and 2020. By 2019, 35 percent of leading organizations in logistics, health, utilities and resources will be well down the path of exploring how to leverage robots to automate operations, according to International Data Corp.
Though some jobs will certainly be lost to automation, most industry watchers are predicting a new genre of collaboration where robots augment rather than replace human workers. In addition, a surge of new technologies from augmented and virtual reality (AR/VR) to exoskeletons and new mobile and social analytics tools will change the way plant personnel work, creating a newly empowered operator focused on problem solving and more creative tasks in lieu of manual labor.
"No one dreams of standing around in front of machines and hitting the start button over and over," says Daymon Thompson, U.S. product manager at Beckhoff Automation. "This gives operators the opportunity to do something with more advanced skills or lets maintenance guys grow their skills to earn higher salaries."
With its TwinCAT PC-based control system, Beckhoff sees its role in Industry 4.0 and the next-generation operator as a key technology enabler for interoperability. Through use of both information technology (IT) and operational technology (OT) open standards, such as OPC UA and MQTT, machine control providers can leverage TwinCAT to support and integrate a range of new technologies, including new wearable devices or AR/VR tools into new automation workflows. They can also use TwinCAT Analytics software to capture data and generate insights that could lead to advanced operations such as predictive and, eventually, self-correcting maintenance.
"If you look at the man-machine balance in the manufacturing line, you want the operator to be busy so they can optimize their time," Thompson explains. "If the machines can run longer unattended, the operator can run more machines."
Along with analytics, there are a variety of other emerging technologies poised to transform the average plant floor worker into a high-tech powerhouse.
Role-based apps and social tools
Even before an investment in cobots, AR/VR or other cutting-edge technologies, PTC believes the logical first step in empowering plant and maintenance personnel is making the leap in operational intelligence. That means technology that can serve up better data to enable quality improvements and cost reduction as well as help increase a manufacturer's flexibility and agility, says JP Provencher, PTC's vice president for manufacturing strategy and solutions.
"Manufacturers aren't looking to buy more robots and machines to replace everyone on the shop floor as their first step," Provencher explains. "They first want to understand where they need to perform better and make investments in people and machines on the factory floor."
To that end, PTC's ThingWorx Manufacturing Apps collect and unify data culled from enterprise business systems and sensored industrial equipment, delivering it to users for real-time insights based on their individual roles.
For example, ThingWorx Controls Advisor gives control engineers the ability to rapidly connect to and remotely visualize data from any programmable logic controller (PLC), Internet of Things (IoT) gateway or connected asset, allowing them to easily monitor and troubleshoot equipment and keep abreast of communication errors that could result in loss of critical production data. ThingWorx Asset Advisor, aimed at maintenance and service technicians, remotely monitors and detects anomalies across equipment, providing the user with real-time visibility into the health and status of critical assets and helping them minimize unplanned downtime. ThingWorx Production Advisor gives production managers a real-time view into production status and key performance indicators (KPIs), such as availability, performance, quality and overall equipment effectiveness (OEE). Armed with this data, they gain actionable intelligence that will assist them in faster and more proactive decision-making to fix problems and drive continuous improvement on the shop floor.
"Our first step is to empower the workers in the factory with data they've always needed, but today, is trapped in different silos," Provencher says.
Rockwell Automation's FactoryTalk TeamOne mobile social app is a way to foster team productivity on the plant floor—edging it toward its mission to increase productivity by a minimum of 33 seconds per hour for every industrial role. The mobile app, which runs on a standard smartphone or tablet, uses a social paradigm so operators can collaborate and share information in real time, improving their reaction time to machine issues and reducing mean time to repair and unplanned down time. Once set up as a team, all the data is securely synced to devices, and operators can collaborate by chatting directly in the app or posting on the team board where all members can see. They can check alarms, take pictures of error codes, share incident reports and reference the same data at a later point if the same problem reoccurs.
"It's really powerful when you start to bring in new people," explains Sharon Billi-Duran, product manager for Rockwell. "It serves as a powerful tool to get human knowledge and bring it into the connected enterprise."
FactoryTalk TeamOne can work with FactoryTalk Analytics for Devices, an all-in-one appliance for finding maintenance issues on an automation network; and also with Shelby, a friendly chatbot module along the lines of Apple Siri or Amazon Alexa, to enhance the operator environment.

Rockwell Automation's FactoryTalk TeamOne mobile app uses a social paradigm so operators can collaborate and share information in real time.
AR/VR opens up new worlds
Once there is a more informed understanding of the current state of performance on the plant floor, PTC and others see emerging AR/VR capabilities enabling additional intelligence to improve operations. New 3D work instructions that are highly visual and accessible in a hands-free format can help plant floor workers get their work done faster, especially when they don't have to hit a number of machines and separate human-machine interface (HMI) screens to get the data they need to perform a task, Provencher says.
Given the emergence of more customized products and industrial assets, AR experiences can also connect a service technician or plant floor worker with an expert who can provide troubleshooting assistance in context of the actual physical asset. "Operators are working with more and more complex equipment and products," Provencher says. "They can better manage this complexity and simplify the information served to them by delivering it through AR in an intuitive and efficient way."
Global giant thyssenkrupp is using Microsoft's HoloLens AR headset to empower its army of 24,000 field technicians servicing elevators around the world. The headset allows them to visualize and identify problems ahead of a job, have hands-free access to information when on-site, and use Skype as part of the AR experience to make remote calls to subject matter experts who can share holographic instructions and other key information via the headset.
Integrating AR into the service workflow has changed the way thyssenkrupp service techs do their job. Traditionally, they've had to go to a customer site, make a call and take on-site photos to describe the equipment and any customizations, and engage in a lot of back-and-forth with experts on the manufacturing line before they could properly identify the problem and then initiate a fix, explains Luis Ramos, head of communications for thyssenkrupp. Now, armed with HoloLens and the built-in Skype capabilities, they can establish a real-time connection with an expert at the manufacturing site, which has enabled service staffers to complete calls four times faster than with traditional processes, he adds. The team has also minimized the need to fly in experts from Germany to troubleshoot problems in the complex environment.
Though thyssenkrupp has seen great results, Ramos cautions organizations to do sufficient training on the AR tools to optimize their effectiveness and target a narrow workflow, at least initially. "You want your service techs to use AR to do between three and five processes," he explains. "Otherwise, they can get lost."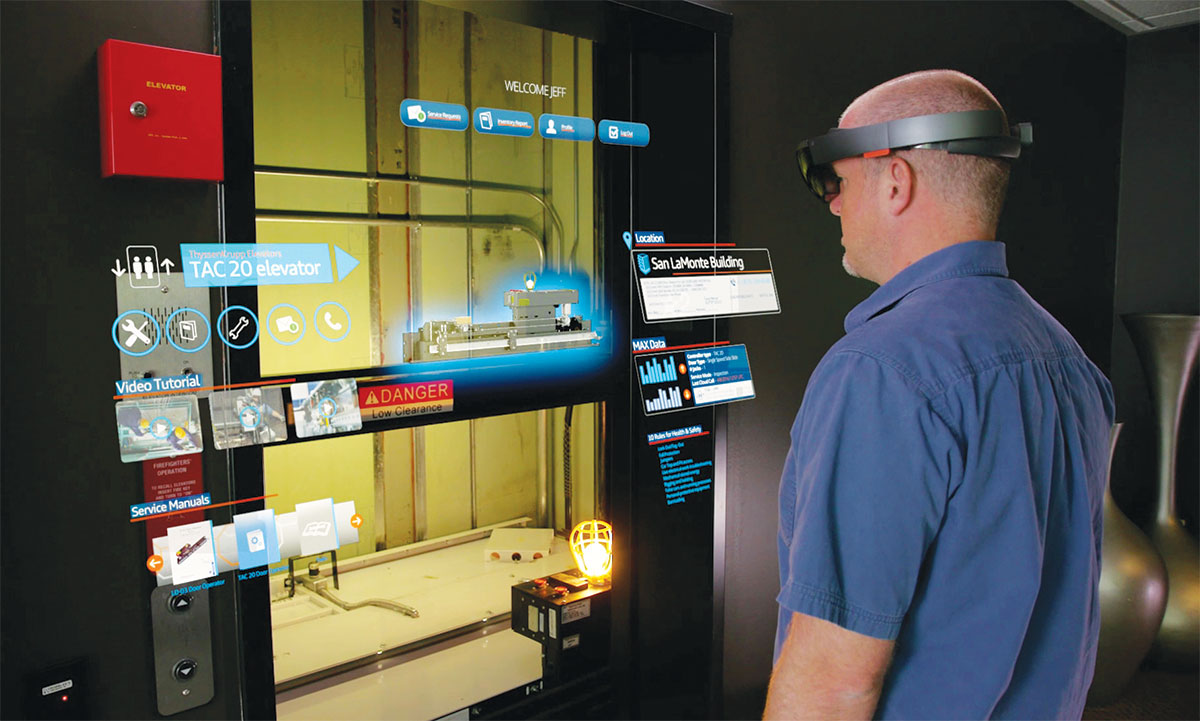 ​
Microsoft's HoloLens lets thyssenkrupp service techs collaborate with remote experts over Skype to troubleshoot elevator problems at the customer site.
The rise of the collaborative robot
Cobots are among the most highly anticipated technologies expected to empower next-generation operators and shape the smart factory. Handling smaller pay loads, but easier to operate and able to work in conjunction with humans, cobots were a $176.7 million business last year and are forecast to hit $4.28 billion by 2023, according to a report from MarketsandMarkets.
Rather than play into the concept of a "lights out" factory with no human workers, cobots actually help grow the business and create efficiencies, which typically leads to the hiring of more employees, contends Esben Østergaard, chief technology officer for Universal Robots. "By automating, you get higher throughput, more consistent quality and twice as much out of your machines," he explains. "That frees up people to do the kind of work only people can do," such as tweaking product designs to be more competitive, leveraging their knowledge of materials or optimizing processes.
That's exactly what is happening at Voodoo Manufacturing. The UR10 cobots are easy to get up and running, they are simple to program, and they can work side-by-side with humans instead of having to cordon off large sections of the factory floor like you would with traditional robots. "We love the idea of having a factory floor where robots and humans work together without worrying about an employee being impaled or killed," Voodoo's Schwartz says.
Schwartz doesn't believe cobots or any of these new technologies are a threat to his factory workers. Rather, he believes they are another tool in the toolbox that can create the optimal machine-to-human balance. "Throughout history we, as mankind, have created tools to let us do things better, faster, easier and safer," he says. "As a result of introducing robots to the plant floor, human employees can focus less on repetitive tasks that are no fun at all and more on things where they can utilize their critical thinking and creative capabilities."
Companies in this article