As manufacturers transition to digital enterprises, the structure and capabilities of their networks will play an ever greater role in their ability to produce the right products, get increased leverage from their supply chains and profitably grow their customer base. Suppliers of network technologies are stepping up with new products that promise to increase the speed, determinism, reliability and security of the flow of data from machine to machine and between operational and business systems.
In a typical factory, hardware platforms and operating systems from a wide range of vendors and spanning multiple technology generations are making interoperability a primary goal of the Industrial Internet of Things (IIoT) era. In response, OPC UA has become a widely used tool. Introduced in 2008 as a platform-independent service-oriented architecture, it has garnered industry-wide support as a way to achieve secure data transmission with guaranteed latency and reliable delivery of critical traffic.
Ensuring real-time communication is a focal point for current developmental efforts, which is why Time-Sensitive Networking (TSN) is becoming a foundational technology for information integration and the time-synchronized flow of data from devices over Ethernet. A Who's Who of industry suppliers and organizations is working on projects to refine this standard and test for device conformance and interoperability.
"TSN is the same traffic approach Cisco uses to transmit videos," explains Phil Marshall, CEO of Hilscher North America, which specializes in real-time Ethernet and fieldbus technologies. "It creates one physical layer and one set of diagnostic tools that can be used by one set of technicians to diagnose variables and maintain production systems. With protocols like OPC UA and MQTT, different technologies can live on the same wires, making it easier to move data out of devices and into applications for analysis and use."
Hilscher recently released netRAPID 51, a real-time Ethernet interface the size of a stamp. It carries all essential electronic parts for advanced communications. An interface upgrade with integrated OPC UA server and an MQTT client is planned for mid-2018. This will enable both standard Ethernet and IIoT communications to run on the same cabling in parallel to real-time Ethernet traffic.
Also new are netIOT Edge gateways, which provide secure network connections—without reprogramming programmable logic controllers (PLCs) or I/O—to cloud or IIoT-directed applications for the cyber-physical processes in enterprise resource planning (ERP) systems and manufacturing execution systems (MESs). And netX 90 is a dual-core chip with embedded, hardware-based security. It runs both network protocol and application functions. The chip enables device makers to quickly implement a secure-by-design concept compliant with the IEC 62443 series for automation security.
B+B SmartWorx Wzzard Mesh intelligent edge node.
Future-proofing networks
TSN's ability to have protocols like OPC UA on a level where they are real-time capable will help define the requirements of future automation systems, says Thomas Haneder, technology manager for Siemens. The company announced plans for its TSN-capable industrial Ethernet switches as well as communication processors for its S7-1500 PLC at Hannover Fair 2018, promising the ability to communicate within a TSN network.
"TSN is a promising technology. As an extension to the Ethernet standard, it is getting a lot of interest from chip manufacturers," Haneder says. "Siemens already incorporates OPC UA in its products utilizing TSN for OPC UA, together with Profisafe. This gives us the ability to build a future-proof standard for our communications networks." This future-proofing includes the ability to seamlessly integrate the industrial communication infrastructure within the digital enterprise and the entire value chain.
"Many requirements have to be satisfied by the communication infrastructure, middleware or applications. It must be flexible, enable system integrators to easily commission topologies, offer generic configuration for machine builders and allow real-time communication in a wireless environment," Haneder explains. "Different performance classes like Profinet must be accommodated and best-effort traffic allowed with OPC UA on one wire with a network infrastructure ranging from the factory floor to the management level, including connection to the cloud. It must also enable a comprehensive, easy-to-integrate safety concept, on both the device and the machine levels."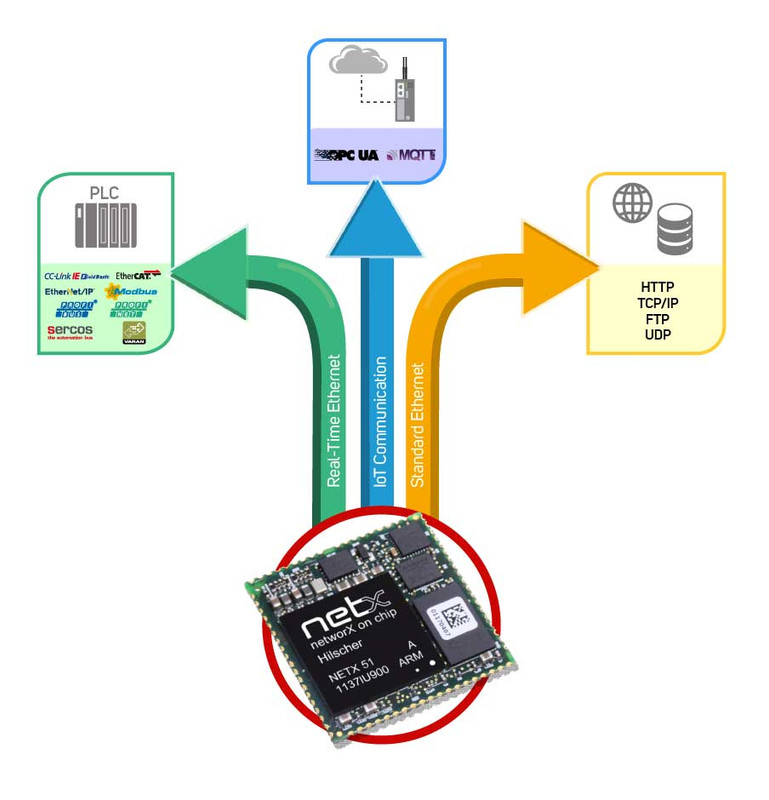 Hilscher's netRAPID 51 real-time Ethernet interface is the size of a stamp.
Finding more value in IT
IT is gaining a stronger foothold on the factory floor as companies seek more data to improve regulatory compliance, reduce energy expenses and monitor conditions in their equipment and processes for predictive maintenance. Often, this means adding an IT overlay network outside the supervisory control and data acquisition (SCADA) system. Pushing data to an IT network makes it easier to access and analyze information from equipment assets.
"Vendor lock-in has delayed technology evolution and change," says Mike Fahrion, chief technology officer for B+B SmartWorx. "But with OPC UA, for example, we don't have to reengineer existing automation systems. It decouples physical systems from an application, allowing multiple applications to consume the same data. Other protocols like MQTT make it easier to transport data, while TSN provides a tool to make data flow deterministic."
Wireless mesh networks are also useful for moving data quickly from sensors to an application. In March, B+B SmartWorx introduced its second-generation Wzzard Mesh intelligent edge node, which connects data to the Internet via wired connections or to cellular data networks. Designed primarily for sensor data such as temperature, pressure or flow, it uses ultralow-power SmartMesh IP technology to connect with either analog or digital sensors and employs the MQTT and JSON IoT protocols.
Wzzard nodes can be installed anywhere within sight of each other without power or data cabling, allowing installation at each step in a production line without interruption. A commercial bakery, for example, uses Wzzard nodes to monitor temperature and humidity levels at its workstations and ingredient storage areas. Direct support for the bakery's Ignition SCADA system allowed tags to be created automatically, with data showing up within minutes.
Beyond faster data access and improved information for decision-making, IT is also helping companies change their business models. Fahrion points to a compressor manufacturer evolving to sell compressed air rather than compressors. Or a truck stop chain that provides tires as a service to large truck fleets that must maintain millions of tires. During truck refueling, a truck stop measures pressure, revolutions and other factors that determine tire wear, providing a maintenance service to extend tire life and smooth out cost variables for the carriers. In addition, many equipment makers are now able to monitor product performance in the field, which helps them reduce service and warranty costs.
Phoenix Contact's WLAN modules can be used in hazardous environments.​
Mesh wireless functionality
Phoenix Contact will introduce mesh wireless functionality in early 2019, which will allow users to have a more deterministic and reliable wireless signal. With mesh functionality, every wireless node in the network will be able to talk to every other node, allowing multiple relay paths to every device without having to send signals to an access point for retransmission. Also planned for early 2019 is a Power over Ethernet (PoE) option.
"Making the customer's user experience easier is an important driver of our hardware development," explains Justin Shade, Phoenix Contact's lead product marketing specialist for wireless. "Having the radio and antennas in a single housing and allowing the module to be mounted outside the cabinet as a smart antenna saves money on hardware, time on installation and space in their cabinet."
Class 1 Div. 2 approval for hazardous location installations was scheduled for Q1 2018 for the company's WLAN modules. "With these new functions, users will have the ability to install our products in more hazardous areas, have more options to power the devices than DC power, and the ability to simply and quickly install a wireless network with mesh functionality," Shade says.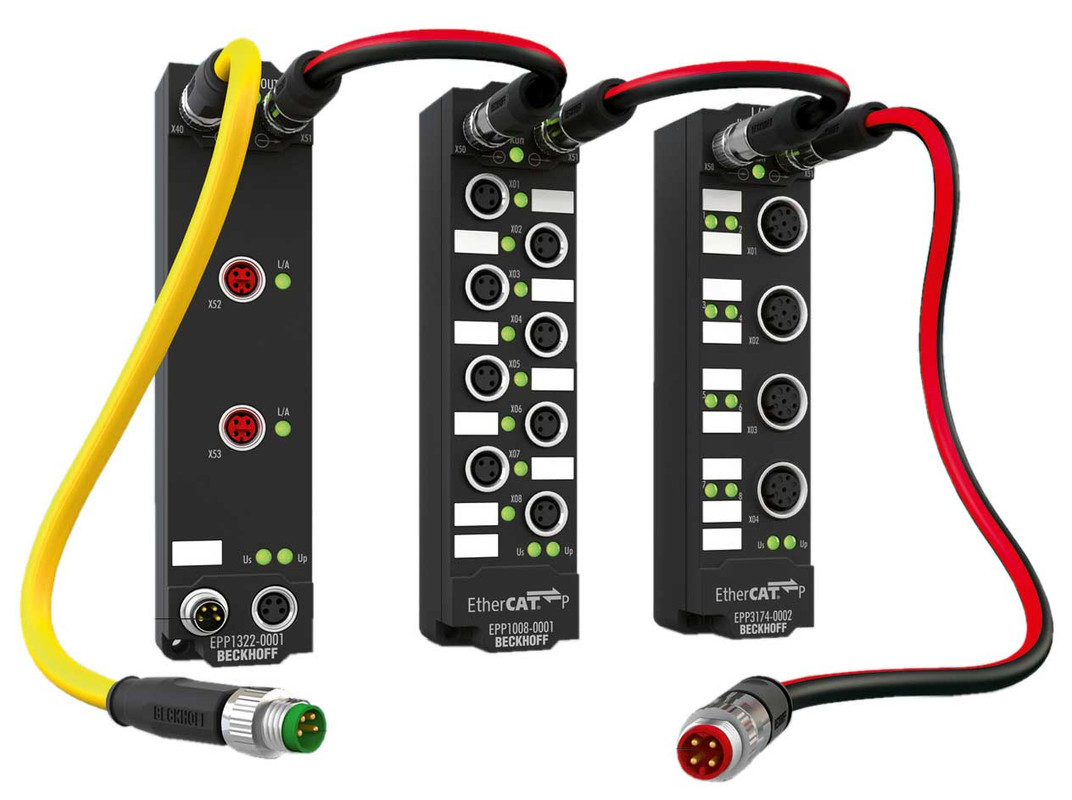 EtherCAT P is at the core of Beckhoff Automation's "one cable" power and communications approach.
One-wire systems
Combining previously separate data and power lines into one cable is a major trend in wired networks today with two goals in mind: to reduce wiring installation and the total footprint of machines.
"With the introduction of EtherCAT P, new I/O modules and field devices can be installed quickly and easily to integrate I/O or data acquisition applications," explains Andy Garrido, I/O product marketing specialist for Beckhoff Automation. "EtherCAT P has now been approved by the EtherCAT Technology Group, and vendors are developing products such as EtherCAT P sensors and encoders. I/O boxes, cables and third-party devices have already been introduced and other new products are being added every few months."
A real-time extension of the EtherCAT industrial Ethernet technology, EtherCAT P is fully compatible with existing EtherCAT networks and makes use of a single cable to transmit both power and communications. It retains the very short cycle times of EtherCAT, low jitter for accurate synchronization and low hardware costs. EtherCAT supports line, tree and star topologies and can connect to more than 65,000 devices on a single network.
Beckhoff calls this "one-cable automation." It is designed for applications where higher power and longer distances are required. EtherCAT P cables have mechanical keying that prevents incorrect connections and simplifies device networking. In addition to delivering up to a 50 percent reduction in cabling and connectors, one-cable automation technology allows seamless integration of sensors and actuators from a variety of vendors to EtherCAT P-enabled networks.
Edge networking in focus
As evidenced by the number of new products designed to support it, edge networking is gaining attention from suppliers as a tool to help manufacturers deal with the avalanche of data generated by their factory floor devices. As IIoT applications requiring time-sensitive, low-latency data analysis continue to grow, data must be processed closer to the source to speed decision-making.
"Edge and fog networking have been around for some time, but they've gained new importance as industry's attention has shifted from simply connecting devices to the complexity of managing, securing and supporting a diverse set of devices," says Eric Ehlers, marketing manager for manufacturing and energy SMEs at Cisco. "This means solutions are needed to help unlock data and move it programmatically so that the right data moves to the right applications while also supporting a way to enforce data ownership."
Cisco has developed a platform called Cisco Kinetic to achieve this goal, and several pilot projects are now underway. Its edge and fog processing module (EFM) is one of three modules in the platform, which includes gateway management and data control. The EFM module can also be used in industrial environments without Internet connections.
The difficulty in implementing an IIoT strategy is that data is often in silos and existing network architectures are not designed to selectively move data to an application. It's also been difficult to control data ownership, raising privacy and security issues.
Cisco Kinetic is designed to optimize networks and provide better control of data using policy and configurations to manage many different applications. "Kinetic can help production lines track performance, identify issues before they occur, and support better IT/OT integration and security through a single operational view," Ehlers explains. "It allows you to better manage resources, automate more tasks and mitigate against potential threats."
Companies in this article