The Digital Twin concept is steadily gaining ground in the product development world—a means of creating a virtual representation of physical assets, including modeling behavior—for validation and test purposes. This process, which promises to reduce reliance on costly prototypes while accelerating time to market, is now starting to take root in the plant floor environment as a way to garner efficiencies for production and, in some cases, set the stage for predictive maintenance.
Unlike the product development space, where the definition is more universal, the concept of a digital twin varies among automation providers, depending on where their offerings fit in the automation stack. Some companies with deep roots in 3D CAD modeling like Dassault Systèmes and Siemens see the digital twin as a way to define and optimize factory floor layout and production processes in a virtual world prior to putting physical assets in place and flipping the switch on production.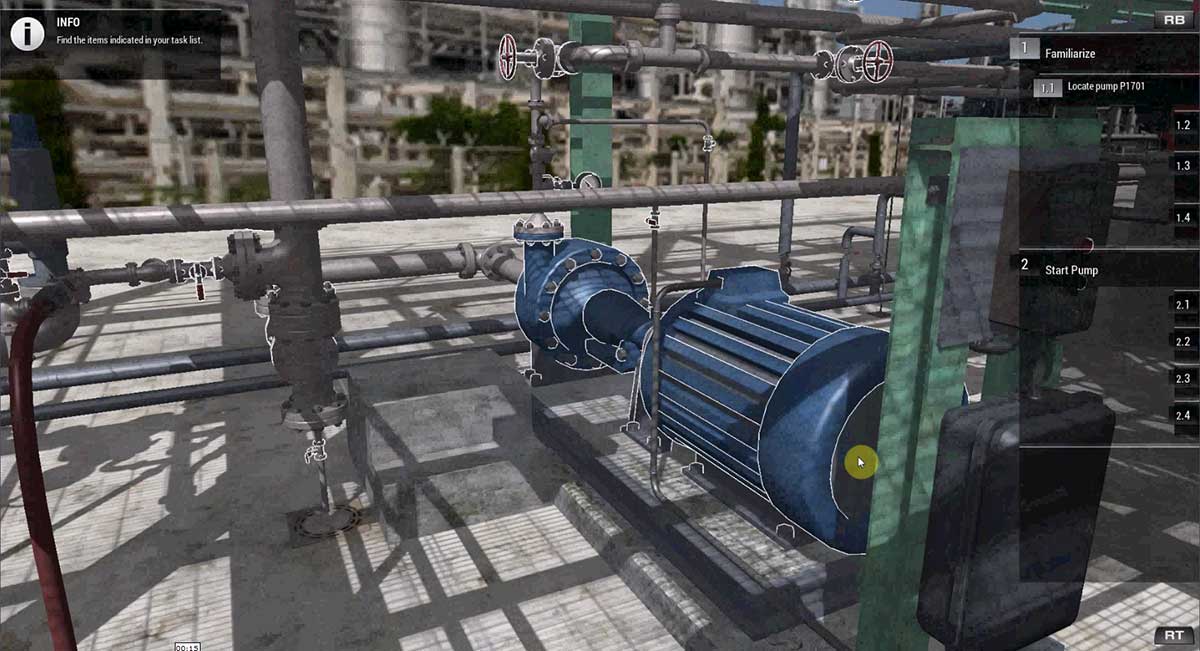 Digital twins help familiarize engineers with critical machinery, components and actions virtually, long before they step out into the field. Source: Emerson Automation Solutions​
Other companies like Emerson Automation and Beckhoff consider the digital twin as a tool for validating and optimizing control systems and automation processes in the virtual world—a tactic that lends itself to a variety of use cases, including operator training and virtual commissioning. Other companies, like GE Digital, have a broad and ambitious game plan for the digital twin, leveraging it for everything from asset performance management to predictive and prescriptive maintenance, the latter combining a digital model with Industrial Internet of Things (IIoT) connectivity, real-time operational and historical data, as well as machine learning and analytics.
In an entirely different interpretation, some players conflate the concept of a digital twin with virtualization, the now mainstream IT technology that abstracts operating systems, applications, networks and storage from the underlying hardware or software so the process is no longer dependent on a specific physical platform, allowing for greater flexibility and scale. For example, Wind River Titanium Control is an open standards-based, on-premise cloud infrastructure that creates a digital twin of a plant's legacy equipment, allowing it to become a full participant in IIoT by creating a real-time data channel between the traditional physical controllers and automation systems and its virtual representation.
Despite the murkiness of the digital twin concept, one thing is clear: It doesn't constitute any one idea, any single set of simulations or analytics or even a specific product category. "A digital twin is a whole set of analytics that look at different aspects of how an asset performs," says Matt Wells, general manager of automation software at GE Digital. "What we found is not one analytics model has all the answers."
Twinning the smart factory
Currently, one of the more prominent use cases for the digital twin is validating plant floor layouts and simulating logistic processes as part of a digital manufacturing portfolio. At Dassault, the concept of a "connected production digital twin" is a virtual 3D replica of an actual physical structure—robots, conveyors, CNC machines and other plant floor assets—along with a simulation of the actual production processes of a smart factory, according to Prashanth Mysore, portfolio technical director of digital manufacturing at Dassault.
Under pressure to improve quality and responsiveness, reduce costs and strive for continuous improvements, manufacturers have an opportunity with the production digital twin to react more responsively to various internal and external disruptive events driven by mass customization needs. Specifically, Mysore says, manufacturers embracing a digital twin strategy can increase productivity and manufacturing efficiency by reducing variability and synchronizing material. They can also improve quality and compliance by validating processes virtually to ensure they are right the first time in addition to running multiple what-if scenarios to analyze production options and ensure worker safety and productivity.
"A 3D replica of the actual physical plant is not the end of the road for the digital twin," Mysore says. "The digital twin is also used to connect production with materials management, quality processes, and labor and maintenance processes."
As part of its 3DExperience platform for global industrial operations, Dassault makes its version of the digital twin come to life through its Delmia digital manufacturing portfolio, which includes numerous simulation tools as well as manufacturing operations management (MOM) capabilities resulting from its Apriso acquisition and operations planning and optimization functionality from its buyout of Quintiq.
A digital twin or dynamic software representation of an entire plant or an offshore oil rig, for example, can serve a variety of use cases across an entire automation and process control project lifecycle, according to Ronnie Bains, business manager for dynamic simulation and process optimization at Emerson Automation Solutions. Emerson customers are leveraging digital twins to support the initial design of a facility, to build actual processes and control systems, and to understand whether what is being built can function at the proper throughput.
"If you're doing something incorrectly and you don't have such simulation, you don't find out about the potential impact until much later in a project's process," Bains explains. "With a digital twin, you can identify areas of concern and design flaws early on and fix them as opposed to when things are built out and it's more expensive."
As part of its Multi-Purpose Dynamic Simulator systems, Emerson's DeltaV Simulate capabilities allow companies to test control logic and operator graphics in a virtual commissioning scenario, minimizing potential errors and streamlining the startup process. The same technology can also be leveraged to assist in training operators in unique processes. "The level to which the digital twin is applied varies from customer to customer," Bains says. "For some, it's just for training; for others, it's the full lifecycle."
For its part, Beckhoff has assembled a set of tools for its TwinCAT automation suite that extends into the realm of digital twin, specifically for upfront virtual testing and commissioning. Via support for the vendor-neutral Functional Mock-up Interface (FMI), Beckhoff has created interfaces between its platform and popular model-based design and simulation tools like MathWorks' Matlab and Simulink and Maplesoft's MapleSim to allow for acquisition and visualization of real-time parameters while creating a closer connection between physical and digital models. The ability to import simulated code and run it directly on a physical system enables machine builders to test before setup, aiding in reliability and shortening time to market, according to Daymon Thompson, an automation specialist at Beckhoff.
At Rockwell Automation, the whole premise of the digital twin is to remove the need for the physical asset, whether it's to test the actual hardware or control systems, notes Andy Stump, business manager for the company's design software portfolio. Rockwell's Studio 5000 Logix Emulate software enables users to validate, test and optimize application code independent of physical hardware while also allowing connectivity to third-party simulation and operator training systems to help teams simulate processes and train operators in a virtual environment.
In this context, a digital twin can be employed to provide a safer, more contextualized training environment that focuses on situational experience. "It helps with emergency situations, starting up and shutting down—things you don't encounter ever day," Stump explains.
A digital twin of a control system created in the Logix Emulate tool could also be tapped for throughput analysis, Stump adds, ensuring, for example, that a packaging machine could handle a new form factor without having to actually bring down the machine to test the new design. "Any time you take a machine out of production, it's expensive," he says. "If you can estimate that a machine is going to be down 60 percent of the time running what-if scenarios in a digital twin, there's a lot of money to be saved."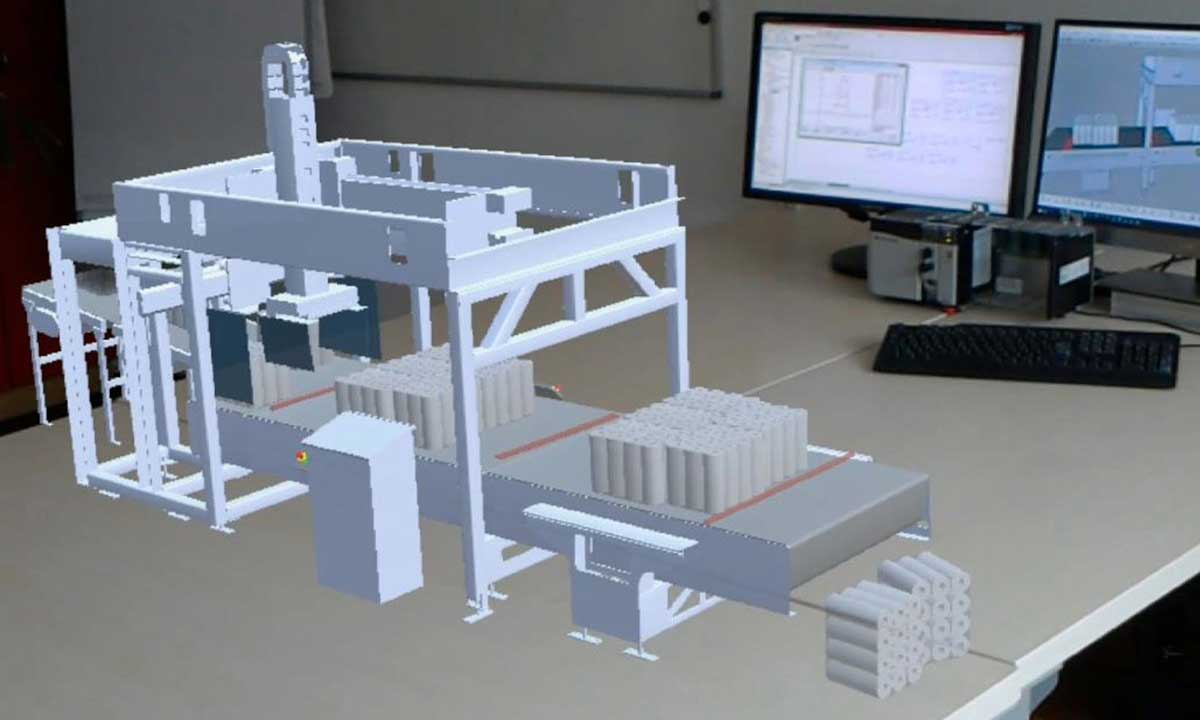 The Microsoft HoloLens headset works in combination with the Rockwell Software Studio 5000 development environment to create a mixed-reality experience, allowing users to see a machine's design and functionality before building it or to visualize design changes for operations and training purposes. Source: Rockwell Automation​
Moving forward, Rockwell will leverage new technologies such as virtual reality (VR) and augmented reality (AR) to enhance its vision for a digital twin. At the Hannover Fair in April, the company demonstrated a next-generation, mixed-reality virtual design experience using its Studio 5000 development environment with the Microsoft HoloLens VR headset.
For Siemens, the concept of a digital twin straddles both product design and production. In a production capacity, the digital twin exists as a common database of everything in a physical plant—instrument data, logic diagrams, piping, among other sources—along with simulation capabilities that can support use cases like virtual commissioning and operator training. Comos, Siemens' platform for mapping out a plant lifecycle on a single data platform, and Simit, simulation software used for system validation and operator training, now have tighter integration to support more efficient plant engineering and shorter commissioning phases, says Doug Ortiz, process automation simulation expert for Siemens. In addition, Comos Walkinside 3D Virtual Reality Viewer, now with connectivity to the Oculus Rift Virtual Reality 3D glasses, enables a more immersive experience, allowing plant personnel to engage in realistic training and virtual commissioning exercises, he says.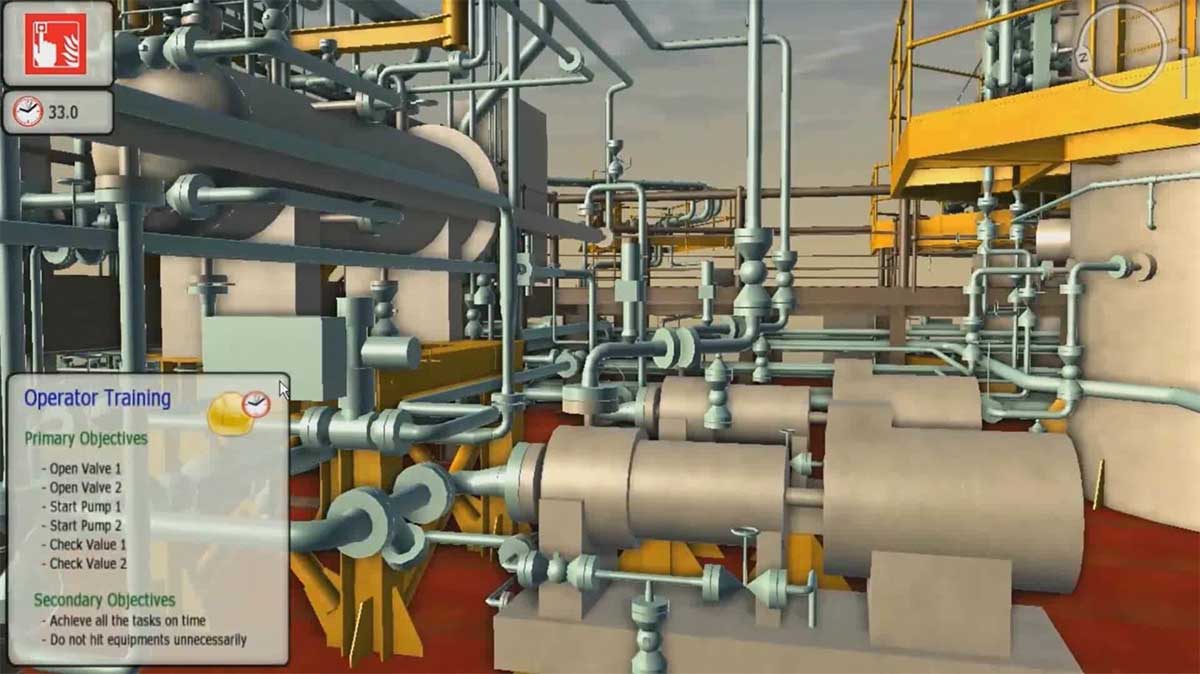 Siemens' Comos Walkinside displays a 3D virtual reality representation of the plant floor in its current status to aid in operation and training. Source: Siemens​
"Customers want to get plants from the design stage to up and running in the shortest period of time and these tools are paramount for that," Ortiz says. "The digital twin is great to use for any plant for the lifecycle of that unique plant."
Improved maintenance opportunities
While most companies in the automation space are settling in with the digital twin for roles in operator training, virtual commissioning and optimization, there is still not a lot of activity leveraging the concept for predictive and preventive maintenance opportunities. The exception might be GE Digital, which is clearly pushing this use case as its long-term vision.
GE Digital sees four stages of analytics that will be impacted by digital twin and IoT:
Descriptive, which tells plant operators information about what's happening on a system like temperature or machine speed.

Diagnostics, which might provide some context for why a pump is running at over speed, for example.

Predictive, which uses machine learning, simulation and real-time and historical data to alert operators to potential failures.

Prescriptive, which will advise operators about a specific course of action.
GE Digital showed off a digital twin representation of a steam turbine to showcase what is possible in the areas of predictive and prescriptive maintenance at its Minds + Machines conference last November.
"A digital twin is a living model that drives a business outcome, and this model gets real-time operational and environmental data and constantly updates itself," said Colin J. Parris, vice president of software research at GE Global's research center, during the presentation. "It can predict failures…reduce maintenance costs and unplanned outages, and…optimize and provide mitigation of events when we have these types of failures."
Though the digital twin is certainly making headway in production, it's still in its early days. "Digital twin is definitely hot right now, but it really depends on what the customer is trying to achieve and what they are trying to model," says Bryan Siafakas, marketing manager in Rockwell Automation's controller and visualization business, adding that it's just a matter of time. "There is a huge upside in terms of productivity savings and shortened development cycles."
Companies in this article