As the Industrial Internet of Things (IIoT) comes into focus, a clearer picture is emerging of the role augmented reality (AR) will play as a better way to train plant floor personnel while lending a hand in operator maintenance.
Though not really a new concept, AR has gotten a significant boost in the past few years as the once arcane and very expensive hardware has grown in sophistication and come down in cost, making it accessible to mainstream manufacturing companies. In addition, advances on the consumer front—headsets like Microsoft HoloLens and Google Glass as well as apps like Pokémon Go—have raised awareness of the technology among executives interested in exploring how they can best leverage AR for a variety of industrial use cases.
AR often gets confused with its kissing cousin, virtual reality (VR). While VR experiences are immersive and embed the user in a completely different computer-generated world, AR lets users see and experience the physical world while superimposing computer graphics and relevant data points into their view to provide additional information and context. An automation specialist, for example, might use VR to become immersed in a particular production line to see how it operates or to determine how a specific work cell layout feels before anything is physically constructed. In contrast, AR might serve up tidbits of information for operators working the production line or work cell once it's gone live to keep them apprised in real time of specific quality, yield and environmental factors as they survey the line. AR could also serve up visual how-to instructions and animations that would make it easier to perform maintenance tasks on the equipment.
"There is room for both technologies in an industry setting, but we are most excited about AR," says Michael Campbell, executive vice president of ThingWorx for PTC.
PTC made a significant investment in AR technology through its acquisition of Vuforia in 2015. ThingWorx Studio is an AR offering integrated with ThingWorx—the company's Industrial Internet of Things (IIoT) platform—that is tuned for industrial enterprise AR applications. "So much work is done in the physical world—the operation of products, the servicing of products, design reviews on products," Campbell says. "It can be a very fulfilling experience when you can combine digital information with the physical world."
As manufacturers continue to digitally transform their traditional operations and automation silos, many are starting to see AR's and VR's potential for melding the physical world with their expanding digital footprint. International Data Corp. (IDC) is forecasting worldwide revenues for the AR/VR market to reach $13.9 billion this year, a bump of almost 130 percent over the $6.1 billion spent last year. Over the next few years, IDC expects spending on AR/VR technology to accelerate, hitting a compound annual growth rate (CAGR) of 198 percent within the 2015-2020 timeframe and ballooning to $143.3 billion in 2020.
Though IDC says the consumer market will be the most active segment of AR/VR use, discrete manufacturing is expected to dole out more than $1 billion on AR/VR solutions this year, with the most prominent use cases in this sector being product development ($267 million) and industrial maintenance ($249 million).
"We're definitely on the leading edge, but things are happening very quickly," Campbell says, adding that PTC now has about 2,600 companies participating in AR trials for industrial applications.
Maintenance: The killer AR app?
Service and maintenance on industrial equipment is seeing a groundswell of interest in the use of AR/VR to gain efficiencies and optimize manpower. Traditionally, maintenance has been the province of experienced technicians able to quickly and effectively diagnose machine problems and get manufacturing and field equipment up and running without incurring significant downtime and with minimal impact on quality and cost. Given the competitive climate, however, manufacturers are no longer able to devote significant time and money to adequately train operators and maintenance professionals, experts say. At the same time, highly trained operators and maintenance professionals are retiring from the workforce and incoming workers' knowledge and skill levels are not always up to par, explains Alex Hill, chief scientist at CN2 Technology, which markets a platform for developing enterprise AR applications for sales, service and training. "We used to spend a lot of time training people so they knew exactly how to do their job, but increasingly that is not the case," he says.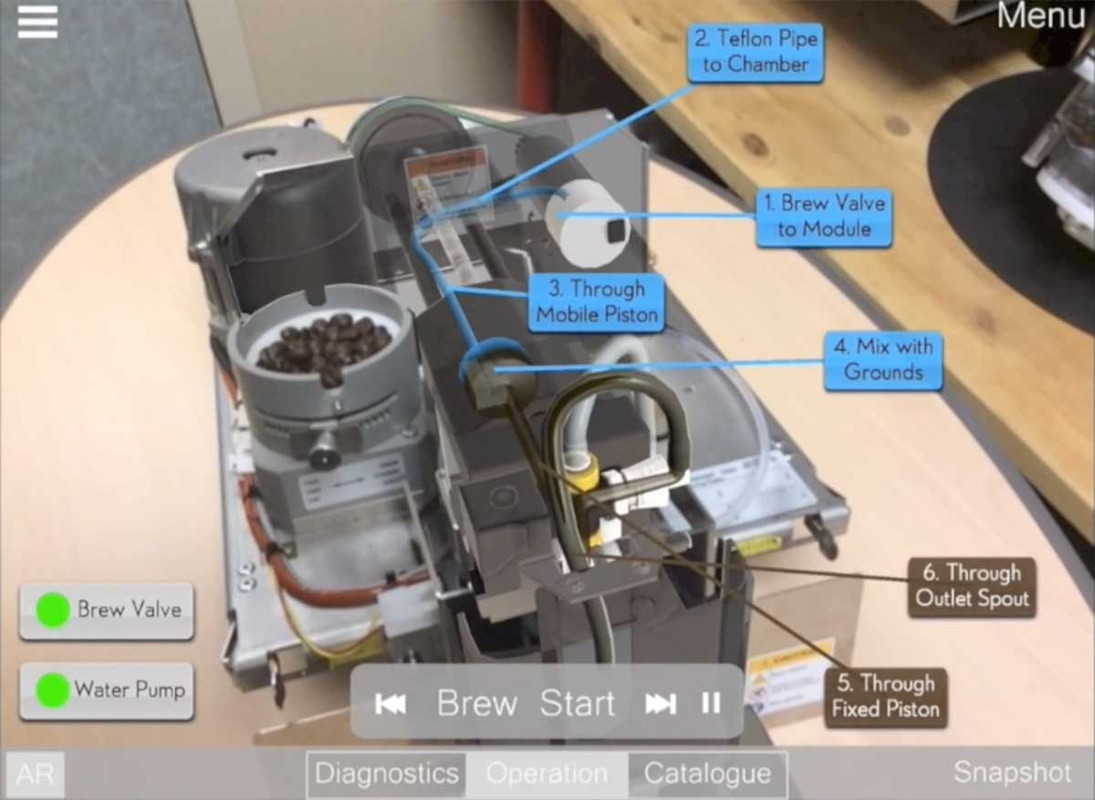 Swiss firm Thermoplan leverages AR technology from CN2 to create animations that aid in training and servicing. Source: CN2​
The ability to tap AR to superimpose 3D documentation and animations on a real-world piece of equipment helps guide potentially untrained maintenance operators to complete a task more quickly, with greater accuracy, Hill contends. "The ability to generate high-quality, illustrative documents in 3D or AR allows workers to go from being untrained on something to actually being able to service something faster," he explains. "You're not just improving the speed of someone who knows what they're doing, but also allowing someone who's lightly trained on [a piece of equipment] to do more."
AR can also be used to fine-tune maintenance instructions for configurable products, Hill adds. Through a serial number linked to product manufacturing information system housing configuration data, field technicians could access the actual specs and training instructions for the specific product they are working on, he says.
PTC sees applicability for AR across the entire product lifecycle, Campbell says. AR can be leveraged by engineering teams to evaluate their proposed product designs in the context of the physical world or be tapped by marketing and sales teams as a tool to showcase different models of a generator, for example, without having to physically have them all on hand to display in a single showroom, he explains.
AR's value really begins to shine, Campbell says, when you blend the physical and digital worlds, as in maintenance or factory operations. "On the factory floor, you could be looking at a machine to understand its operating characteristics, inspect equipment being assembled to compare it to the ideal state, or look at a product in operation and understand what is broken and how it needs to be serviced," he says. "You can use AR to convey slightly more complex procedures than you could understand with paper and schematic drawings."
Consider work being done by Index AR Solutions, which develops AR applications using PTC's Vuforia platform, with Newport News Shipbuilding. The team leverages AR technology to visualize a ship's structure to determine where to run cabling, for example, or remove supports without having to look at paper diagrams. Index AR Solutions is also working with other clients using AR to assist in inspection and quality assurance, work instructions and training.
NGrain—which provides artificial intelligence (AI) software used for damage assessment on heavy machinery—helped orchestrate a pilot project with Lockheed Martin several years back, to leverage AR technology to aid in the manufacture and service of the F-35 fighter jet. Armed with NGrain's software and Epson Moverio AR smart glasses, engineers and operators received step-by-step instructions for setting brake elements on landing gear, for example, and as a replacement for pen-and-paper notation for performing common repairs, explains Barry Po, NGrain's senior director, product and business development.
AR can help train people on the job without taking time out for training, while also providing guidance to ensure a job gets done correctly, Po says. "Sometimes someone isn't always an expert in the equipment that they are asked to service, or it's a rare piece of equipment or an unusual job for that customer," he says. "AR can give them access to information they haven't always had access to."
Obstacles remain
Though Po considers the early Lockheed Martin F-35 pilot experience a success, he says it also revealed some challenges to more widespread usage of AR. From a practical standpoint, existing AR hardware, though evolving, in many cases is still not durable enough to withstand serious stress and day-to-day usage in harsh industrial environments, he says. In addition, limited access to Wi-Fi or other wireless networks can be a barrier in these scenarios, as is coming up with solutions for distilling and presenting relevant data to shop floor operators or field service technicians.
"The hard problem isn't collecting data, it's getting it organized and structured in a way that filters out the most relevant information and presents it to the person on the front lines in a pair of smart glasses," Po explains.
Service will be the killer app for AR and IoT, agrees Joe Barkai, an industry consultant specializing in IIoT. But the initial round of pilots and demonstrations are too limited in terms of the content they deliver to maintenance technicians or plant floor operators, he says, noting that AR animations that depict how to turn a screw or change a filter aren't really helpful. "AR needs to give them information that they are not already aware of or don't know enough about—potentially information that is very device-specific or that warns of a change that tech may not be aware of," he explains.
Regardless of the obstacles, experts fully expect companies will move forward on the AR journey and the kinks will be worked out. "We are at an inflection point where there's now a lot of talk and hope for the technology," CN2's Hill says. "It's just a matter of time before AR will be a reality."
Companies in this article