Three-dimensional (3D) models and, more recently, digital twins are increasingly well-established as the epicenter for optimizing product designs, allowing engineers to hammer out problems and verify key concepts in the digital world without the expense of building costly prototypes.
The manufacturing sector is starting to head down a similar path, leveraging digital twins as a more effective and less expensive way to plan and commission automation processes and industrial equipment. Thanks to advances in system modeling and automation, as well as simulation software, some companies are going as far as spinning up entire plant floor operations and workflows in a virtual environment as the initial phase of commissioning. Gartner expects half of industrial companies to be using digital twins in some capacity by 2021, boosting their effectiveness by 10 percent.
Much like the engineering use case, the goal for the digital twin in commissioning is to run a factory virtually before ever building or laying out the exact physical environment. This allows automation and operations staff to detect and resolve problems early, while reducing the need for real-world adjustments during installation. The upside is that teams can keep cost overruns in check and streamline the time it takes to get a plant up and running. At the same time, the digital twin environment helps monitor ongoing plant and equipment performance, allowing for optimization and continuous improvement and enabling predictive maintenance—all critical steps to minimizing the risk of costly downtime.
"By having digital twins and overall visibility into manufacturing processes from a commissioning standpoint, you can identify potential bottlenecks and conflicts and minimize them to positively impact the quality of the products you produce," says John Renick who, as senior director of digital twins and content, oversees GE's digital twin strategy, which relies on the Predix platform as a core foundation. "Being able to simulate and run what-if scenarios [virtually] vs. doing them in the real world delivers far greater efficiency."
In the traditional scenario, automation engineers and machine builders work with various providers to program and customize equipment and processes, eventually coming together at the physical plant for a sort of Big Bang integration effort that can take weeks—even months—before all of the kinks are worked out and the production line goes live, notes Eric Harper, senior software architect with ABB. In contrast, ABB's RobotStudio, part of the ABB Ability digital portfolio, enables teams to virtually simulate factory operations, including automated motion of integrated automation assets over time, so they can resolve technical issues in advance.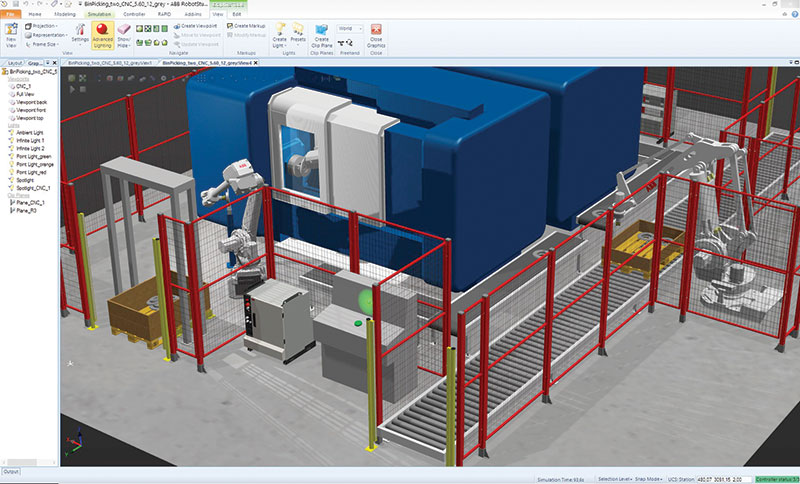 ABB's Robot Studio enables training, programming and optimization of robots via simulation without disturbing production.​
"What we see now is—if we can bring the Big Bang together in a virtual environment—we don't have to be concerned about safety and other requirements," Harper explains. "We can customize work cells and determine possible interferences between the movement of robots and the work product, and do all of that work ahead of time."
Accelerating time to market
Though there are many benefits to integrating digital twins into automation processes, one of the most important is the ability to speed up the cycle, getting machines commissioned on the plant floor more quickly and accelerating time to production. Traditionally, machine building is a serial process, beginning with 3D mechanical concept design and then moving through the various stakeholders from electrical engineering to automation and programmable logic controller (PLC) configuration. The digital twin allows automation and design engineers to work in parallel, identifying errors early in the process when it's cheaper and faster to fix them, notes Colm Gavin, factory automation and digitalization specialist at Siemens.
"3D animations driven by a virtual PLC enable engineers to see how a machine will behave physically before a single piece of metal is cut to make the machine," he explains.
The virtual commissioning process—whether for machines and plant controllers or entire production lines—also allows a sequence of operations to be verified before actual manufacturing begins, saving time and allowing for advance optimization of PLC code. The process facilitates collision detection, ensuring there is no interference between machine parts and robots. Virtual human-machine interfaces (HMIs) can also be leveraged to train equipment operators well before an industrial asset is actually deployed into production, Gavin adds.
Though automation simulation capabilities have been available for some time, Siemens' Simatic S7 PLCSIM Advanced takes things to a different level, Gavin contends, injecting real-time information into the virtual commissioning process. The platform allows for the comprehensive simulation of functions via virtual controllers during configuration and engineering with Step 7 (TIA Portal) without the need for physical hardware. Through an open API and OPC UA connectivity, S7 PLCSIM Advanced can be coupled with models created in Siemens NX Mechatronics Concept Designer, enabling a virtual machine model to be controlled and operated with real PLC code.
"We created a high-speed data communications link that allows us to input I/O signals from a running PLC and use those signals to trigger animation," Gavin says. "You're not looking at any movie here; you're looking at an animation based on real I/O signals turning on and off."
That extra element of realism takes virtual commissioning to the next level. So, if you're trying to determine exactly how parts come together or to view the correct sequencing of a gripper, you can do so without having to wait for the real machine to be built. "Typically, animation is only done within the context of the tool and not what's driving animation in real life. So, you're taking a guess about how well it will run," Gavin says. "With our system, you're tying animation to real code running in a PLC."
Maplesoft's MapleSim, a Modelica-based system-level modeling and simulation tool, is regularly used by machine builders to create high-fidelity digital twins of system dynamics to expand the functionality of CAD models for virtual commissioning. Unlike tools such as Emulate3D, which create digital twins that emulate an entire production line and automation sequence, MapleSim's focus is on creating digital twins at the machine level, aiming to improve integration of various components and offer a better prediction of what machine performance will look like, according to Paul Goossens, Maplesoft's vice president of engineering solutions.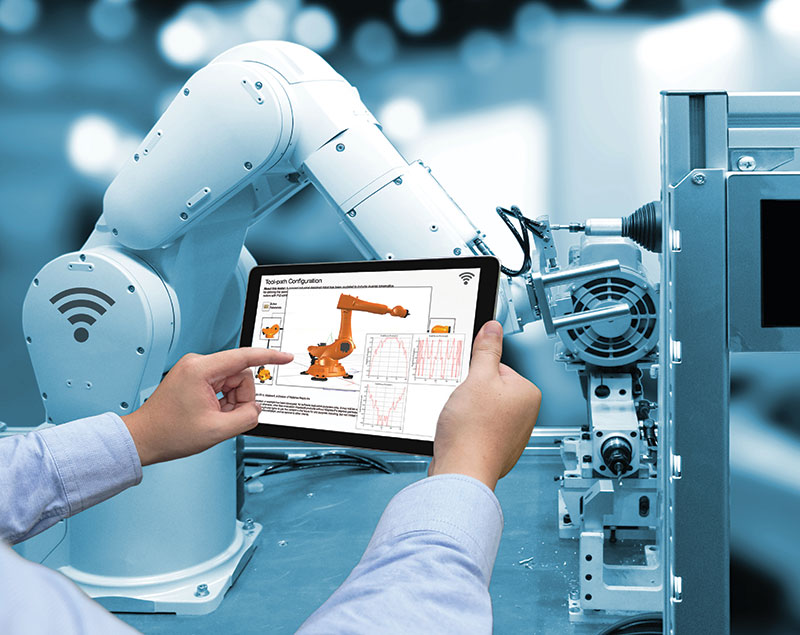 Maplesoft's MapleSim-built model-driven digital twins lower the risks involved in machine-level system integration while promoting faster virtual commissioning.​
The ability to perform machine-level integration testing with a digital twin delivers significant benefits, Maplesoft research found, including a 75 percent reduction in integration time and between 50 and 100 percent improvement in lowering project cost overruns.
"On paper, everything can look good. But when you are handling complex inertia and friction on a machine, there can be motors that run too fast or transient spikes in loading that aren't captured during the initial phases of design," Goossens explains. "A virtual prototype helps identify problems much earlier, giving engineers deeper insight into what loads look like or how to right-size components the first time around so when the machine is deployed, it's more effective."
Sight Machine, a manufacturing analytics platform that leverages artificial intelligence (AI), automates the process of collecting and contextualizing streaming production data to create digital twins of every part, batch and process. As a result, it can play a key role in optimizing plant performance and the virtual commissioning use case, notes Nathan Oostendorp, Sight Machine founder and chief technology officer (CTO).
One of Sight Machine's key differentiators is that it builds digital twins based on real-world data rather than just modeling physical assets. It also connects digital twins of individual plant floor assets to create an end-to-end view—to map material flows, for example, or to gain visibility across the whole process or plant as opposed to a single, siloed model.

Sight Machine taps into real-world machine data and enterprise systems to create a plant-level digital model that offers real-time visibility and the opportunity for actionable insights.​
"What often improves things in an isolated system can push problems down the line or create unexpected interactions," Oostendorp says. "Simulation frameworks can help predict those interactions."
More specifically, using real data to fuel digital twins is vitally important to both virtual commissioning and performance management use cases. Consider the example of a large footwear manufacturer that tapped Sight Machine to create digital twins to optimize plant performance and then used the resulting models as a basis for commissioning other plants. The digital twin helped reveal a number of challenges, including rooting out the cause of poor performance for a robot with an electrostatic end effector, which turned out to be tied to high humidity conditions in a particular plant.
"People think they know what performance numbers are. But if you're not tracking every second of uptime and downtime, you're relying on operators or looking at downstream metrics like output," Oostendorp says. "A digital twin for planning gives you a much more accurate picture. It really accelerates the curve when looking at deploying new automation. It enables you to make decisions much more quickly rather than doing a traditional Six Sigma-type process."
Caution: A long road ahead
While there's plenty of upside to leveraging digital twins for virtual commissioning and ongoing plant floor maintenance, there are also a number of hurdles that manufacturers must address before reaping the benefits. The biggest obstacles pertain to manufacturers' comfort level and their ability to harness data to create digital twins, especially since much of that data has been out of reach, tucked away in various siloed systems and historians. In the same vein, many manufacturers lack adequate expertise in data management practices, including mature data governance practices and an ability to create and foster data pipelines.
"A lot of customers have not worked with data extensively or they don't have the organizational expertise for managing data pipelines or building a data collection infrastructure," Oostendorp says. As a result, he adds, it's critical for manufacturers to consider data collection and data viability as key requirements when making decisions about automation platforms.
Standardization and the much-discussed IT/OT divide is another big impediment to digital twins and virtual commissioning. Most operations professionals have mechanical and automation expertise. They are less adept at 3D modeling and simulation, which tend to be the domains of mechanical engineering. Creating a culture and instituting new workflows that bridge that divide and foster collaboration between the two previously siloed domains is critical.
"No one has been thinking about whose responsibility it is to do this," ABB's Harper says. "The innovation with the digital twin has been looking us in the face. But with the longstanding IT/OT divide, it hasn't been seen as important to do that."
Though that sentiment has certainly shifted, the transformation won't happen overnight given the reality of where most manufacturers stand today. "Oftentimes, assets aren't digitized and they don't have all of the information at the ready to be able to develop or inform a digital twin," GE's Renick says. "Industry is way out ahead talking about digital twins and artificial intelligence, but customers in the manufacturing space are not quite there yet."
Companies in this article