Last year, on an overcast March morning, a few 18-wheelers rolled through the town of Groton, Conn., carrying massive metal boxes to the Pfizer R&D facility.
Shortly after that, on a clear dark night on the other side of the world, a container ship arrived at Shanghai's Yangshan Port delivering similar-looking cargo to the JHL Biotech facility.
In Woburn, Mass., a ribbon-cutting ceremony was celebrating a 3,800-square-foot facility for startup Continuus Pharmaceuticals, where a state-of-the-art laboratory was in development.
While these are very different scenarios in terms of what is being built and why, they all have one thing in common: the adoption of flexible, modular continuous processing in pharmaceutical manufacturing.
Since the 19th century, drug makers have been working with units of operation to mix, grind, test and mill in different batches. What started with mortar and pestle has grown into more automated volume-controlled recipe processes that go through a quality check at each stage. The technique has met regulatory requirements and has worked effectively, but is quickly becoming an outdated method of manufacturing.
Drug shortages, global competition, and the introduction of precision medicines in a post-blockbuster era are causing the pharmaceutical community to reevaluate antiquated operations. And they are looking to the oil and gas and chemical industries to give them a lesson in continuous process manufacturing.
Continuous manufacturing allows for an uninterrupted flow from starting materials to synthesis to final dosage form. By eliminating isolated batches and switching to a streamlined continuous approach, manufacturers can deliver higher yields, as well as lower operating, inventory and capital costs, and reduce variability, resulting in more consistent quality.
But it also requires a complete infrastructure overhaul, which has caused the pharma industry to pause. Indeed, there are a few hurdles along the way to acceptance and adoption of this innovative concept in the conservative drug industry. Patient safety, regulatory compliance and financial stability are all at risk.
"At the management level, they don't want to take the risk if they don't need to," says Günter Jagschies, senior director of strategic customer relations in the BioProcess Division of GE Healthcare Life Sciences. "So there is currently a debate between those believers of implementing continuous manufacturing and those who don't think they need it because they've established a good enough batch process."
On the other end of the spectrum is Dr. Janet Woodcock, director of the Center for Drug Evaluation and Research (CDER) at the Food and Drug Administration (FDA), who very clearly sees the need to modernize drug manufacturing. She has spoken publicly of her support for continuous manufacturing to improve drug quality. Despite this support, drug manufacturers are reluctant to move forward largely due to the need for FDA approval when changing manufacturing processes. So the agency is taking it a step further. This past October, the FDA awarded $4.9 million in grant funding to the Engineering Research Center for Structured Organic Particulate Systems (C-SOPS). C-SOPS is headquartered at Rutgers University and operates in partnership with other academic institutions and over 40 industrial consortium members ranging from pharmaceutical end users like Merck, GlaxoSmithKline and Pfizer to industrial technology suppliers like Siemens, Bosch and Emerson Process Management.
C-SOPS industry members are tasked with developing a proposal for regulations that would govern the introduction and expansion of continuous manufacturing techniques in the pharmaceutical industry. And, according to Woodcock, having automation suppliers onboard is a critical catalyst to success. That's because the pharma industry has been concerned about the lack of vendors making equipment that will support this new method of drug manufacturing at a commercial scale.
"Equipment manufacturers will play an important role in this space," Woodcock said in an interview with Industria Macchine Automatiche Lab (IMA Lab), "and will hopefully be proactive and reach out to the pharmaceutical industry to apply their engineering and creative talents in order to find out what support will be needed."
The FDA, too, is being proactive. Beyond funding R&D, in December the agency created the Emerging Technology Team (ETT) as part of the CDER, and invited pharmaceutical companies to participate in a program to collaborate with ETT while implementing cutting-edge technology.
Innovators and Investors
The FDA and C-SOPS are not the only organizations to invest in the future of pharma. In 2007, drug giant Novartis launched a research program with the Massachusetts Institute of Technology (MIT), providing $65 million over 10 years to develop technology that will change the way drugs are made. The collaboration operates as the Novartis-MIT Center for Continuous Manufacturing (CCM), and is focused first on developing technology for solid-dose manufacturing, featuring a prototype that went live in 2012.
"That was a huge victory in the summer of 2012," says Bernhardt Trout, a professor of chemical engineering at MIT and the director of Novartis-MIT CCM. During that first phase of research, MIT was focused on developing new technologies in individual labs of professors, while another area focused on developing a demo of an end-to-end integrated and totally automated system with real time evaluation of the final product in the production line—meaning quality is built-in by design so that the product is never taken offline to a quality assurance lab.
MIT uses mathematical models in the control system based on first-principles understanding of the components of the system. Part of the benefit of this level of process understanding is that the individual models themselves are relatively simple. However, the complexity is in putting the many models together into an integrated control strategy, Trout says. Now, in the second phase of the 10-year research plan, "we continue to develop technology and bring it to the point where Novartis and other companies can use it."
That's where Continuus Pharma­ceuticals comes in. This Novartis-MIT Center spin-off company opened its first facility in Woburn last April, dedicated to developing integrated continuous manufacturing (ICM) technology with its strategic partners. Continuus is building an on-demand manufacturing model that is a one-stop solution for the entire development and manufacturing cycle. It is modular, flexible, and a totally new kind of manufacturing plant.
A Modular Model
It was a busy 2015 for Pfizer, starting when that oversized container—called a pod—was shipped from Texas to Connecticut on that day in March. The pod came from G-Con Manufacturing, which makes mobile, prefabricated, self-contained cleanroom designs. It took Pfizer just three days to assemble, and the pods were easily integrated with automation, control and process analytics.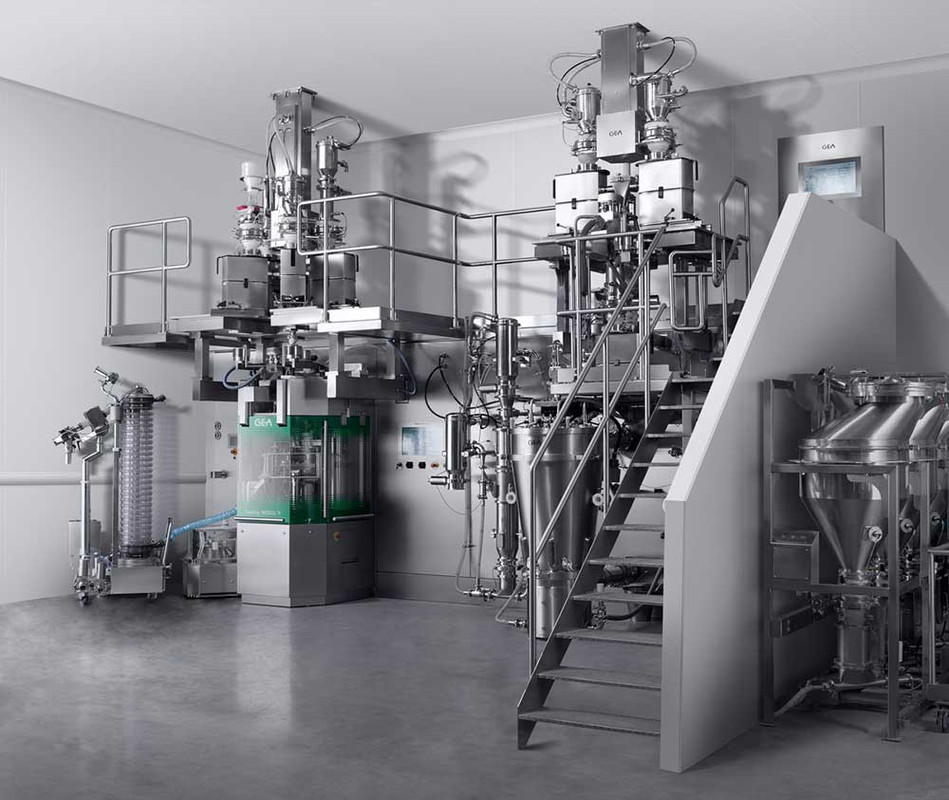 Pfizer's PCCM manufacturing prototype includes GEA's ConsiGma continuous high-shear granulation and drying system, which is currently installed at Pfizer Labs in Groton, Conn.
Within eight weeks, Pfizer had connected power and utility systems and received a certificate of occupancy. From there, together with GEA Pharma Systems' ConsiGma continuous tableting line and Pfizer's process analytical technology (PAT) for in-line/on-line quality measurement, the team built the portable, continuous, miniature and modular (PCMM) prototype for oral solid dose (OSD) pharmaceutical development and manufacturing.
PCMM, housed in G-Con's transportable pod, can be shipped to a location and quickly brought online with modules that are compliant with good manufacturing practice (GMP) guidelines. The benefits of the modular model include a 60 percent smaller footprint than conventional production facilities; the ability to use the same equipment for development, clinical trials and commercial manufacturing; and a faster one-year setup time compared with a few years for traditional batch processes.
Similarly, GE Healthcare Life Sciences has KUBio, a prefabricated cGMP-compliant facility designed to be scalable and cost-efficient. KUBio is modular and can be transported anywhere—like to the JHL Biotech facility in China. Once the building modules were in place, JHL got started installing GE's FlexFactory system, which is single-use technology used to manufacture biologics, such as monoclonal antibodies (MAbs) and vaccines from cell culture to bulk product formulation.
GE's Jagschies makes it clear that FlexFactory technology is specifically for biologics, which is different from what Pfizer and Novartis-MIT technology are doing with chemical synthesis. "There is a different risk profile with continuous manufacturing when used in biologics, which wouldn't be there with chemicals, and that's the risk of infecting the system." While the technology may be different, the overall goal is the same: "We are all trying to eliminate wasteful activities from the process," Jagschies says.
For its part, Pfizer is currently testing PCMM and plans to put it into production for its own use this year. But there is still work to do, especially when it comes to establishing connectivity between the material transformation steps during processing. "It's a non-trivial task to get the equipment to operate in harmony," says Daniel Blackwood, Pfizer's director of advanced technologies for prototyping and implementation. For example, when a tablet press stops, the upstream equipment needs to come to a graceful pause. And when the tablet press resumes, so must the equipment.
To get everything synchronized, Pfizer has invited other organizations to help develop the next generation of PCMM. Last October, GlaxoSmithKline (GSK) joined the effort, and the companies announced a multi-year collaboration to design a new platform of continuous processing equipment.
Novartis-MIT, too, collaborates with the leadership of C-SOPS. The reason for this "friendly competition" is twofold. First, regulatory pressure is a strong incentive for a concerted effort. Second, drug companies don't compete on the plant floor. "Their primary competition is not manufacturing," says MIT's Trout. "Pharmaceutical companies compete with their products."
That mindset might be changing, however, as companies like Novartis want to be leaders in manufacturing, which is why they've invested so much money in MIT's research. With a new focus on the plant floor, there may be a new opportunity for automation vendors to establish a bigger role in the big picture.
An Automation Angle
Siemens and Rockwell Automation are both positioning themselves to be more strategic to the pharmaceutical industry as a whole in the future. Specifically, any kind of continuous flow application will need an integrated control platform to control and manage pressure and flows. In addition, a variety of software is required to manage the different types of data and process analytics.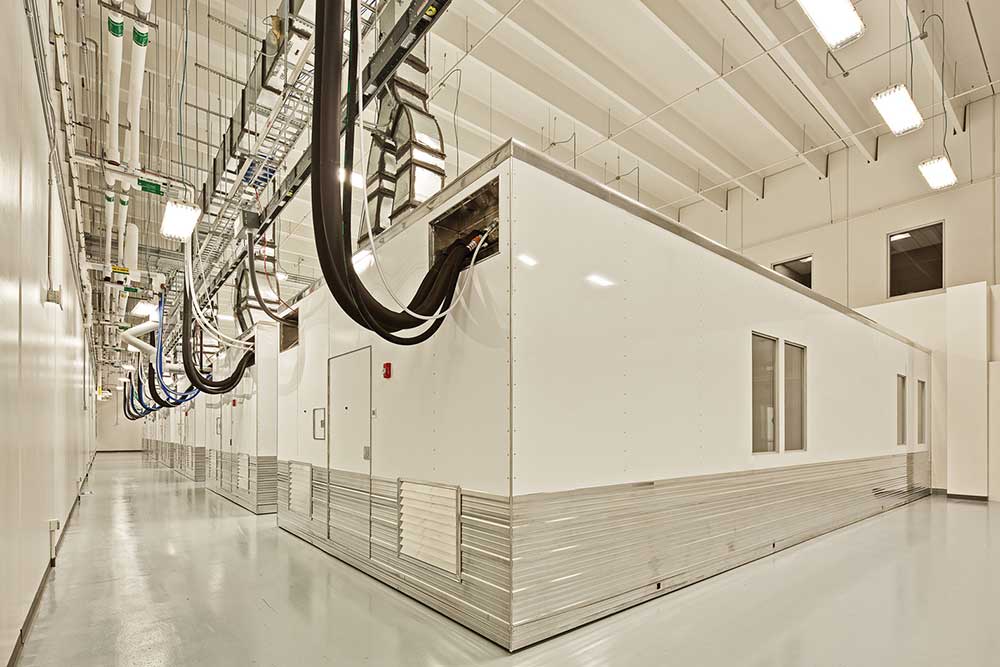 G-Con Manufacturing's prefabricated, self-contained cleanroom pods are scalable and mobile and designed to house different components of a continuous manufacturing line.
Rockwell has been working with pod manufacturer G-Con on a variety of projects, including the rapid construction and commissioning of a pharma facility for the Defense Advanced Research Projects Agency (DARPA), which awarded G-Con a grant to produce flu vaccines three times faster than conventional systems.
"The concept was to take a manufacturing cell and be able to quickly put it into a Third World country that needed vaccines," says Chris Steffas, Rockwell's application center manager for the Systems and Solutions business.
The pods were equipped with Allen-Bradley ControlLogix programmable automation controllers (PACs) to control the environment, while upstream processes were managed by Rockwell FactoryTalk software, leveraging Ethernet/IP to communicate between process equipment. In addition, Rockwell FactoryTalk VantagePoint software aggregates production data and compiles it into web-based reports to provide a real-time view of operations.
Similarly, Siemens has all the control and quality management software required for a continuous process setup. Specifically, the company's Simatic Sipat is process analytic technology that provides data collection, data mining, data monitoring, control and reporting, and helps users understand the processes as well as continuous improvements. It can be combined with other process analyzers in production and can exchange information with process control systems.
When it comes to understanding the needs of the users, Siemens and Rockwell have extensive experience dealing with organizational shifts, as they sit in the middle of the information technology (IT) and operations technology (OT) convergence. So they just might be able to help the pharma companies in their new shift in mindset from batch to continuous process, which, according to MIT's Trout, is perhaps the last obstacle to overcome in this journey.
Companies in this article