Industry might indeed be talking less about sustainability programs, but the chatter that still exists has undergone a subtle change over the past few years. Just look at the announcement made late last fall by the Danfoss Group from its headquarters in Nordborg, Denmark. The worldwide producer of air conditioning, heating, refrigeration and water systems is extending an already successful program for its buildings to include its production lines.
Its old program cut energy consumption per unit sales by 29 percent between 2007 and 2014, a time when the company's net sales increased by 55 percent. "Now, we are intensifying our own efforts in the form of a new, ambitious climate strategy, which builds on what we have already done and achieved," says Niels Christiansen, president and CEO.
Beginning in 2017, he wants to reduce energy consumption by 3 percent annually and emissions by 5 percent annually. His goal for 2030 is to be using half the energy per unit sales than the company used in 2007, which means going from 24 MWh per $150,000 of sales down to 12 MWh. He also plans a corresponding cut in carbon dioxide emissions, halving them from 705 lb of CO2 per 1 MWh of energy used in 2007 down to 352 lb by 2030.
Danfoss expects to continue to squeeze more energy savings from its buildings because the initial round of savings came from picking low-hanging fruit. Its initial efforts were on factories with the highest savings potential. "We achieved the 29 percent reduction in energy intensity by investing only in internal saving projects with a simple payback time of less than three years," explains Flemming Lynge Nielsen, director of energy efficiency and sustainability for Danfoss. "Because we have yet to assess more than 40 factories, we believe that there is a large, unharvested potential."
Even more potential exists in the production lines themselves, where Nielsen foresees a savings of 10-30 percent. Although the company has not yet determined how much of this savings will contribute to its overall goals, estimates are that it will be about the same as it has been for the buildings. "We will start the detailed scoping of this energy-saving program in early 2016," Nielsen reports.
Reader snapshot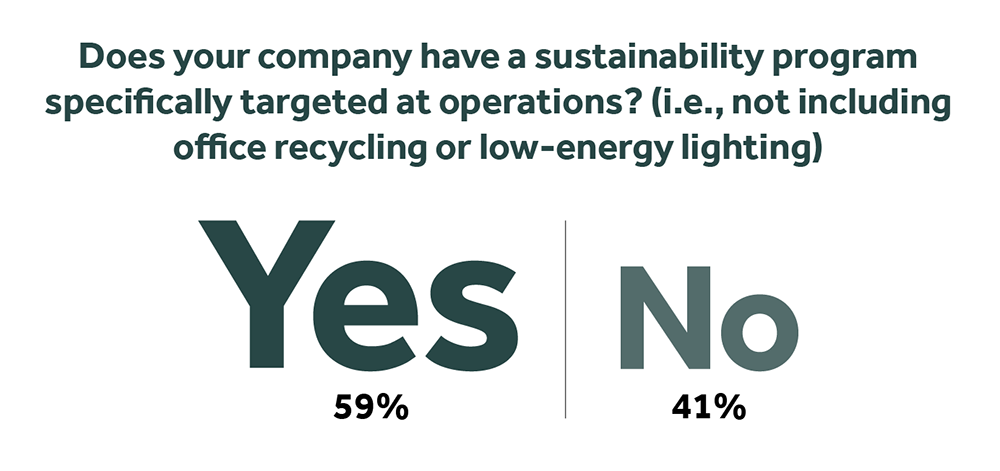 The announcement from Danfoss is representative of a growing number of companies that are integrating sustainability into manufacturing as a normal part of conducting business. According to a recent survey of Automation World's readers, 59 percent of you have already implemented sustainability programs specifically for your manufacturing operations, in addition to or apart from office initiatives.
The percentage was approximately the same for both discrete manufacturing (62 percent) and process industries (59 percent), a finding that surprises some advocates. "I would have expected it to be larger in the process industries than in the discrete ones, since the process industries are usually associated with products and processes that pose a bigger threat to the environment," says Diego Tamburini, manufacturing industry strategist at San Francisco-based Autodesk.

The survey supports assertions that, rather than fizzling, sustainability is actually fast becoming an integral part of manufacturing. Almost twice as many respondents launched their sustainability programs within the past five years as did so more than five years ago. About 39 percent launched within the past five years, and 21 percent have had sustainable-manufacturing programs in place longer than that. And even when you look at the programs launched in the past five years, a little more than half of them were launched within the last two years (19.8 percent in last 1-2 years, and 18.9 percent in the last 3-5 years), providing even more evidence of a steady increase in new programs.
Advocates for sustainable manufacturing are not surprised that a majority of the respondents report already having a sustainability program aimed at manufacturing operations. "There is a continuing push across corporate America to practice various elements of sustainability equation," observes Fred Wentzel, executive vice president of the National Council for Advanced Manufacturing (NACFAM) in Washington, D.C. He sees the movement as strongest among bigger companies, mainly because they tend to have more resources.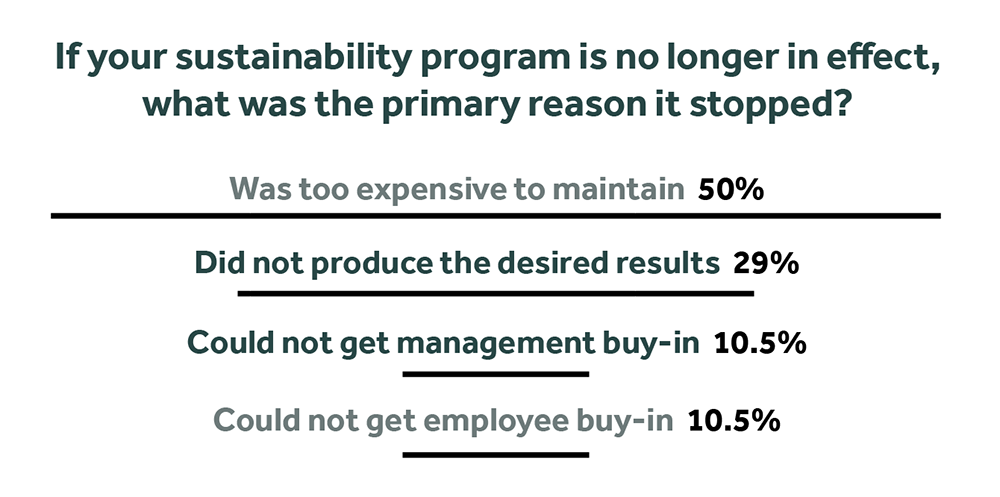 So, why do fewer manufacturers seem to be announcing new sustainability programs? "If it's part of your normal way of doing business," Wentzel says, "you rarely put out press releases on it. It's only when you're starting something new that you think to let the world - especially your investors - know that you're devoting time and energy to something designed to cut costs and to increase productivity."
Another explanation for the perception that there has been less talk about sustainable manufacturing is that the easy wins have already been announced by the early adopters and are no longer news. "Sustainability is entering a more mature phase of its development," suggests Nina Goodrich, director of the Sustainable Packaging Coalition in Charlottesville, Va. "So it's a little tougher to come up with something that is really newsworthy."
Score some easy wins
According to Goodrich, the easiest sustainability programs to tackle are probably reducing energy consumption and cutting waste. "When sustainability is aligned with saving money, it's usually easy to enact those initiatives," she says.
Savings often result from systematic improvements to the process. Many companies, especially the more progressive ones, have had continuous-improvement teams for years. "Sustainability groups would be logical extensions of those programs," Goodrich observes, "so for these programs to be called sustainability programs today doesn't surprise me."
This line of reasoning is reflected in our survey results. When asked to identify the top three goals of their sustainability programs, respondents most often cited energy efficiency (47 percent), recycling and reuse (31 percent), and waste reduction (29 percent). The figures become more pronounced when you consider only those with sustainable manufacturing programs: Three-quarters of them report focusing on energy efficiency, and about half say that their companies are concentrating on waste reduction (46 percent) and recycling and reuse (51 percent).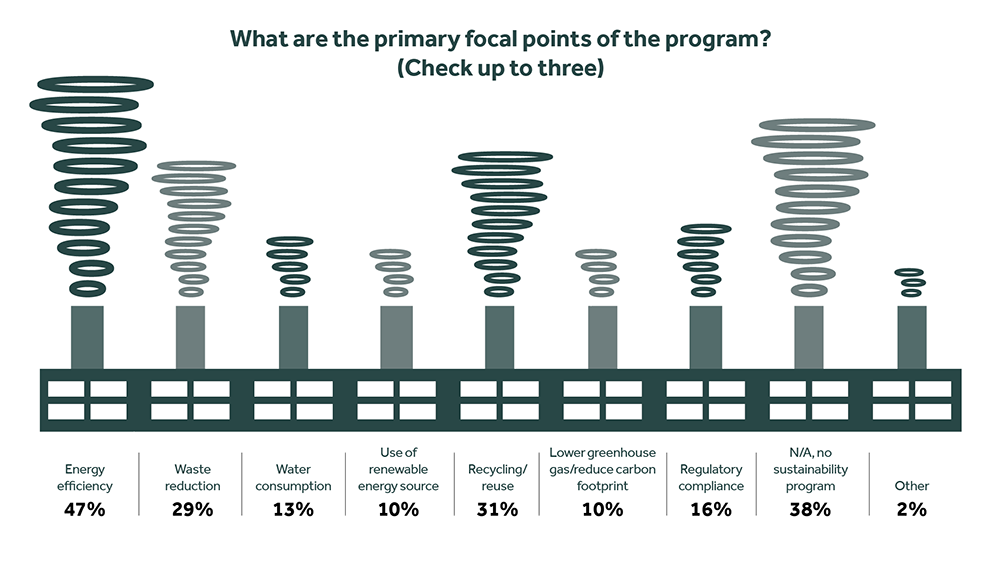 "The difficulty comes in trying to move companies beyond being less bad, in the sense of creating less waste," Goodrich notes. Her reason is that it is much more difficult to take the next step of finding another life for your waste so that the waste is useful starting material for someone else.
In our reader survey, the next tier of most commonly reported sustainability goals is composed of complying with regulations and reducing water consumption. About 26 percent of respondents that already have sustainable-manufacturing programs said their programs were focused on complying with regulations. About 22 percent of those with existing programs considered water consumption to be a top concern.
"Most manufacturing in the U.S. is in places that are not water-stressed, so manufacturers haven't had to think about it until recently," Goodrich says. "Water conservation, however, is becoming more important, especially given the drought in California." Her organization has developed a lifecycle-analysis tool that helps the packaging industry find ways to use less water, as well as less carbon-based energy.
Currently, the least common goals in industry seem to be renewable energy and greenhouse gases/carbon footprints. In both cases, only 10 percent of all respondents—or 16 percent of those with sustainable manufacturing programs—identified them among their top three concerns.
Technology: sustaining sustainability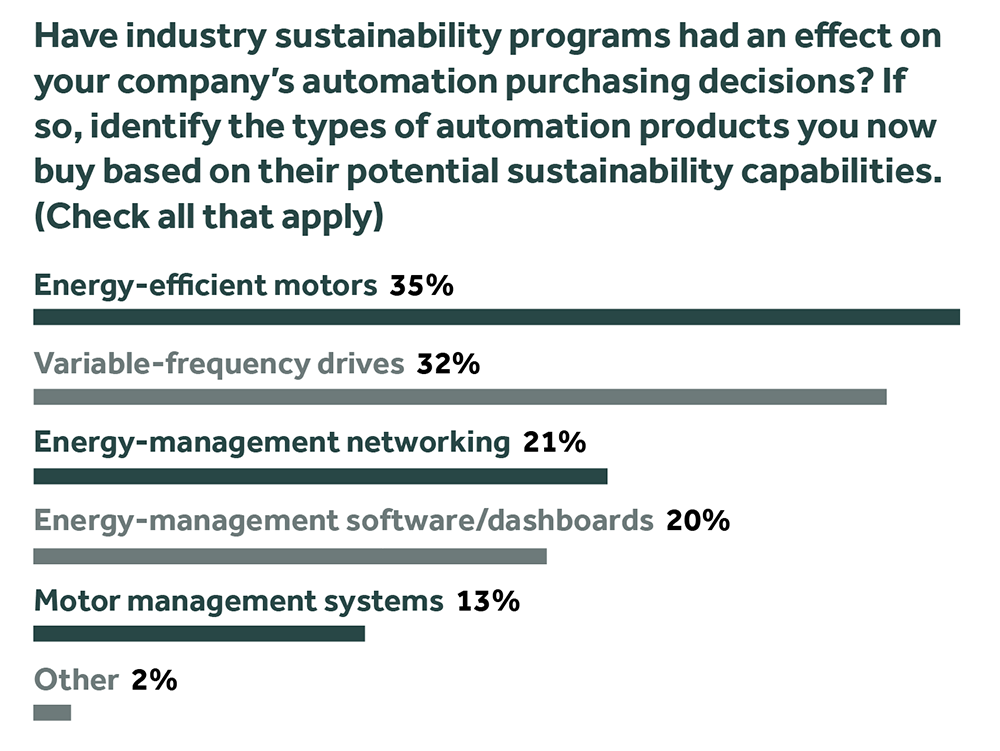 Although 59 percent of our survey respondents have sustainable manufacturing programs at their companies, only 53 percent reported that sustainability has affected their decisions on the kinds of automation they buy. By far, motors and drives were the largest category that they identified. About 35 percent are now investing in energy-efficient motors; 32 percent in variable-frequency drives (VFDs); and 13 percent in motor management systems.
As one respondent notes, this focus translates into such things as looking for energy-efficient fans and pumps. Other investments respondents mentioned include more energy-efficient lighting, such as LEDs, and reduced packaging materials and waste. "If it saves money, works more effectively, and is green, we will consider it in that order," another respondent says.
Sustainability is also influencing the purchase of software and information technology, especially for various aspects of energy management. Not only are 13 percent of those surveyed now using motor management systems, but 19.5 percent report that sustainability has affected their investment in energy-management software/dashboards and 22 percent report an influence on energy-management networking (e.g., ProfiEnergy and EtherNet/IP "Energy Aware" devices), respectively.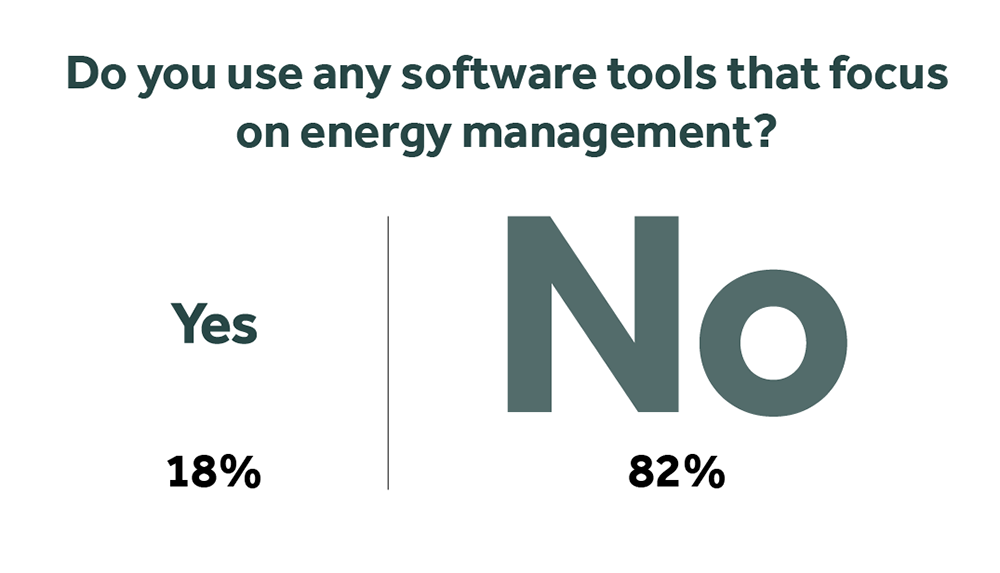 When asked in a separate question whether they currently use software tools for energy management, 18.3 percent said they did. Although most reported using software from large automation vendors, about 10 percent said they are using custom software, and one respondent is working with tools from the local utility.
Advocates note that energy-manaagement software is but one way that information technology can help to advance sustainable manufacturing. Another is the Internet of Things (IoT). "It's about having sensors and actuators on devices, people and buildings to transmit real-time information about their performance, behavior and environment," says Autodesk's Tamburini. "This information - properly analyzed - can provide significant insight into opportunities to increase efficiency,"
He also urges users to consider other genres of software that permit digital prototyping and simulating factories, manufacturing operations and devices. Such software lets users optimize the layout of the plant so that it minimizes energy consumption and streamlines the flow of materials and parts.
A competitive advantage
As gratified as advocates are that a solid majority of companies are designing their manufacturing operations for sustainability and investing in technology to support the effort, some expressed surprise at the 41 percent who have yet to do so. "Consumers—especially those in more affluent, mature economies—are increasingly choosing products on the basis of the manufacturer's environmental impact, rather than on price alone," Tamburini notes.
Manufacturing is part of the mix. "There is an increasing pressure on manufacturers to be socially and environmentally responsible," Tamburini says. Because these pressures and the concerns over global warming are bound to increase in the coming years, he believes that sustainable manufacturing can become a competitive advantage.
Goodrich thinks it has already become one in some quarters. She points to research conducted at the Massachusetts Institute of Technology's Sloan School of Management and another study at Harvard University. The MIT researchers showed that companies that had linked sustainability to their business strategies outperformed companies that didn't. The Harvard study linked sustainability initiatives that were material to the business to higher stock values.
"The companies that were really making a difference had a higher share price," Goodrich says. On the other hand, "a half-hearted effort didn't really buy companies anything over doing nothing."
The Sustainable Packaging Coalition is publishing a report that looks at how various industries set and achieve sustainability. It found that successful programs set goals that resonate within the company's industry and also mean something to the company itself. "If water is important to your company," Goodrich offers, "then it makes sense for some of your corporate sustainability goals to have something to do with water."
Goodrich urges looking beyond your company's direct footprint to consider indirect footprints left by its supply chain. Where are the materials coming from, and how are they being transported? Where are the hotspots?
Though sustainable manufacturing can give a company a strategic edge, not all sustainability programs are instituted by top management. Of those respondents whose companies have sustainability programs, only half have instituted their programs globally at the behest of executive management. The other half instituted them locally through the initiative of plant management.
Although advocates maintain that any sustainability initiative is better than nothing, they tend to stress the importance of direction from the top. "You're going to get better results any time senior executives are interested in some aspect of the business and willing to roll up their sleeves to support it," observes Wentzel at NACFAM.
Local contributions from the plant are also an important element for success. "Grassroots efforts can be extremely successful because they're empowering for the people who are building and implementing these programs," Goodrich says. "You want the program to resonate with employees. And oftentimes, they can see the opportunity areas best." Of course, their efforts are easier and more productive if they are aligned with a larger corporate initiative driven by the CEO.

Getting started is worthwhile, according to our survey results. Companies with sustainable-manufacturing programs usually rate their programs as successes. In fact, nearly all of those respondents with sustainability programs in place reported at least some positive effects. Almost 12 percent went so far as to describe these effects as game changing. About half said their programs are achieving the desired goals for saving money and changing the mindset, and 36 percent said the effects were not particularly remarkable, but had some positive effects. Only 2.4 percent said that their programs made no difference.
Companies in this article