As an electrical engineering major in college, Cody Warren couldn't get enough of Arduino and Raspberry Pi. He was convinced that embedded programming was his thing. A future in automation wasn't something he considered much—not for lack of interest, but because he didn't know anything about the discipline or its role in manufacturing.
All of that changed in his sophomore year when a buddy hooked him up with a summer internship at Tamaki Control, which specializes in PLC, SCADA and HMI programming. The short-term gig led to ongoing remote work during the school year and subsequent summer internships. When Warren graduated, he came on board Tamaki as a full-time control engineer.
"Everyone at school wanted to work in the oil and gas industry or get a defense job and this didn't seem as glamorous," he recalls. "No one wanted to walk around a plant with a hard hat on, but with all the controls and robotics, it turned out to be way more high-tech than I thought it would be."
The disconnect between Millennials and the automation profession seems to cut both ways. Good automation jobs like control engineers or SCADA programmers are not on the radar screens of Millennials coming out of technical colleges and universities compared with the more visible roles in software or mechanical engineering. And Millennials' penchant for job hopping and prioritizing work-life balance and social causes has created a bad rap among more traditional automation veterans, who say they aren't in a hurry to court the next generation.
Yet with industry experts forecasting a need for more than 3.5 million manufacturing jobs to be filled in the U.S. over the next decade, and Millennials expected to account for 75 percent of the global workforce by 2025, the next generation is a resource pool that cannot be ignored. Societal trends like a shrinking working-age population, retiring Baby Boomers and a shortage of tech-savvy workers, coupled with manufacturers' emphasis on technology leadership and cultivating a skilled workforce, seem at odds with the somewhat sluggish pace of recruiting activity around Millennial talent.
The Millennial attraction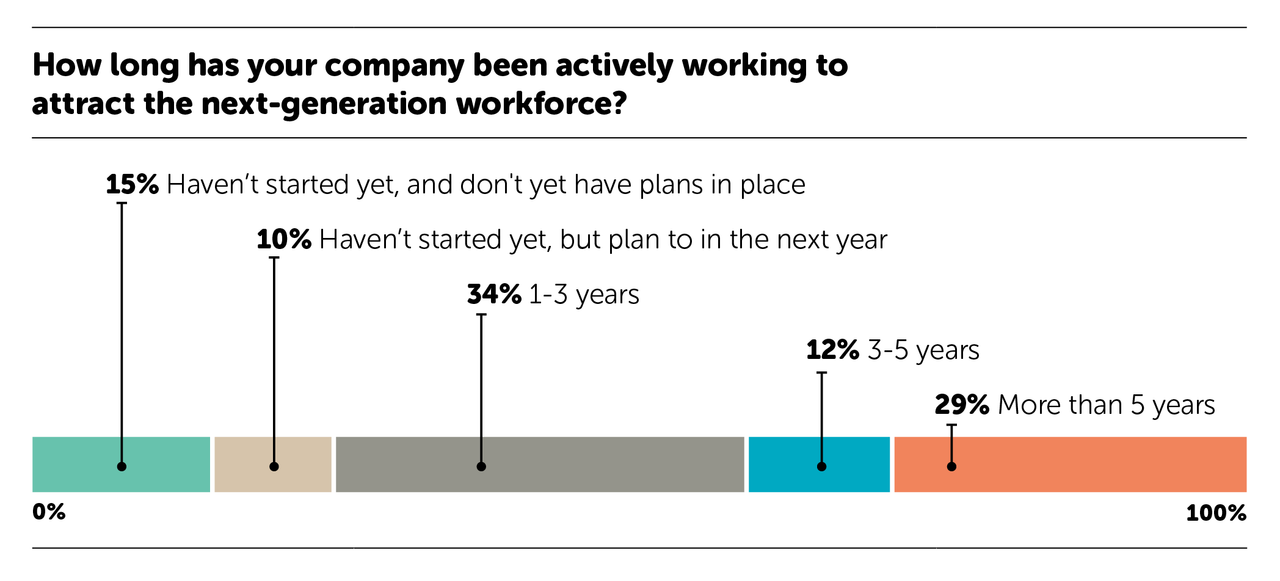 To understand more about cultivating the next-generation workforce, Automation World surveyed its readers to get their perspective. Although 41 percent of the respondents have been actively working to attract Millennials over the past three or more years, nearly a quarter (24.8 percent) have done nothing yet to recruit this segment of the workforce.
Though manufacturers might have reservations about the incoming generation, it's time to reverse the thinking and focus on the opportunities rather than the challenges of dealing with a different kind of workforce, says Malcolm Fox, vice president of marketing at Epicor Software, which found similar results in research it sponsored. "Manufacturers are approaching this all wrong—they need to be thinking more about the benefits of harnessing the enthusiasm, knowledge and fresh thinking of the Millennial generation rather than worrying about the challenges," he says. "They have to look at it from the other side of the equation."
Manufacturers that aren't prepared to get serious about Millennial recruiting are likely putting their future at risk, maintains Cheryl Garrison, job placement coordinator at Tri-County Technical College, a two-year community college in Pendleton, S.C., that serves as a feeder school to Clemson University and actively works with local industry giants like BMW, Michelin and Bosch Automotive, among others, to funnel Millennials into the workplace. "There are many more technology jobs in our area than there are folks to fill them, and it's only going to get worse because so many Baby Boomers are retiring," Garrison says. "There is a huge void of highly skilled technical engineers."
Ignorance is not bliss
The biggest obstacle to attracting Millennials is that many, like Warren, simply aren't familiar with the vocation or what kinds of jobs are available. Automation suppliers and large manufacturers need to be out there championing their companies and career opportunities to university students as well as to the K-12 student and teacher community—even parents, Garrison says. "We're not doing enough today to educate at the student, parent and middle school level about what these careers look like," she says. "This is not like the old days of textiles—it's no longer old school, dark and dirty manufacturing. It's a very fast-paced, high-tech world of robotics and more."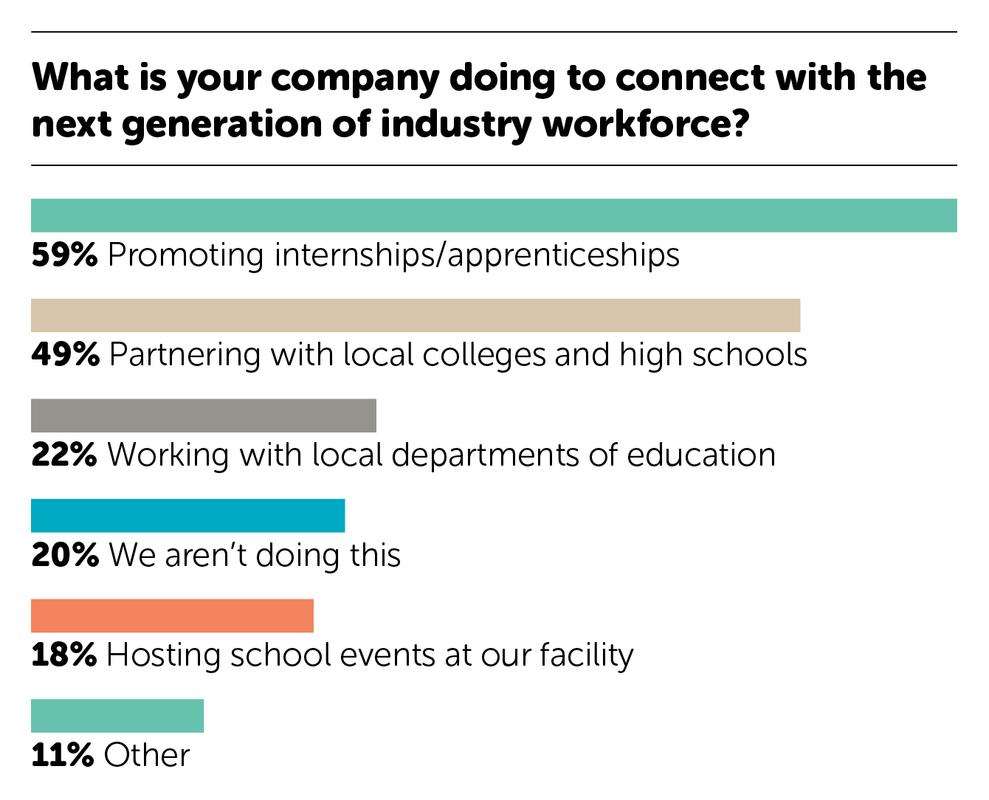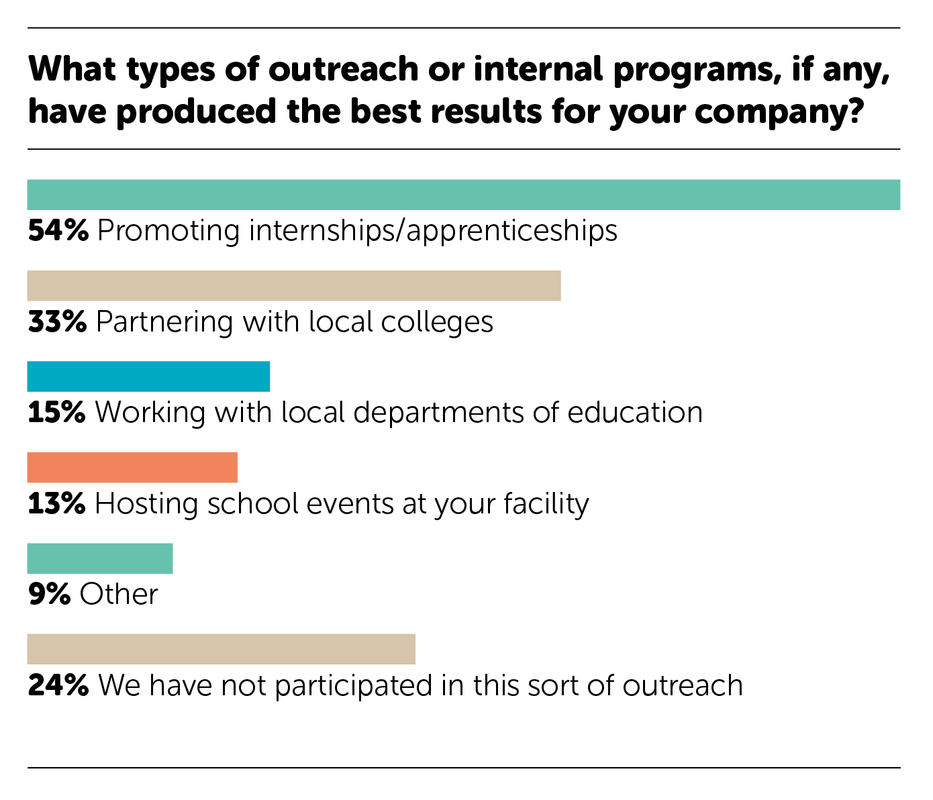 Manufacturers that have prioritized next-generation recruitment are doing a number of things to connect with Millennials, according to our survey. Among the most popular tactics cited by respondents: promoting internships and apprenticeships (58.9 percent), partnering with local colleges and high schools (48.7 percent), working with local departments of education (22 percent), and hosting events at their facilities (18 percent). Other initiatives mentioned included collaborating with automation vendors to provide hardware to colleges to gain exposure, appointing STEM ambassadors, participating in career fairs, and using social media.
Only 20.2 percent of survey respondents said they weren't doing anything to forge connections with the next generation, in part because of the reticence about Millennials' ability to commit to long-term employment and because of perceived pushback from the generation over taking direction and handling feedback. "We focus on an experienced workforce instead, with much better results," said one respondent.
Based on the survey results, recruitment tactics generating the most success are internships (53.7 percent) and partnerships with local colleges (32.8 percent). Employee mentoring programs, job fair participation, and sponsorship of student competitions like local hackathons or FIRST Robotics were also deemed most helpful in courting younger workers. As far as their success attracting next-generation workers, half of survey respondents reported having some success, but not nearly enough to fill the expected number of open positions.
Rockwell Automation has active internship and university partnership programs underway, and it also just appointed its first global STEM ambassador to make Millennial hiring a priority, says Jay Flores, who holds the title. Flores, now 26, actually came into the automation field thanks to Rockwell's aggressive outreach programs in the community. Flores grew up near Rockwell's headquarters, but—though familiar with the company's distinct clock tower—he had no idea what actually went on in the building. Through outreach programs, he became exposed to engineering, toured the Rockwell facility, and eventually landed a scholarship (paid by Rockwell) to attend a university program in mechanical engineering. After multiple summer internships at the company, he took a full-time position in sales in 2012 and was promoted to the STEM ambassador role last November. "I'm living proof outreach works," Flores says.
Now it's Flores' turn to make sure up-and-coming teenagers and new-to-the-workforce Millennials have the same kind of exposure to Rockwell and automation jobs. He empowers colleagues with toolkits so they can make presentations at their children's schools, and he's actively involved in student competitions like FIRST Robotics. "Competitions help bridge the gap between what they're doing—making robots compete on a game field—to building robots in the future that can help automate assembly lines," he says.
Retooling for Millennials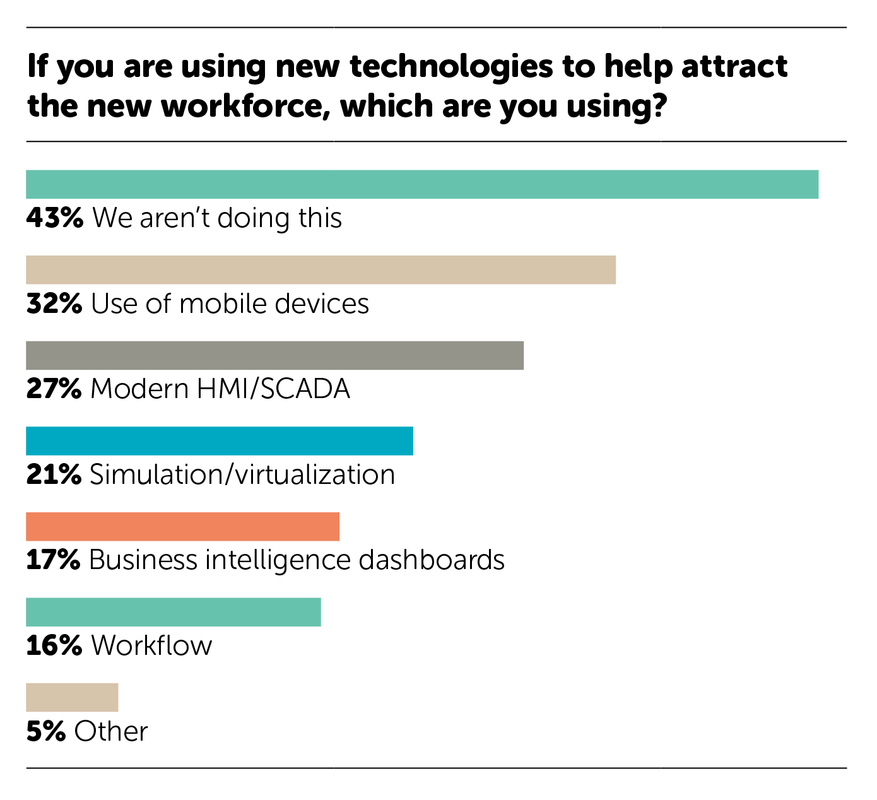 Getting more exposure among Millennials is really as simple as retooling the message and positioning of automation companies, contends Matt Newton, director of technical marketing for Opto 22. The Millennial generation cares about things like social awareness, improving the environment, and changing the way business is done—all legitimate functions and objectives of modern-day automation technology, he says. "We need to redo the messaging so it's not about making the best widget in the world, but making the best widget in the world that will solve this business problem, for these people, using green manufacturing systems—and you, Millennial, can design it."
Most of the changes made to attract a new workforce have yet to require new policies, according to our survey. Nearly 50 percent of our survey respondents have adopted changes to attract Millennials without modifying policies. But among those that have, bring your own device (BYOD), flexible work hours and dress codes, open office concepts, increased automation security policies and training, and programs that emphasize work/life balance and gender equality were among the tactics cited.
Giving next-generation workers access to the latest automation technologies is another way to attract them to automation roles. Companies that are moving away from traditional proprietary automation technologies towards state-of-the-art offerings like HMI systems and mobile platforms have a better chance at appealing to Millennials who grew up with technology and expect to use it as readily professionally as they do in their personal lives, Newton contends.
Survey respondents are already ramping up use of such technologies. Mobile technology was the most popular, used by 31.5 percent of the respondents, followed by modern HMI/SCADA systems (27.2 percent) and simulation and virtualization tools (20.9 percent). The Internet of Things (IoT), social media, Big Data capabilities, and cloud computing to support remote work were other technologies that were of interest, yet a significant number of survey respondents (42.8 percent) have no plans to adopt such technologies to attract the next generation.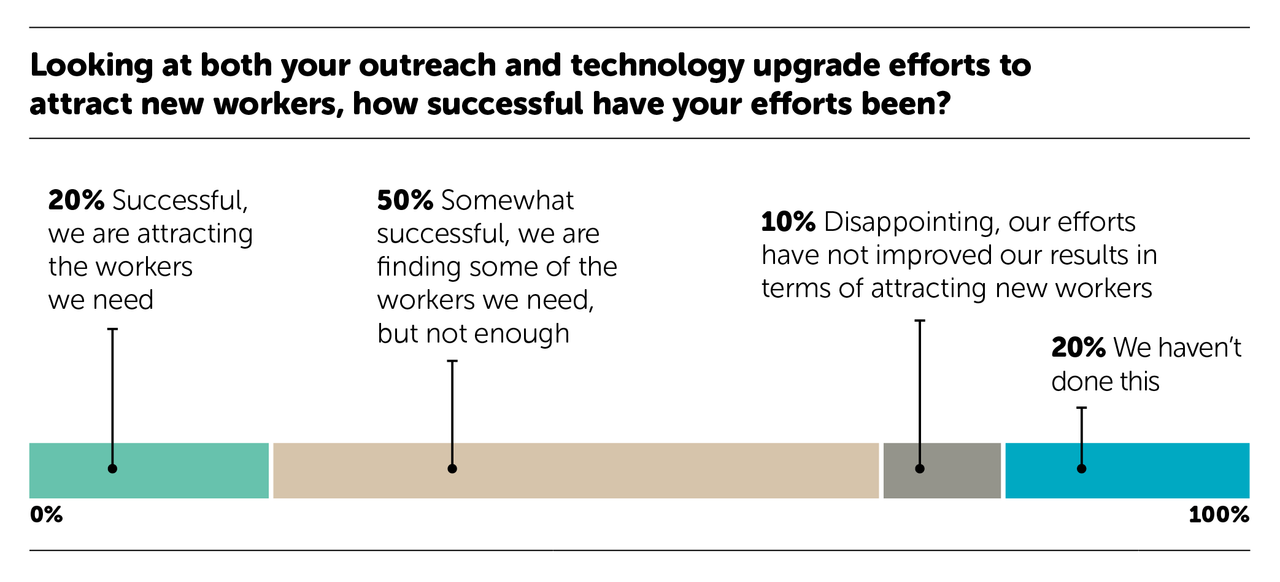 Automation vendors' shift away from proprietary and closed architectures to open platforms that look and feel more like consumer apps will go a long way in appealing to a younger and more tech-savvy crowd. Many Millennials aren't exposed to automation technologies like PLCs because they are just too expensive to be mainstream, Warren contends. In addition, open technologies make it far easier for Millennials to get up to speed compared to specialized proprietary automation platforms that require specialized training. "If I don't know how to write code, I just Google it. But if I'm working with a Rockwell PLC and I don't know how to create a certain type of drive, it's not going to be posted out there on the web," he says. "The more open things are, the easier it is for people to catch up and get ahead in the field."
For Warren, getting ahead and garnering automation expertise has been relatively painless at Tamaki Controls, given the company's fast-paced culture that allows Millennials like him to jump right in and start on real programming instead of busy work. That, and seeing how automation can positively impact a company's bottom line, has made him a huge proponent of this career track, especially among his friends. Of the nearly a dozen U.S. employees at Tamaki, there are six people under 26, and word of mouth is keeping the Millennial pipeline filled.
"The company is really cool—they listen to us and get us involved from an early age," he says. "They keep asking for more recommendations and we call more friends in and it's been pulling on a string ever since."
Companies in this article