Firmly established as a means for rapid prototyping, 3D printing—or additive manufacturing (AM), as it's known in many circles—is steadily gaining traction for production applications, particularly as a means for optimizing custom or small-run parts.
The surge of midrange and consumer-class offerings introduced over the past few years has given 3D printing a boost, putting it on the map for small and mid-sized manufacturers that previously weren't all that familiar with the technology. More significantly, advances in industrial-grade materials, coupled with a broader range of material options, has made 3D printing more viable for producing production parts. Only a few years back, there were limited choices that often didn't meet quality and strength requirements.
The Obama administration also stepped up to secure 3D printing's role in advanced manufacturing and part production. Founded in 2012, the Youngstown, Ohio-based America Makes is a public/private partnership of industry, academia and government organizations working together to evolve 3D printing technologies as a means of advancing U.S. manufacturing competitiveness on a global stage.
All of this momentum is helping additive manufacturing transition from a prototyping tool to a viable alternative for part production. 3D printing of final production parts has soared in recent years, climbing from 19.6 percent of the total market in 2010 to more than half (51.3 percent) in 2015, according to the 2016 Wohlers Report from Wohlers Associates, a 3D printing research firm and consultancy.
"There's a growing awareness of the technology and how to use it," says Eric Utley, applications engineer at Proto Labs, a digital manufacturing company specializing in quick-turn prototypes and low-volume production parts using both traditional processes, like injection molding and CNC machining, as well as industrial 3D printing. "Now that it's come into public knowledge, it's being used more for custom tools and low-volume and end-use parts." 3D printing has become the fastest growing segment of Proto Labs' business, he adds.
Material madness
Stratasys Direct Manufacturing, which delivers 3D printing and consulting services, has also seen a burst of customer demand for producing end-use parts, says Kent Firestone, chief operating officer. A 2015 Stratasys report, "3D Printing's Imminent Impact on Manufacturing," shows a 38 percent uptick in 3D printed end-use part applications by 2018, led by companies in the aerospace and automotive sectors, he says.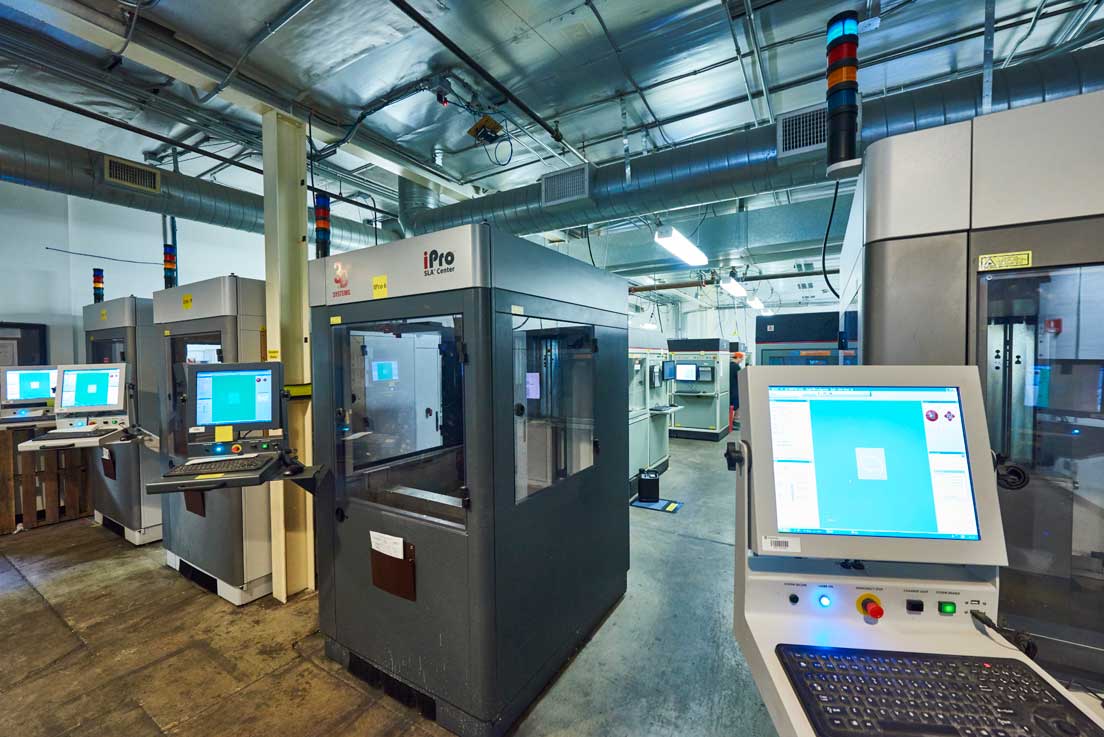 Advances in thermoplastics, metals and alloys have driven up demand for end-use parts applications at Stratasys Direct Manufacturing.
The debut of additive metals along with continual enhancements to Stratasys' core fused deposition modeling (FDM) technology, which 3D prints durable parts with production-grade thermoplastics, has contributed to manufacturers' ability to output robust parts that can hold up to real-world usage. In addition, support for familiar materials like ABS and high-performance ULTEM is also helping manufacturing professionals feel comfortable with the end result. "When you have a part made from ABS, the customer starts to think about how they use ABS for other applications and see [a 3D printer] as a machine for making it in another form," Firestone explains. "We can start talking the same language."
Instead of supplanting traditional manufacturing methods, 3D printing is best applied to the production of certain types of parts and particular use cases. For example, one of the primary benefits of 3D printing is the ability to output organic or complex shapes that otherwise couldn't be produced with traditional manufacturing methods, experts say. Weight reduction is another big impetus to shift part production to 3D printing because it offers the opportunity to redesign and consolidate parts to reduce costs and improve efficiencies.
Consider the aerospace sector, where manufacturers are pioneering the use of 3D printing technology to transform part design. As part of General Electric's LEAP engine development effort, the firm tapped 3D modeling and 3D printing technologies to redesign and produce a fuel nuzzle, consolidating 20 disparate parts procured from myriad suppliers into a single part that is 25 percent lighter and five times stronger than the one built with traditional manufacturing processes. For its part, Airbus transformed an assembly comprised of 126 parts, 27 fasteners and 61 nuts into just three, according to Terry Wohlers, principal consultant and president of Wohlers Associates.
"The technology makes it possible to reduce part numbers, inventory and assembly labor through part consolidation," he explains. "The most advanced companies are also using methods of topology optimization, which is letting mathematics decide where to locate the material. Savings in material costs and weight can be as much as 40 percent or higher. Also, scrap is reduced to a minimum."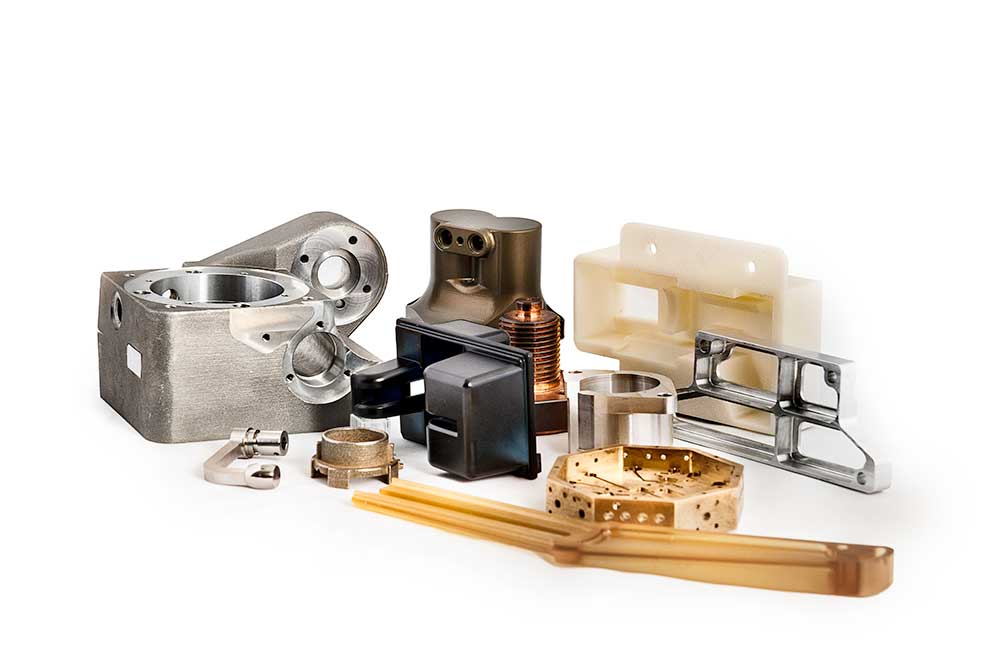 Fast Radius' on-demand manufacturing network leverages industrial 3D printing and other technologies to produce high-quality parts.
In addition to complex parts, 3D printing is particularly well suited to outputting custom parts—those that are limited edition or produced in low volume—to allow manufacturers to save on expensive tooling. Because there are little to no constraints, 3D printing opens up the entire spectrum of design possibilities for parts, especially when coupled with 3D modeling and artificial intelligence capabilities, notes Mitch Free, co-founder of Fast Radius, an on-demand platform for part production that is partnering with UPS on its vision for 3D printing factories.
"3D printing allows for unlimited customization—you can get exactly what you want, when and where you need it, and in the exact quantities required," Free says. "This will transform global supply chains from the ground up. Companies can produce parts on demand, eliminating millions in physical inventory costs. They can bring products to market dramatically faster with much less risk. They can customize production for customers at much higher value and profit."
At the same time, manufacturers really need to have an understanding of exactly how and where 3D printing can deliver benefits. "If a customer is working under the premise that AM is cheap and fast and therefore a good production tool, they could be misinformed about cost and lead time," cautions Tracy Albers, president of rp+m, an engineering consultancy and manufacturing services provider. "You have to have a complete understanding about how an object is traditionally made along with what areas you're looking to improve, what the costs and lead times are, and then you can really decide what makes sense." Size of part and choice of materials are other critical factors that can help determine whether 3D printing is a suitable production option.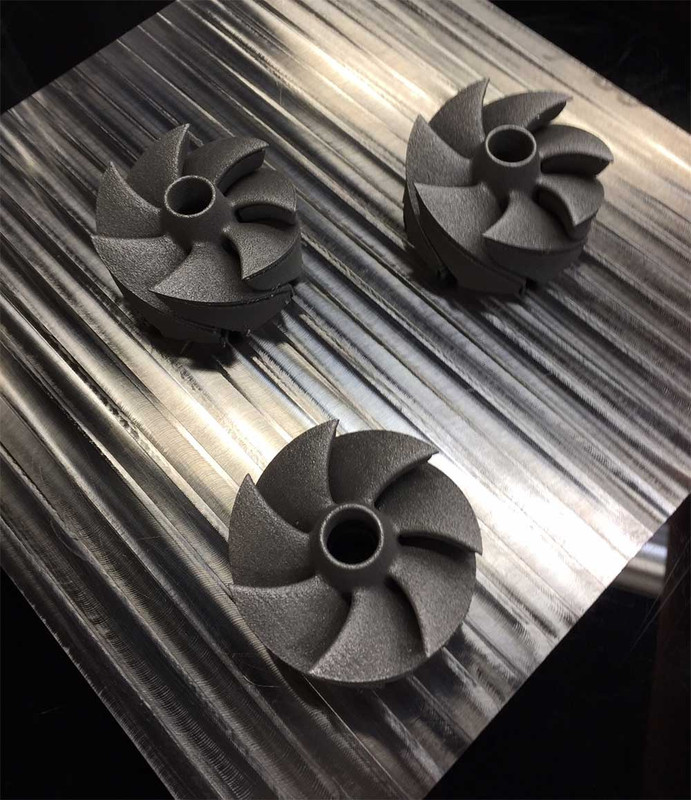 rp+m enables customers to 3D print complex, end-use production metal parts in days instead of months.
Take, for example, a traditional valve or tube assembly, which through use of 3D printing could be redesigned with a curved hole to improve laminar flow. Perhaps the original version of the part costs $1 to make with traditional manufacturing methods, but $4 to produce with AM techniques. "The question you have to answer is will the customer pay more for that difference in flow," Albers explains. "In some cases yes, but in some cases no."
Third-party partner ecosystem
Much of the rising demand for 3D printed end-use parts is being fulfilled through third-party service providers like rp+m and Stratasys rather than through internal 3D printing capabilities. In addition, on-demand digital manufacturing platforms like Fast Radius and 3Discovered are emerging, touting their ability to maintain just-in-time inventory and have access to the latest 3D printing technologies without incurring significant infrastructure investments.
With 3Discovered, for example, manufacturers can enlist cloud-based 3D design tools to create custom parts along with analytics tools to determine whether the part design will 3D print optimally. Manufacturers can also load the redesigned 3D printed part into a database and maintain a virtual inventory in the cloud, explains Peer Munck, 3Discovered's president. 3Discovered doesn't actually maintain a 3D printing factory—it relies on a network of certified service bureau partners, which can be matched specifically to customers' requirements. "We're a manufacturing platform, but don't have any manufacturing facilities," Munck says.
One area 3Discovered is targeting with its service is the production of hard-to-find replacement parts. Advanced Technology Services (ATS), which provides factory maintenance services, is leveraging the service to redesign and recreate discontinued or out-of-stock parts for factory floor equipment to better serve its customers, according to Tyler Budde, engineering associate at ATS. "With the 3D printing service, the part can sometimes cost a little more, but we only order what's needed and it allows us to support parts we couldn't before," he explains.
Previously, ATS might try to reproduce some of these parts internally or ship them out to an injection molder, but the process was time-consuming and uneconomical, especially for smaller parts, Budde says. Using a service bureau like 3Discovered also means ATS gets access to a range of printers and materials without having to make a capital investment, he adds. Respondents to the Stratasys Direct Manufacturing study cited similar benefits to outsourcing AM capabilities, including access to advanced equipment and materials (73 percent), less investment risk (60 percent), producing parts not able to be manufactured internally (53 percent), and access to AM expertise (47 percent).
Whether manufacturers outsource 3D printing of production parts or decide to invest in staff and technology to keep the process internal, there's no question that the technology can deliver benefits over traditional production methods in specific situations.
While many of the barriers to 3D printing have been resolved, it can still be an uphill battle to gain support, so onboarding the right stakeholders is critical to adoption, Firestone says. "You have to get someone looking at the business case vs. someone looking at it from a pure manufacturing case," he says. "It's change, and people don't like change."
Companies in this article