Brexit. Trump. Cybersecurity. Skills gap. Customer demands. These and other factors loom large as influencers on manufacturers and their automation decisions, and there remains a lot of uncertainty tied up with much of it. Trends already underway will help shape decisions, but how exactly everything will play out is still unknown.
Brexit: Too soon to know
British citizens decided in a referendum vote last year to withdraw from the European Union—a move commonly referred to as Brexit. The UK government began the official withdrawal process in late March this year, so a great deal is still unknown about what sort of trade deals the UK will be able to develop on its own or what other effects Brexit will have on the country.
It's a dangerous game to jump too soon to predictions about the eventual impact of Brexit, notes Glynn Westbury, managing director at UK-based system integrator Westbury Control Systems. "We may have voted decisively as a country, but not a lot since then has really been actioned or implemented," he says.
"The effect of Brexit remains to be seen," agrees Caralynn Nowinski Collens, CEO of UI Labs, a manufacturing technology incubator based in Chicago. "Manufacturing in the country got a boost in 2016, ending the year strong—a surprise to many concerned about the effects of Brexit."
The uncertainty itself, however, has had an impact on UK businesses, Westbury says. "Since the referendum, this factor has created some temporary issues with workflow, whereby clients have held back or hesitated in finalizing the approvals for projects to move forward. Consequently, managing our workflow can be a challenge," he says. "Indecision and a drop in confidence makes doing business less straightforward."
And along with that uncertainty has come cost increases from European suppliers, Westbury adds. "Some of the kits that we buy ready to assemble in our control panels have had price increases beyond the regular, annual increment." So far, Westbury has absorbed the increase, "but it is inevitable that those additional rises in costs will, at some point, have to be passed on to our customers."
Collens points to possible storm clouds on the horizon in the form of inflationary risk and a slowdown in investment from companies in European countries that decide to take a wait-and-see approach as Brexit nears. "That said," she continues, "despite the political events, it appears that the country's investment in advanced manufacturing and materials continues to attract companies that see benefits from operating within the UK."
On the positive side for U.S. companies doing business overseas, a drop in the value of the British pound should bring benefits, Westbury notes. "Feedback from American clients has been openly positive, anticipating that Westbury will be more competitive for many of its overseas contracts," he says.
The Trump question
Donald Trump's inauguration this year as U.S. president has brought quite a lot of change already, but many companies are still waiting to see how new policies enacted by the administration might affect operations.
"I don't know that anybody really knows what to expect from Trump," says Laura Studwell, industry marketing manager at Omron Automation Americas. "Most companies, I think, are just kind of sitting back and saying, 'Okay, let's see how this plays out for a little bit longer before we make decisions that could potentially have an impact on our operation.'"
Tom O'Reilly, vice president of global business development for Rockwell Automation, is on the same page with Studwell. "I would say you are hearing things now," he says. "I wouldn't say we are seeing things."
Based on what President Trump has said that he would like to have happen, Westbury sees potential benefit from the new administration's focus on conventional energy spending, and his customers agree. "Inevitably, the demand for their technology and business is likely to increase in response to Trump's objective to rebuild the U.S. energy provision, including the use of fossil fuels," Westbury says. "Generally speaking, conservative politics are usually beneficial to business. At Westbury, we are optimistic that a Trump presidency will bolster our existing U.S.-influenced client relationships and their business that demands our services."
Collens sees it from a less political stance. "Fortunately, manufacturing is a bipartisan issue, so we expect to see continued federal support for technological advancement and job creation in the industry," she says. She sees continued government support for advanced manufacturing as crucial to that effort, and she's hopeful that the new president will agree. "President Trump has expressed his enthusiasm for bringing manufacturing jobs back to the United States, and we hope that he'll recognize the importance of continued federal support for institutes like ours in order to do that."
Security concerns
Cybersecurity is at the top of many manufacturers' list of concerns, and is directly related to the continued push toward the kind of advanced manufacturing that Collens advocates, including the Internet of Things (IoT). "As you have intelligent assets, as you have greater connectivity, you're opening the electronic door to potential [security] issues," O'Reilly explains. "If someone hacks into your industrial control system, they could wreak havoc on your manufacturing line. We spend a lot of time talking with our customers about security."
John Kowal, director of business development at B&R Industrial Automation, a member of the Industrial Internet Consortium (IIC), is blunt on the security risk to connected automation. "We won't have IoT until the security issue is solved or successfully addressed," he says. "It's just not going to happen. We're not going to plug things in until they're secure enough that corporations feel comfortable putting those assets out where they could be potentially hacked."
"Cybersecurity is top of mind for end users and suppliers, particularly as the manufacturing industry continues to digitize," Collens affirms. "There are tremendous efficiency gains to be made by connecting the full product lifecycle using data, but with that comes a heightened need to guard against cyber attacks."
Collens cites a report from 2016 by consultancy firm BDO showing that 92 percent of manufacturers surveyed share cybersecurity concerns. That percentage is up from 44 percent of manufacturers in 2013. The fears are not unfounded. According to 2015 data from the U.S. Department of Homeland Security, a third of cyber attacks to infrastructure were against the manufacturing sector. The attacks led all other infrastructure attacks, and the number of attacks was more than double those on the next hardest hit sector—energy.
New cybersecurity rules from the U.S. government are also driving cybersecurity investments, Collens says. Federal contracts are at stake for companies that don't comply with new rules in the Defense Federal Acquisition Regulation Supplement (DFARS) that are scheduled to go into effect in December 2017.
From any perspective, whether from the business or operations side of manufacturing, or from a regulatory standpoint, security concerns will only continue to grow, and must be managed appropriately to enable the industry to thrive. The key to managing the cybersecurity risk, O'Reilly says, "is understanding what the risks are, having the appropriate strategy or plan around those, and managing them—putting the right security process and plan in place."
The skills gap
A skills gap continues to affect hiring decisions, with no letup in sight, regardless of whatever other uncertainties might be at play. Addressing that issue, O'Reilly sees manufacturers in increasing numbers setting up pilot projects that can develop best practices around technologies and the skills needed to operate them. "Starting on that scale, they prove out the technology [and] that people have the right skillsets," he says. From there, successful pilots "can be rolled out from the whole facility, and at a broader scale across the country and globally."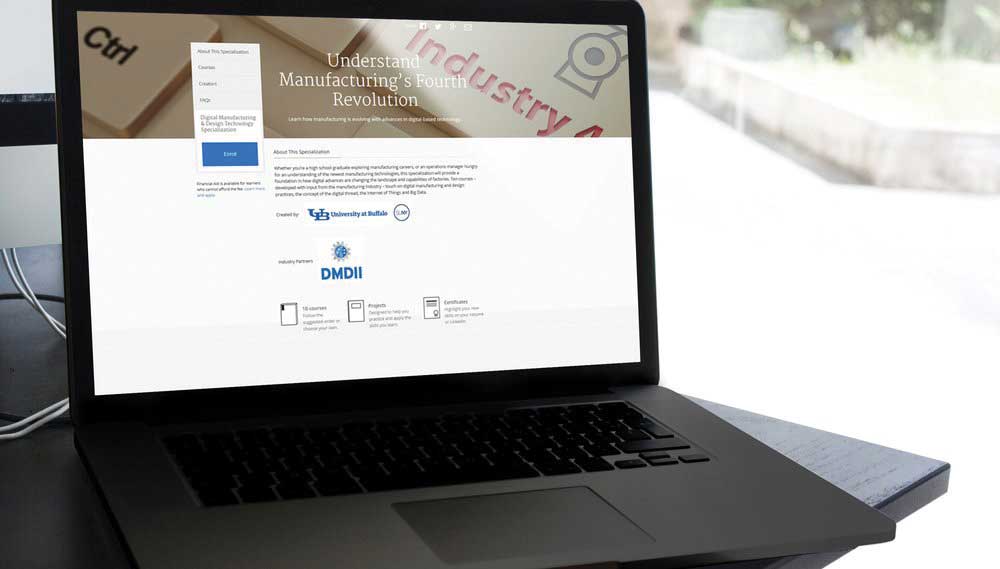 DMDII has a partnership with Coursera to develop specialized online classes to help expose younger learners and shop-floor workers to digital manufacturing and design technologies.
The Digital Manufacturing and Design Innovation Institute (DMDII), part of UI Labs, has a partnership with Coursera to develop specialized online classes for digital manufacturing and design. "We are seeing companies interested in hiring, but understanding the types of roles they need can be a challenge," Collens says. The online courses "help expose younger learners and current shop-floor workers to digital manufacturing and design technologies."
Since good workers can be hard to come by, Westbury is among manufacturers placing a premium on reducing employee turnover. "In a sector with an engineer and technician shortage, Westbury takes a more proactive role in filling that skills gap," he says. An apprenticeship program at Westbury cultivates skilled workers while enabling them to earn college degrees. Consistency among workers rather than flexibility in staffing, Westbury says, "is a priority."
Global shifts drive automation
No matter what happens on the political scene, globalization and evolving consumer demands will continue to shape investments in manufacturing now and in the foreseeable future, Studwell contends. Flexibility and standardization are the bywords now and to come, she says. Standardization of equipment is crucial for OEMs, she adds, so that they can supply and support multiple markets. At the same time, demand for consumer packaged goods continues to diversify.
"What you're seeing is moving away from customization and going to personalization. I call it SKU proliferation," Studwell says, citing as an example Element Bars, which offer the ability to customize meal bars that are then manufactured and shipped to consumers on demand. For on-demand manufacturing, "everything's got to be automated," she says.
Westbury, too, sees no slowdown in manufacturing's relentless pace toward automation. "Currently, an ongoing initiative to reduce our manufacturing waste means that some of our manual tasks over time will become more automated," he says. "We don't think this will mean employing less staff at Westbury. Instead, the people we employ will not be burdened with the low-skill, repetitive tasks, which are suitable for automation." Westbury's customers, as well, are continuing with automation plans, as evidenced by new orders for control panels for robotics projects, he adds.
No matter what, it seems, automation will only grow in importance as time goes on, despite any political or economic upheavals on the horizon. "Regardless of political trends, technology is progressing rapidly, and the industry has much to gain through improving digital capabilities," Collens says. She believes that the manufacturers UI Labs serves will proceed with technology investments. "They certainly hope that political and trade trends remain favorable to the sector, but technological advancement will benefit them individually—and the industry at large—regardless."
Companies in this article