Engineers start their careers with ambitious goals—they want to change a process for the better and make their mark in manufacturing. Eugene Tung was no different.
"I started my career as a control systems engineer and I had ideas about advanced control algorithms and models that I wanted to incorporate," he recalls. Those dreams were quickly dashed, however, simply because there was no way to change the system architecture. "I was hindered by the closed, proprietary nature of control systems."
Tung carried that frustration with him throughout his career. Now, as executive director of manufacturing IT at Merck, he has a chance to change the scenario for future generations of control system engineers. Merck is a member of the Open Process Automation Forum (OPAF) and Tung is an active participant in the group, working with the other 126 members to create a standards-based, open, secure and interoperable process control architecture.
Automation systems have always been proprietary by design, mostly due to the need for tight-knit tools that operate in real time. The setup established a close partnership between supplier and end user. But it also created vendor lock-in, relegating manufacturers to technologies from just one supplier, thereby eliminating their option to deploy best-of-breed technologies and applications from other vendors—or, as in Tung's case, inhibiting the ability to innovate and tailor technology for the good of the organization's production process.
Today, however, as digitalization enables organizations to use data in different ways, there is a universal need across industries to incorporate standards-based offerings that allow the manufacturing process to change with business needs—without having to rip and replace an existing control system architecture.
It was in 2014 that ExxonMobil Research and Engineering, after years of publicly asking for the development of a standards-based process control framework, created a functional characteristics document. The concept itself was not new—ExxonMobil was following the lead of The Open Group's Future Airborne Capability Environment (FACE), a government and industry partnership to define an open avionics environment for all military airborne platforms. FACE is a vendor-neutral consortium that provides standardized approaches for using open standards with avionics systems. In 2017, at the urging of ExxonMobil, The Open Group officially launched the Open Process Automation Forum, another vendor- and technology-neutral industry consortium.
The goal of the group is to develop a reference architecture that will allow control system technologies from different vendors to be seamlessly interoperable. The framework will be able to be applied across all continuous and batch industries, including food and beverage, pharmaceutical, oil and gas, petrochemical, pulp and paper, metals and mining, and more.
Surprisingly, the response from industrial control system (ICS) suppliers that joined this "coalition of the willing" was outwardly positive. There were 57 individuals from 30 different organizations at the first OPAF meeting, including ABB, Emerson, Inductive Automation, Schneider Electric, Siemens and Yokogawa, as well as end users like Dow Chemical and Merck.
Not surprising, however, is the fact that some of these suppliers already work closely with ExxonMobil and perhaps were motivated by maintaining the business relationship. Nevertheless, it is seen as a congenial gesture as these companies collaborate to work for the greater good of the industry.
"We know ExxonMobil alone can't transform this industry. It will take a critical mass of end user demand and the collaborative efforts of control system vendors to specify the open process automation technology standard," said Kenny Warren, vice president of engineering at ExxonMobil Research and Engineering during a presentation at the ARC Industry Forum in Orlando earlier this year. "We have a once-in-a-generation opportunity to make a step-change improvement in process automation."
The benefit to end users is obvious. Exxon, for example, generates 1.3 billion data records from 5 million tags each day, not including machinery data, Warren said. The ability to access and process that data into actionable information is a critical business need. Therefore, the company needs to be able to implement analytics apps from the system to the edge to the cloud, and that's currently not easy to do.
"We understand why there are closed, proprietary layers in industrial control systems today, and they have served us well, until now," Warren said. "Now we believe the path to increased productivity is to replace—not work around—the closed proprietary layers with open, interoperable and secure ones." He noted that the future of manufacturing hinges on the Industrial Internet of Things (IIoT) and cyber-physical systems of Industry 4.0.
It certainly makes sense for manufacturers. And it appears that technology suppliers are onboard with the idea as well. But how "onboard" are they really?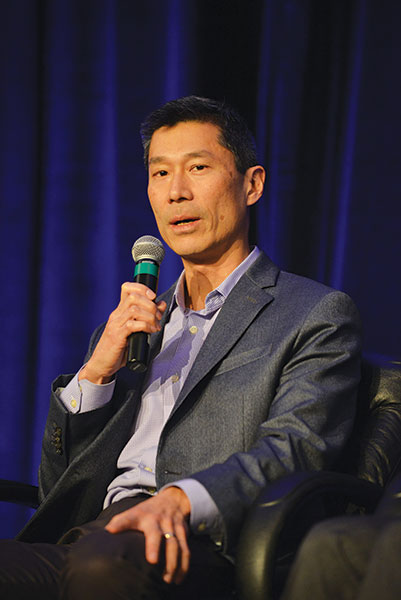 Eugene Tung, executive director of manufacturing IT at Merck. Source: ARC Advisory Group
The forum facts
The Open Process Automation Forum is led by co-chairs Don Bartusiak, chief engineer at ExxonMobil Research and Engineering, and Trevor Cusworth, vice president and global account manager at Schneider Electric. The forum includes subcommittees and working groups that focus on business, technologies, enterprise architecture, connectivity and security.
Dennis Brandl, founder of BR&L Consulting, leads the team that is defining the new requirements for this next-generation system. "It is a system that gets any information from any source with history from any device and any place, optimized for situational awareness," he told a group of attendees at a recent ISA event. "It will be capable of handling things we've not even imagined yet."
Brandl's unofficial name for such a system is the Federated Automation Logic Control on Open Network Systems (FALCONS). The system is based on distributed control nodes (DCNs), single-channel I/O modules that support real-time application processing and interfaces with other network protocols. The system is a collection of DCNs with and without I/O, and a DCN connection to the cloud for centralized applications. The setup would provide an execution environment of potentially tens of thousands of nodes.
"A modular system allows paced, online, component-by-component migration toward any new platform," Brandl said. "Every time you pull [a DCN] out and put a new one in you have more power, speed and capabilities. The system evolves naturally without ever having to do shutdowns."
Just as important to the open aspect of the architecture is the suppliers' intellectual property, which remains protected, Cusworth says. What's open is the interface, but proprietary technology in controllers and I/O remain.
"The main worry has been exposing IP to competitors, but we are very careful about that," Cusworth says, explaining there are guidelines within The Open Group that outline certain areas that are not shared, which enables a free exchange of ideas without jeopardizing IP.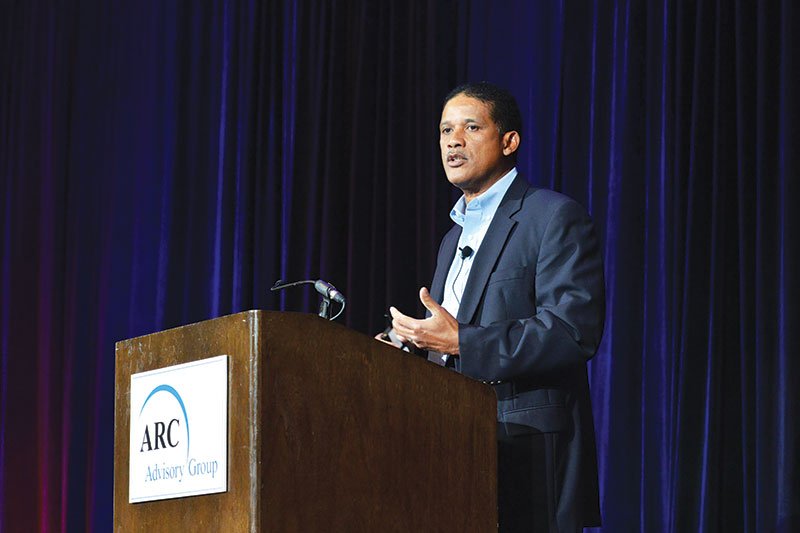 Kenny Warren, vice president of engineering at ExxonMobil Research and Engineering. Source: ARC Advisory Group
Pushback on IP
Protecting IP is one of the main reasons that Emerson walked away from the forum after six months. "It's an open group with an unprecedented broad scope for a standard, so the sky's the limit on what you donate for IP, which makes me concerned," says Peter Zornio, chief technology officer at Emerson Automation Solutions. "This is different than other open standards we support such as OPC UA."
Emerson is the only large ICS supplier currently not a member. Rockwell Automation was a holdout early on, but recently joined. Honeywell, though not on the member list, is a member, the company says.
"Honeywell has been a participant in OPAF since its inception and continues to participate in formal reviews of published material," says Jason Urso, chief technology officer at Honeywell Process Solutions. "We are a strong advocate of open standards and participate on the board of multiple open standards today. We have a demonstrated track record of embracing and certifying against all open standards relevant to the process industry and will continue to do so should OPAF surface some new standards. To date, no standards have emerged from OPAF."
Emerson joined the group after previous discussions with ExxonMobil, Zornio says, but quickly realized it was a massive undertaking that would exhaust Emerson's own resources given the scope of the project, which he says is "unrealistically large."
"What they profess to do with this great infrastructure is theoretically possible, but the more levels of interoperability, the less likely it will work across multiple vendors," Zornio says. "Even if it did [work], it will be a massive testing and certification effort that will cost a lot of money."
He could be right. An early open process automation prototype by Saudi Aramco, based on a publish/subscribe (pub/sub) Data Distribution Service (DDS) communication framework, has proven more complicated than originally expected, according to Abdullah Alkhalifah, senior engineering consultant for Saudi Aramco.
"Based on the work we are doing so far, we realized that using the DDS specifically is not as simple as one would expect," Alkhalifah said during a presentation at the ARC conference. "There's a lot of work that is required even within our team working on this together. We find we spend a lot of man-hours trying to set up the information model and the data structure. There is a lot of work that needs to take place upfront before each part integrates together."
Nevertheless, the company remains committed to work with the OPAF. "We believe the data-centric pub/sub architecture lends itself better to be a collaborative environment of the future," Alkhalifah said. "It will help us to preserve our current investment…and provide a mechanism for partial or any upgrade in the future, allowing us to select best-in-class hardware and software to take us away from the total replacement concept we are experiencing now."
Though the open framework is portrayed as providing a lower-cost solution, "there's a high lifecycle cost," Zornio contends, using enterprise resource planning (ERP) as an example of an architecture that started as best-of-breed apps and wound up becoming big software suites. "I think it will cost more in the lifecycle to support this [open] architecture than an integrated suite."
Cusworth counters, however, that most manufacturers will stick with one vendor for the most part. "They want an open platform but not necessarily from different vendors," he says. "They just want the ability to change in the future if they want to. They can't now because it's rip and replace."
Making the business case
The OPAF technical reference model was just recently released, showing how components could interact together. "We are telling you how to put the pieces together," Brandl says. "Developers expose interfaces but maintain their intellectual property. That is key."
The next step is to provide documents that specify detailed interfaces and define the configuration of the system so that all components understand what role they play in the control strategy, including PID loops, alarms, history, etc. After that, an app framework interface will be coming out that will be designed to provide portability of apps.
ExxonMobil has tested the DCN open architecture concept for an interoperability and portability proof of concept and found that it does work. Now, Exxon is asking other manufacturers to do the same.
The OPAF business guide that was released in February outlines an ecosystem of end users, system integrators, hardware and software suppliers, and service providers. It explains the different business scenarios for future ICSs and defines how the business models of the current stakeholders will be impacted by open interoperability.
"The way we traditionally do business is to sell a project with low margins and we rely on 25 years of support. That's where we make our money—on the back end, not the front end," Cusworth says. "But when we go open, we don't make money on the back end, so our business model will change."
Merck's Tung agrees that the business models will change, but he believes that they will represent new revenue opportunities for the industry. "We think existing suppliers, if they understand the technology standards, are poised to prosper in the new environment," he says. "They still have domain knowledge and execution know-how. They are best positioned to interpret standards and evolve the system. We think the marketplace will grow bigger and faster."
The business document that Tung helped create is an important resource for future success, he says. "Technology standards don't work unless there is a business ecosystem and a business process that is well understood," he says. "This forum took great pains to understand the business aspect of it and we've analyzed what the business market may look like in future and ensure all participants have an opportunity."
Tung got involved with OPAF because he had a personal interest in the topic. But the work being done will transform the process industry, which is why he encourages other end users to get involved. "The Merck CIO has stated that an open standard is one of the few remaining levers for driving productivity," he says. And Once OPAF solves all of the technical aspects of the standard interface, automation systems will evolve faster into an IT world.
With so much change ahead, now is the time to take the time to understand—and act.
Companies in this article