Blockchain, primarily associated with cryptocurrencies like Bitcoin, is increasingly hitting the radar screens of manufacturers as a mechanism to enhance supply chain visibility or promote supplier coordination around mass customization. These externally focused applications seem to hold the most potential for blockchain, as experts see far less applicability for blockchain to enhance existing technologies used to integrate internal manufacturing and automation systems.
Characterized as a distributed ledger technology, blockchain records transactions between multiple parties in a way that is transparent, verifiable and immutable. Given that manufacturing encompasses a series of transactional interactions, experts are putting stock in the potential for blockchain to be a more efficient and trustworthy way for extended supplier ecosystems to securely record and share information.
Blockchain's ability to store data in unalterable blocks, coupled with its peer-to-peer, secure record-keeping capabilities, establish an easy-to-follow audit trail that is vastly more effective than traditional methods built around email, siloed systems and manual record keeping. At the same time, blockchain promises to be far less susceptible to fraud, which is a growing problem for manufacturers.
Manufacturers face a future defined by a number of prominent trends, including novel uses of automation to address the ongoing skills shortage, globalization, a move toward mass customization, and the rise of connected factories as part of Industry 4.0. Blockchain is well positioned to meet many of the challenges associated with those trends.
For example, blockchain can deliver a granular and real-time view of a global supply chain while documenting chain of custody for products to establish that regulatory requirements are met and to expedite troubleshooting in the event of part failures or product recalls. As part of a broader Industrial Internet of Things (IIoT) strategy, blockchain can help form the foundation used to orchestrate predictive and proactive maintenance strategies. And that's just the tip of the iceberg when it comes to potential use cases, according to Prasad Satyavolu, global head of innovation, manufacturing and logistics at Cognizant, a digital services company.
As with any fledgling innovation, however, manufacturers need to be circumspect about their broader strategy and zero in on the applications where blockchain can have a meaningful—if not fully disruptive—impact, Satyavolu says. "Blockchain has to be a broader part of a next-generation manufacturing strategy—it can't just be a technology you go for," he cautions. "To transform manufacturing with blockchain, it has to be part of a broader gambit to provide more personalized products, to tap into a localized supply base, or to take advantage of IIoT. Those are all imperatives that feed a strategy for blockchain."
What blockchain is not yet shaping up to be is a technology for improving internal transactions and system-to-system interactions. "Within the confines of your own trusted network, companies are already well secure from an internal plant standpoint," Satyavolu says. "Within a plant environment, there isn't a great use case."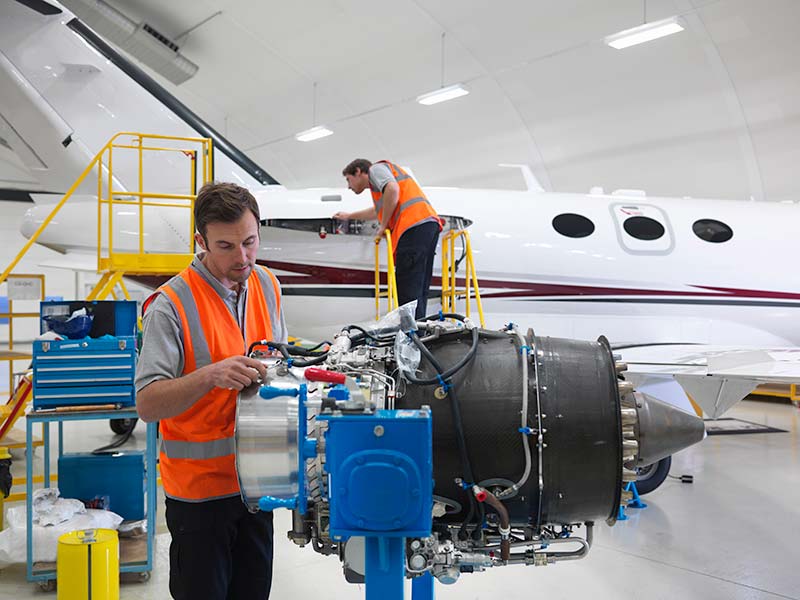 In highly regulated industries like aerospace, blockchain can play a role in verifying product and part authenticity and provenance. Source: SAP
Early-stage blockchain applications
Moving cautiously, manufacturers are starting to experiment with early blockchain use cases. An Aberdeen study of 100 manufacturing companies found that 37 percent have current business and manufacturing processes in place that support blockchain and an additional 29 percent are actively exploring the technology to improve existing processes. Traceability was the most anticipated application for blockchain in manufacturing (55 percent), followed by records management (53 percent), supply chain automation (51 percent) and payment via cryptocurrencies (51 percent).
Less explored are applications in which blockchain works inside the factory—for example, as a way to facilitate automatic ordering of parts by machines for preventive maintenance, cited by 29 percent of respondents to the Aberdeen survey, and for shop floor automation, noted by 28 percent. Nearly a quarter of respondents had no plans to implement blockchain in manufacturing applications.
One of the most anticipated use cases of blockchain is for track and trace, to help manufacturers foster better visibility and trusted relationships among their extended, global supply chains. In addition to the ability to create and administer smart contracts, blockchain provides an immutable record of the chain of custody of goods, which can be leveraged in numerous ways—from helping to prevent leakage and the spread of counterfeit goods to tracking down at-risk suppliers in the event of a part failure, and even creating transparency and specificity around sourcing to build trust and demonstrate that compliance regulations are being met.
"One of the biggest problems we hear about is that companies have a three- or four-level deep supply chain. And even those best-in-class companies don't have visibility beyond their tier one suppliers," says Bhagat Nainani, group vice president of Oracle IoT and blockchain applications. "They don't know supplier quality, yet they're responsible for the final product."
With a blockchain approach, all quality-related transactions, hand-offs, and the chain of custody for products are written into the blockchain and endorsed by all parties, and the resulting records are tamper-proof. "So if there's a quality issue and a company needs to do a recall, they know exactly which item, which test case and which downstream product is affected," Nainani explains. "Today, companies do broad recalls and can't identify what batch or supplier portfolio is affected. That results in revenue loss and brand erosion."
To help manufacturers get started with blockchain, Oracle has released a suite of business-ready blockchain applications. They include end-to-end traceability of goods and transactions in a supply chain to reduce delays and automate recordkeeping; lot lineage and provenance for aiding in regulatory compliance, counterfeiting and targeted recalls; intelligent cold chain for tracking and ensuring quality for refrigerated products in pharmaceutical and food and beverage industries; and warranty and usage tracking to eliminate paper-based processes for high-value assets. "Providing a toolkit of components is not sufficient," Nainani maintains. "It takes longer to implement and get ROI, and manufacturers just want to get started quickly."
Other enterprise software giants, including SAP and IBM, have also released packaged blockchain solutions. IBM, for example, has the IBM Food Trust initiative, which uses blockchain technology to create visibility and accountability in the food supply chain by connecting growers, processors, distributors and retailers through a permissioned and shared record of data. On the heels of recent E. coli outbreaks, Walmart announced it will be using the platform to underpin its Walmart Food Traceability Initiative, with an initial focus on leafy greens suppliers.
As part of its Blockchain Co-Innovation Program, SAP is working with 60-plus customers and partners to advance blockchain development in areas such as distributed manufacturing, asset intelligence, and track and trace. Its advanced track and trace for the pharmaceuticals industry, for example, helps members comply with regulations designed to combat drug counterfeiting; and its farm-to-consumer offering is designed to bring food producers and retailers together to improve compliance and increase confidence in food safety, explains Gil Perez, SAP's senior vice president of products and innovation and head of digital customer initiatives.
Blockchain isn't a replacement for current technologies, but rather enhances existing processes to provide a higher level of trust and confidence. It's an especially good fit for manufacturing industries and processes that are highly regulated. "Everyone has visibility into the same information all the time as opposed to a siloed system," Perez explains. "It doesn't replace business processes, but it does create a fabric or connective tissue for everyone, notifying them of delays, integration issues, or if systems aren't connected."
Though blockchain isn't the integration layer that continuously passes data between systems, it can be used to integrate critical data from enterprise-level systems such as enterprise resource planning (ERP) or manufacturing execution systems (MES) into a blockchain pursuant to a particular use case. Consider a new product that can't be launched into production until the proper product ID is initiated. Instead of extracting that information from the ERP system or MES via manual processes, manufacturers could create a system that automatically retrieves the right data, creates an ID, writes it into the blockchain, and applies it to a part at the point of inception. Though its customers can develop these capabilities using a toolkit approach, SAP will release native blockchain versions of its core enterprise platforms this spring, which will facilitate such integration right out of the box, Perez says.
The convergence of blockchain with emerging technologies like artificial intelligence (AI) and 3D printing is where the rubber meets the road for real transformation, according to James Allen Regenor, co-founder of the Blockchain Resources Group (BRG, a proof-of-concept adviser for the Blockchain Research Institute) and chief solutions officer for Fr8 Network. As part of his work with Moog Aircraft Group, a co-innovation partner of SAP, the company developed VeriPart, a blockchain-based system for verifying the quality of aircraft replacement parts that are 3D printed through on-demand manufacturing networks.
In this application, blockchain delivers a shared database that provides provenance and authenticity to meet U.S. Federal Aviation Administration (FAA) standards and provides traceability of the part through its design-manufacture-use lifecycle. "By transferring a part with a blockchain hash, you can tell if data has been corrupted or if someone acquired that data," Regenor says.
It also allows manufacturers to do rapid forensics on a part for recall purposes. "Today, companies have to figure out what the sample size was and do a root cause analysis," Regenor explains. With blockchain, "that data is available and transparent without having to shift around pounds of paper."
What comes next
Eventually, experts see blockchain playing a role in day-to-day manufacturing operations, including asset management and minimizing manufacturing downtime. For example, through blockchain technology and IIoT analytics, an asset could trigger a secure order of replacement parts when there are indicators of part failure so the proper components are on-site just in time for installation.
To get the ball rolling, experts recommend that manufacturers set up a blockchain center of excellence and initiate some proof-of-concept projects. It also helps to join consortia that cater to the relevant industry segment and ensure there is top-level executive sponsorship, since the technology involves a significant element of change management.
"[Blockchain] requires a certain executive commitment for change," notes Cognizant's Satyavolu. "If it's just done as a ground-up experiment, you can't get scale and it won't move the needle in terms of the benefits you can achieve."
Companies in this article