Water scarcity affects every continent on the planet. Even in developed regions, the ability to find enough good, clean water is becoming much less of a sure thing than it once was. The United Nations predicts that, as the population grows and climate change creates more severe drought conditions, the world could face a water shortfall of 40% by 2030.
Around the globe, industrial companies are taking a more strategic look at their water use. From a shareholder's perspective, they're looking at how water scarcity could impact their production risk, but they're also looking through their customers' eyes, aware of how their production impacts the watershed in the communities around them.
Big multinational manufacturers are some of the first to feel the effects of water supply issues because some of their operations are in regions where water scarcity is more prevalent. "We're starting to see the real impact of water scarcity from both a quantity and quality perspective," says Emilio Tenuta, chief sustainability officer for Ecolab, which provides water management technologies and chemistries.
Global companies are working toward managing three key risks that embody water stewardship:
• Physical risk: Having enough quantity and quality of clean water to operate. "Many people think that's a given; it's not a given any longer," Tenuta says, adding that it's not just far-off places facing issues. "It's actually also here in developed economies as well."
• Regulatory risk: As water becomes highly stressed and scarce, there are changes in price, allocation of water, and other regulations.
• Reputational risk: "That's where the brand and the enterprise are really managing what some refer to as the license to operate," Tenuta says. "Meaning that they're in a community that is also using a shared resource—in this case water—that other stakeholders are dependent on."
Global problem, local issue
Though water scarcity is becoming an issue around the globe, it remains more of a local issue than other sustainability concerns. "It's unlike greenhouse gas emissions that are atmospheric-based—you emit something in one area, it has a totality impact to the atmosphere," Tenuta says. "With water, it's a global issue, but it's highly localized. We focus on where we feel those risk factors are, along with other factors."
Saving water in a water-rich area doesn't have the same positive impact as saving water in a water-stressed location. Mitigating the key risks requires developing a corporate water strategy that implements the right targets and metrics at a local level. "With the focus on water being highly localized in priority watersheds, they're focused on developing a strategy that will allow them to deliver on progress toward issues that that watershed is faced with," Tenuta says.
If water is a risk to your business, you need to develop a corporate water strategy based on an assessment of where your hotspot issues are, Tenuta says. "I need to then implement a local solution that involves smart water management that leads to cost savings, but also water and business resiliency," he adds.
Good business
By the way, saving water also makes good business sense. Unlike energy conservation, which can have a direct effect on cash flow, saving water does not have the same kind of effect on the bottom line because water is so cheap.
"The cost of water is simply not reflective of the risk it has," says Tony Stanich, vice president of global corporate accounts for food and beverage at Ecolab. "Cheap water is in areas where it actually should probably be much more expensive because of its availability, and that's just simply not the case. Therefore, investment in water reduction becomes a difficult challenge for customers that are looking to reduce cost—because the payback isn't right there in front of them from an economic perspective."
But reducing water use can still impact cost savings. "Water carries a lot of thermal energy. In California alone, 25% of the state's electricity use is just to move water around," Tenuta says. "With water, for industry, you have to pump it, you have to treat it, you have to cool it, you have to heat it. And that takes energy." Developing a water strategy based on a reduce/reuse/recycle philosophy will also reduce your CO2 footprint, lessening the impacts of climate change.
And water is actually getting more expensive, according to Erin Bonney Casey, research director for Bluefield Research—who insists that economic considerations remain the first drivers in water conservation and reuse. "Rates are increasing faster than inflation or other consumer products," she says. There are cost considerations on both the water supply and the discharge side of the equation, where rates are also increasing.
The reputation factor should not be discounted either. With water scarcity becoming the new norm, being good corporate citizens through smarter water management will score companies points with local communities.
Stanich, who works exclusively with customers in the food and beverage industry, sees a particular connection between corporate responsibility and customer satisfaction. "It is a pillar of their branding strategy in the way that they're looking at how the local community views them. And the impact of that brand has a lot to do with some of the choices that have been made around water use," he says. "That's probably much more of a driver than the saving money."
Food and beverage plant insights
While addressing food needs as one of the largest food and agriculture companies in the world, Archer Daniels Midland (ADM) also drove its environmental goals in line with the UN Sustainable Development Goals to reduce water, energy, and greenhouse gas emissions.
In an effort to improve water management across its global operations, ADM worked with Ecolab to implement hundreds of projects that have lowered energy and water use while also boosting operational performance. ADM uses Ecolab's 3D Trasar Cooling Water Technology to provide real-time monitoring and control to optimize water usage in its cooling systems around the world. The technology helps ADM reduce, reuse, and recycle water within its plants and use graywater (recycled water) for its processes, increasing water resiliency at the local level.
Because of this work, ADM has been able to save 2.3 billion gallons of water annually—the equivalent of the annual drinking water needs of almost 8 million people.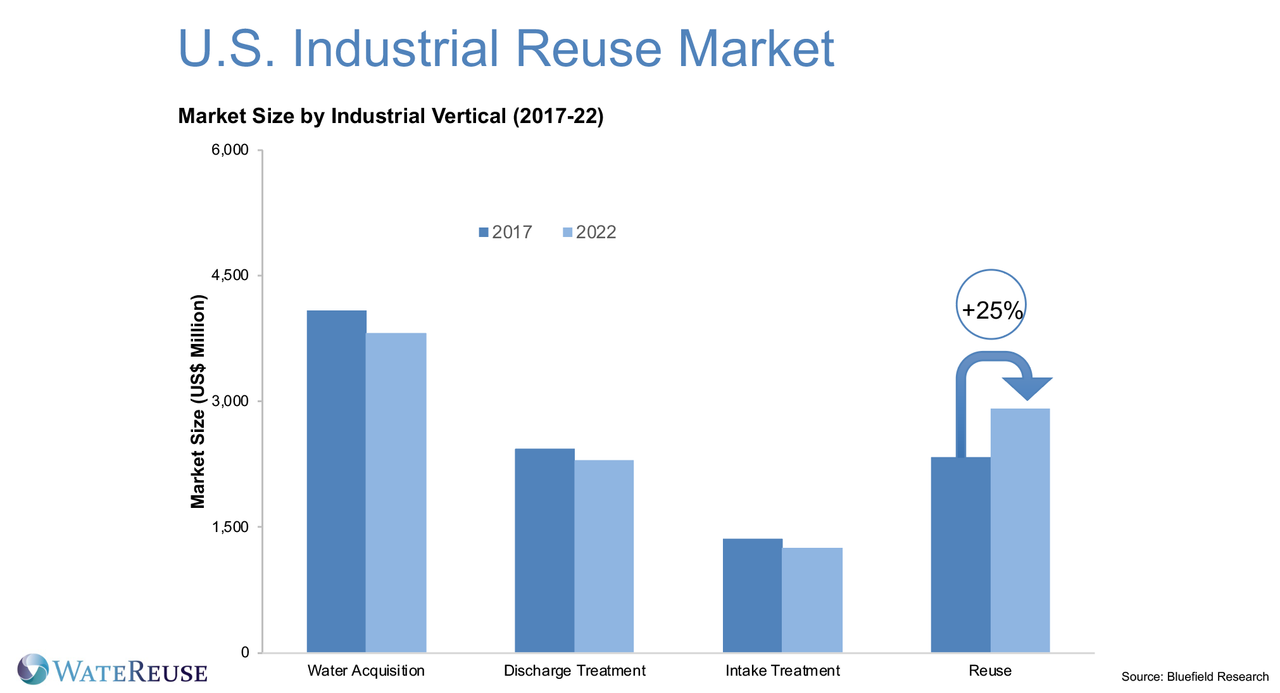 According to data from Bluefield Research, industrial water reuse is expected to grow 25% from 2017 to 2022.
Increasing partnerships
Five to eight years ago, manufacturers were instituting more generic, high-level water reduction goals, according to Stanich. They've since migrated to more strategic targets, keeping in mind the localized nature of water issues.
"The water use target in location A might be very different than the water use target in location B," Stanich notes. "Perhaps that local community has partnered with the manufacturing plant—instead of recycling the water, they're going to just treat it more effectively and put it back out for irrigation, for example. That's not going to show up as a water reduction, but the community is benefitting, the watershed is benefitting from how that manufacturing plant is treating the effluent water. And so it's much more localized and much more strategic target setting that these food and beverage companies are going through right now."
Partnerships between municipalities and industrial users are becoming more common for source water—with benefits for both sides as industry makes use of recycled water from municipalities, Casey says. "For the industrial user, it provides a risk-proof supply and is also less expensive," she says. "On the municipal side, it reduces demands on the potable system, especially because industrial users tend to be high-volume."
Refineries and power plants need high volumes of water with relatively low quality. "In the power sector, most of that water is going for cooling purposes," Casey says. "It's a great opportunity."
At its operations in the Appalachian region, Chevron has created water-sharing agreements with local operators—facilitating reuse of its produced water by other operators for their drilling and hydraulic fracturing activities. This not only decreases the strain on local freshwater demands, but also limits disposal to injection wells.
Chevron's refinery in Richmond, Calif., gets about one-third of its water from water that's already been used. The Richmond Advanced Recycled Expansion (RARE), a joint effort with the East Bay Municipal Water District, enabled Chevron to double the daily allowable capacity for use of certain reclaimed water at the refinery—from 3 million gallons to more than 6 million gallons.
Water conservation legislation from the state of California incentivizes the use of recycled water. "California instituted a law during drought conditions to reduce water use by 25%," Casey notes. "Reclaimed water isn't counted as water use, so it provides a drought-proof supply."
Four refineries in the U.S.—ExxonMobil's Torrance refinery, Tesoro's Carson refinery, and Chevron's El Segundo and Richmond refineries, all in California—use 18.1 MGD of reclaimed municipal wastewater for their operations.
Food and beverage plants tend toward more onsite recycling within their own facilities, Casey notes. "Part of that is identifying water uses that don't need to be as high quality—irrigation, equipment or facility washing," she says. Because food and beverage facilities need to have input water that's clean and quality-controlled, they often have water treatment or at least monitoring capabilities at the start of their processes already. "That sets them up nicely for reuse…They're going to treat it again anyway."
This is particularly true for breweries because beer requires very specific water chemistry. "They're being very specific about their quality, so they can accept reclaimed water," Casey says.
Resource exploration
While food and beverage manufacturers could relocate if water becomes too much of an issue, water scarcity tends to be a more pressing issue for industries like shale oil, energy, or mining—because their operations will be located wherever that natural resource is, Casey notes. Water management becomes much more about mitigating risks than managing direct line-item costs.
In 2012, the U.S. oil and gas industry generated an estimated 21.2 billion barrels of produced water—a byproduct of oil and natural gas extraction. Because it is so expensive to remove the constituents of produced water, it can be cheaper to just dispose of the produced water than to treat it.
Late last year, the Department of Energy (DoE) launched the Water Security Grand Challenge, a White House initiative to advance transformational technology that could meet the world's needs for safe, secure, and affordable water. Among its goals, the program aims to transform the energy sector's produced water from a waste to a resource by 2030. The program also aims to achieve near-zero water impact for new thermoelectric power plants, and significantly lower freshwater use intensity within the existing fleet.
As part of its Operational Excellence Management System (OEMS), Chevron uses a risk-based approach to conserve and protect water resources, addressing potential acute and cumulative impacts across the life of its assets. Those risks include water availability, competition for water resources, the impact of water withdrawal on source water quality or quantity, sociopolitical risks, and regulatory restrictions.
In an effort to reduce the amount of fresh water it's using in its hydraulic fracturing operations, Chevron uses brackish and recycled produced water when possible in the Permian and Delaware basins. More than 96% of the water used in its well completions is from brackish or recycled water sources.
Instead of managing produced water as a waste stream, for the past couple of years, Chevron has been treating and reusing the produced water generated. In 2018, the oil producer treated and recycled more than 2 million cubic meters of produced water for its fracking well completions.
Water quality is not binary
One mindset that manufacturers need to get away from is that water quality is binary—it's either clean or it's wastewater, Casey says. "It's not true. There are a lot of things you can use water for where it doesn't need to be so clean," she says. "Also, for different processes, there are different contaminants that you're going to be concerned about. Understanding what your water quality parameters are opens up different options."
Embracing water reuse requires a change of attitude. "One of the challenges for industries is they've historically thought of water as an input and a waste product," Casey says. "They need to think more about the lifecycle."
Companies in this article