The old standard of just drilling your way to profits is quickly fading away in the oil and gas industry, where everything is changing. The growth of shale explorations—with numerous wells in a basin, horizontal drilling with heavy reliance on instrumentation, and fields further out in the middle of nowhere—has in itself changed the face of the industry. Plus, there is the fact that well sites deplete quickly and accurate monitoring is, therefore, vital.
Change is afoot in other aspects of the industry as well. Deep-sea operations are going deeper and further out to sea. Instrumentation and communication technologies continue to advance. Onsite contracting services have become the norm. And the price of oil continues to plunge. In late 2015, it had fallen to $35 a barrel, the lowest it's been since 2008, and is expected to drop further. Energy cut the most jobs of any U.S. sector in 2015, laying off close to 94,000 workers.
All of this and more leads to the need for more centralized control for oil and gas—exploration companies using technical advances to pool expertise in central, more human-friendly environments and decrease "windshield time" around their operations.
Increased merger and acquisition (M&A) activity over the past 10 years is also affecting automation strategies. "There's been a consolidation trend for several years. Pioneers that purchased leases are now selling them, and many are being bought up by larger oil operators, international oil companies," says Randy Miller, global gas marketing leader at Honeywell International. "So, in the last five years, we're seeing a lot more consolidated control rooms."
Supermajors are pushing standardization as they try to integrate disparate control platforms. "Frankly, the oil and gas industry has been archaic. These systems can't fail and companies rely on a lot of fieldbus protocols, and I don't mean Foundation Fieldbus," says Thomas Nuth, global manager of vertical marketing for Moxa. "A lot of legacy control has been done by hardwire and is very expensive in terms of capital equipment." Companies are realizing open protocols and smart devices provide a roadmap to more centralized control.
Alternative approaches
With 46 different companies under its banner, Chevron knows quite a bit about disparate platforms and integration challenges. The company cuts across the energy spectrum with its varied applications, such as coal mining, oil and gas exploration, and refining.
Byron (B.K.) Wallace, cybersecurity PCN vulnerability assessor at Chevron, has been the company's automation leader to find continuous process control alternatives for its legacy integration challenges. We first reported on Wallace's pilot project three years ago (http://awgo.to/601), when Chevron implemented thin client hardware and server software to monitor remote oil and gas fields in West Texas.
These natural gas sites included remote monitoring of pumps, valves and flow meters, but Chevron moved to pure centralized control of a field in 2014. This SCADA application reduces PC hardware costs by using thin clients—no operating systems—and the number of SCADA workstations and licensing. "Our internal price tag is about $5,000 per PC," Wallace says. "We pulled out 13 machines, installed two servers and five PC boxes."
The control room is about 5 miles away, with a redundant system 90 minutes away from the field. The field and control rooms use a variety of networking communication approaches, leaning on fiber, T1 lines and microwave wireless for the entire system. "Everything is controlled remotely," Wallace says. "We're starting and stopping the pumps, opening and closing well valves, and adjusting levels in vessels. If you lose the control room in this scenario, you can't operate."
Chevron has four virtual servers at this location, and eliminated 11 in this project. "We put in a virtual environment and a data management installation together to help justify the costs," Wallace says.
The virtual upgrade eliminated a legacy SCADA callout alarm component for HMI workstations in the field and, essentially, moved it to the control room. "The traditional alarm callout feature outside of the control room technology is quickly fading away," Wallace says. "Everybody is moving to this centralized 24/7 control room type environment."
Going the distance
Along with centralized control comes a new look at how information is being communicated over those distances. Some companies are considering more wireless network control. Terra Ferma, an oil and gas exploration company, recently dispatched wireless networking with a centralized control room approach to 20 well sites in the central Rockies. This legacy SCADA application required asset management, data logging, remote surveillance and alarm notifications via a central control room.
An essential requirement for this application was multi-link cellular connections to a central server that oversaw control and monitoring of flow meters, temperature sensors, power supply, image files and video. An industrial gateway resides at each oil well and sends digital control values back to the central control room.
Mexican state-owned petroleum company Pemex is working with larger numbers, developing a wireless network for more than 1,000 oil wells in the Veracruz region, and using WirelessHART-enabled devices for communication.
Though oil wells have been using wireless sensing and measurements for years, data backhaul for remote applications is a major design challenge for IT automation engineers. "Standardizing the remote interfaces is critical because it reduces the dimensionality of the design problem," says Harry Forbes, lead analyst for the distributed control system (DCS) market for ARC Advisory Group.
Pemex delivered the control data from about 1,000 well sites up to 93 miles over rugged terrain. Relying on a mesh-networking design at the oil wells, Pemex used Eaton's Elpro 945U-E Ethernet modems with pre-standard RF technology for the data backhaul to the SCADA system. According to a report from ARC, the operation uses IEEE 802.11 media access, but its RF layer is adapted for sub-gigahertz operation in unlicensed ISM bands.
Secure communications
With new operational approaches for remote oil and gas applications, industrial network security is also receiving more attention from operators. Pioneer Energy relies on a centralized control room business model for its Mobile Alkane Gas Separator (MAGS). This mobile system provides an alternative to well site flaring in remote oil installations throughout North America. Onsite wet gas processing is managed from a control room in Colorado via 3G cellular communication.
"All of our data is encrypted," says Andrew Young, lead controls engineer with Pioneer Energy. "If someone is sitting in Dallas or Canada and intercepting our data stream, it would take them decades to sort it out."
Each MAGS unit uses about 150 I/Os, plus Opto 22's SNAP-PAC controllers and Modbus serial communication for its processing system's equipment. "We have multiple workstations in the mission control room and operators continuously receive data from the OPC server," Young says.
These gas-processing units come with two, rack-mounted SNAP-PAC R-series controllers for redundancy purposes in case one goes down. Pioneer knew in the design phase that minimal field technician service was a must for its business model, so its approach relies on duplication and replication of hardware. "There's no way we're going to find and train 24/7 onsite talent for all these field installations," Young says. "So we actually came up with this as part of our fundamental operating model before we had any technology that could facilitate it."
A nimble workforce
Automation technology advancements have helped enable a growing practice toward a more nimble workforce, relying more on contract services and expanding operators' roles. Though investment in centralized control rooms might see resistance from oil and gas management, reduced workforce and maintenance costs make it an easier proposition.
"With reductions in maintenance costs, training field personnel and increases in production, the costs associated with a central control architecture are in many cases offset," says Erik Syme, director of program management at ProSoft Technology.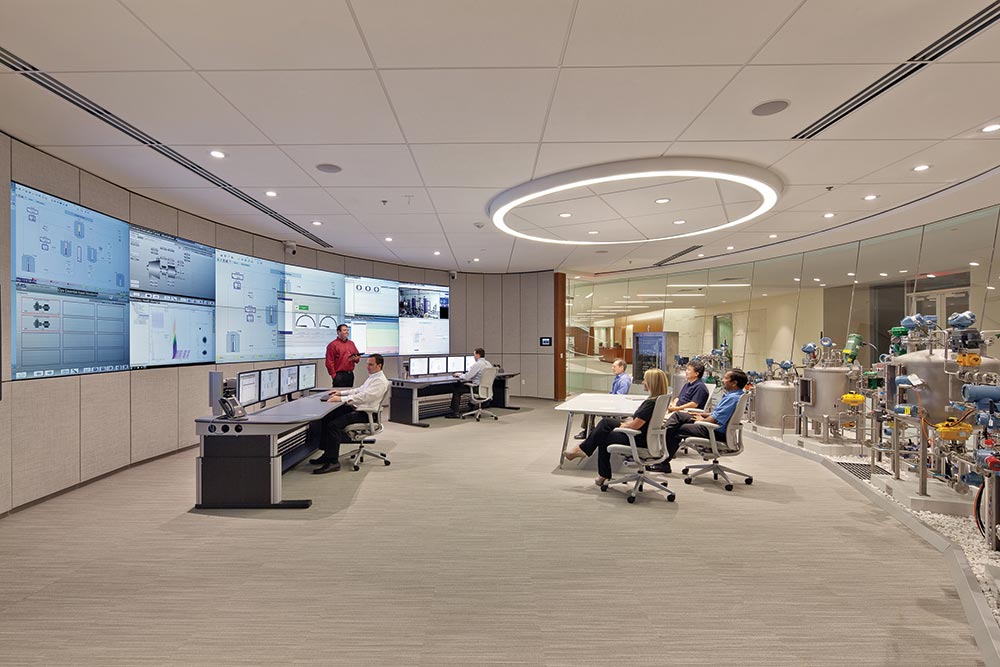 Centralized control rooms now include operators, maintenance, production, logistics, safety and quality personnel executing new workflows.
The oil and gas industry is also lowering costs and increasing production with a new centralized workforce, according to Jeff Dymond, business development manager for oil and gas at Emerson Process Management. It's no longer just operators in the command center, he says. "It's operators, maintenance, production, logistics, safety and quality personnel executing new workflows.
And though the migration to a centralized control room might present new challenges, automation vendors are prepared to help in that regard. "Operators can leverage integrated command centers with their vendors," Dymond says. "We can monitor valves, transmitters and rotating equipment via a centralized control room."
Honeywell has seen a growing trend for process and equipment surveillance, says Bart Winters, product leader, asset management solutions at Honeywell. The automation vendor's Asset Sentinel software offers real-time monitoring for both process and equipment health.
Shell, for example, is using the technology to monitor its assets in the Gulf of Mexico. "They're monitoring compressors, pumps, valves, motors and so on," Winters says. "The main drive is using performance as a leading indicator."
Supermajor efficiencies
Statoil's newest North Sea oil platform, called Valemon, will be the first controlled remotely from an onshore location, and will be the company's first "normally unmanned operation" when drilling is completed in 2017.
"We see the need for extreme automation systems, a hardened controller with more memory, and one that can operate in extreme environments," says Charlie Norz, product manager for I/O at Wago.
The Statoil greenfield project is rare for the oil industry, but provides a glimpse of a future with an installed base of smart instrumentation.
A hotly debated topic for the past 20 years has been multiphase flow metering (MPFM) technology in the oil and gas industry, which some have characterized as the holy grail. "Most MPFM solutions today employ multiple sensor technologies to provide true physical multiphase flow measurements, with the most popular combination being differential pressure across Venturi and gamma ray attenuation," says Tim Shea, senior analyst at ARC.
The technology is gaining acceptance as the supermajors deploy MPFM on a broad scale for subsea applications to continuously measure individual components in commingled oil, gas, condensate and water streams.
Companies in this article