Besides being largely credited for introducing Greek-style yogurt to the American palate, Chobani also lays claim to building the largest yogurt factory in the U.S.—a 1.4 million square foot facility in Twin Falls, Idaho, that employs a variety of cutting-edge automation capabilities to deliver better data visibility to both operators and management.
As part of its Industrial Internet of Things (IIoT) vision, the automation technologies that Chobani leverages include Schneider Electric's Wonderware historians, Rockwell Automation programmable logic controllers (PLCs) and human-machine interface (HMI) software, and Inductive Automation's Ignition supervisory control and data acquisition (SCADA) platform. The plan is to democratize more and different kinds of data to fuel real-time insights for operators monitoring production lines on the floor and for executives keeping tabs on top-line plant performance.
"We're bringing visualization from the top to the bottom and from the bottom up to the top," says Hugh Roddy, Chobani's vice president of global engineering and project management. "Giving people easy, cost-effective access to visualization screens changes everyone's perspective and makes them more empowered."
Chobani, along with an increasing number of forward-looking manufacturers, is pushing the boundaries of traditional visualization capabilities, tapping new technologies and revamping the role of HMI. Instead of a view into the performance of a single machine or control system, HMI is morphing into a line-of-sight tool that serves as the nexus for modern-day and future digital manufacturing.
To that end, the latest crop of HMIs offers user experiences that rival consumer technologies, with easy-to-understand dashboards and sophisticated graphics. Next-generation HMIs support common web technologies such as HTML5 and Java, which enables them to run on mobile devices like smartphones and tablets and opens up a new world of remote access applications for workers in the field or at home during off hours. Support for open application program interfaces (APIs) further transform HMIs from custom-designed screens showing limited data on the status and performance of a single proprietary machine to a vehicle for integrating and displaying data from a variety of internal and external information sources, helping to foster better decision-making across the plant ecosystem.
"HMIs have historically helped keep a particular process running, letting a plant operator or manager know if something was running well," explains John Krajewski, director and product manager for HMI/SCADA for Schneider Electric. "Today, HMIs are transitioning from managing a process to managing the business. If you can facilitate the ability to address a situation in real time, you have the best opportunity to improve overall profitability. It's not just about how to best operate this piece of equipment, but what you can try to do to reduce energy, improve efficiency and ensure everything keeps on pace."
From reactive to proactive
In reactive use mode, HMIs sound alarms if a machine isn't working right, giving machine and control room operators limited information for troubleshooting or allowing them to lock out a system for safety purposes. But with the rise of more connected assets and devices as part of IIoT, HMIs can integrate other data sources and visualize new types of content, including gauges that monitor electricity use, maintenance records culled from enterprise systems, geographic information system (GIS) data and even weather forecasts that might change work procedures on outside, far-flung assets.
"You want to be able to transition contextually between data sources and alarms on equipment to know, for example, if there is scheduled maintenance on an asset that might require a work order," Krajewski says. "If you can tie these systems together, you can facilitate agile operations."
One of the most overt changes to visualization capabilities in HMIs and automation platforms is the fully evolved graphics, which are now being modeled on consumer technologies, emphasizing customer experience and ease of development. Traditionally, HMI applications have been created by process engineers and highly tailored to specific machines and environments. But customers are now looking for more simplicity and standardization in the visual cues that are presented, according to Matt Wells, vice president of digital product management for GE Digital. Streamlining the amount of information showcased—essentially distilling it down to simplified graphs—is one way GE customers are revamping HMI design, he says. They are also funneling different types of process data and metrics to the HMI to give them more real-time information on which to base decisions.
"The user experience rationalization is driving a lot of core concepts about how people are rethinking HMIs, and they are also adding different kinds of information that operators have never had access to before to drive different behaviors," Wells explains.
By pushing analysis apps to operators and highlighting simple key indicators, they start seeing production metrics and it speeds their ability to make decisions. "Operators can see their cycle time compared to their team's cycle time compared to enterprise cycle time on their HMI," he explains. "It enables them to view objective performance metrics against the broader organization. This impacts their ability to make decisions—not just turn a machine on and off."
To enable a next-generation user experience, GE Digital introduced a modeling approach in its iFix and Cimplicity HMI offerings that makes it easier to reuse graphics and templates while promoting standardization, Wells says. The platforms have been redesigned with native web technologies so they can be deployed on any hardware device—from the latest smartphone to an aging terminal on the shop floor.
Predix Studio, showcased at GE's recent Minds + Machines Europe event, provides a glimpse into GE Digital's visualization evolution. The cloud-based development environment enables non-developers—think plant floor operators and subject matter experts—to quickly assemble apps on Predix using drag-and-drop capabilities to bring disparate systems together and create the insights that will drive business outcomes, Wells explains. Eventually, this set of tools will enable manufacturers to create highly sophisticated digital twins—digital representations of a particular asset or plant—which will serve as yet another data source that can be visualized.
The convergence of information and operational technologies (IT and OT) is also having impact on how Beckhoff Automation is evolving its TwinCAT HMI—for example, leveraging IT standards like Microsoft Visual Studio for engineering, HTML5 for design, and WebSockets and HTTPS for secure communication. There is no programming required to create HMI applications and the resulting applications are responsive, so they'll adapt to whatever display is used without modification, explains Daymon Thompson, automation specialist at Beckhoff. In addition, to break out of the machine-local heritage of traditional HMIs, Beckhoff offers TwinCAT IoT Communicator, a messaging service based on common IoT communications protocols like MQTT, allowing critical data and messages to be pushed to on-the-go plant personnel via their smart devices.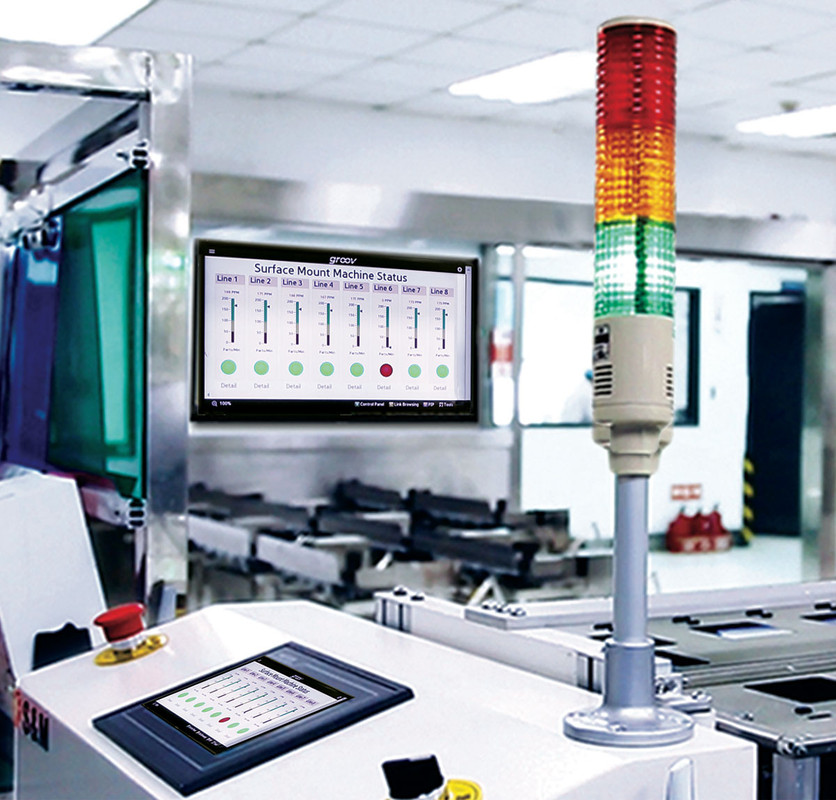 Opto 22's HTML5-based groov HMI lets users build browser-based operator interfaces in minutes with drag-and-drop functionality instead of programming. Source: Opto 22
For Opto 22, the influx of web technologies—in particular, HTML5 and open standards like REST API—are game changers because they allow new and different data types to be integrated and presented in its groov HMI, according to Benson Hougland, the company's vice president of marketing and product strategy. Using the example of a wind farm, Hougland describes a scenario whereby data from connected turbines could be combined with external data sources on electricity pricing to enable operators to determine when it is most cost-effective to operate the wind farm. "It delivers a much richer data set and context on which to make decisions, and it all happens in real time," he says.
Future trends for visualization
Situational awareness is another concept being associated with the evolution of HMIs and advanced visualization. For example, Rockwell Automation's FactoryTalk automation system and HMI is being enhanced to serve up content based on a variety of factors such as role, location and security parameters, says Chirayu Shah, marketing manager for FactoryTalk View. "If a maintenance person walks into an area and does something on a machine and then walks out to go to the break room, they shouldn't have access to HMI information," he explains. "We've recently focused on location-based content, which is the ability to be in an area of the plant and get pertinent information on your tablet device and as you walk away, it disappears."
Mobility and analytics are the other primary areas where Rockwell is focused on visualization transformation. Its FactoryTalk Analytics for Devices appliance is designed to help minimize plant floor downtime and improve productivity by proactively identifying problems on an asset through continuous monitoring and machine learning techniques to identify trends—the first step in the IIoT journey by enabling proactive and, eventually, predictive maintenance. The FactoryTalk TeamONE app addresses collaboration and mobility use cases, enabling off-site workers to receive active alarms along with additional information and reports that deliver context for the problem—for example, manuals or knowledge-based articles. "We're adding more tools for the maintenance worker to collaborate with the team and get information on the task at hand," Shah says.
The FactoryTalk Analytics for Devices appliance learns what is important by continuously analyzing network devices and delivering recommendations to help prevent unplanned downtime and repair systems more quickly. Source: Rockwell Automation​
Addressing the software licensing barrier is another important aspect of making HMI visualization available everywhere, not just on select assets or in the hands of a few operators, according to Don Pearson, chief strategy officer at Inductive Automation. The company has launched an unlimited licensing model for its Ignition SCADA platform within a single server, which allows customers to have as many open clients as they want, thus promoting more sophisticated analytics efforts. "When you don't have a barrier to licensing, innovations happen because you can bring in more data and do more analysis within the tool," notes Travis Cox, Inductive Automation's co-director, sales engineering.
Ignition's unlimited licensing model was compelling from a cost standpoint as Chobani launched its initiative to democratize data visibility across the enterprise, Roddy says. The company recently had as many as 92 clients online looking at a specific Cho Dash app, a series of dashboards for monitoring real-time asset performance, which would have been cost-prohibitive with traditional HMI technology, he says. Moreover, with such a large plant, operators would waste too much time running back and forth between traditional HMI screens on the plant floor and in the control room to get pertinent updates. Using Ignition, they get key performance indicators (KPIs) and real-time data and alerts on their smartphones or tablets in simple, easy-to-understand dashboards.
Making the visualization capabilities and dashboards available to a greater audience has helped Chobani reduce downtime and increase production. "Having these dashboards available to a lot of people helps operators increase production and lets our management team quickly see what's going on so they can make adjustment as needed," Roddy says. "It helps provide continuity across the plant."
Companies in this article