Enterprise resource planning (ERP), product lifecycle management (PLM) and manufacturing execution systems (MES) have traditionally been three very distinct pillars of the manufacturing technology puzzle. But in today's world—where timely product delivery and top-notch quality are the hallmarks of success—those individual pieces are coming together to create a foundation for a modern-day interpretation of lean manufacturing.
By closing the loop between PLM, MES and ERP systems, manufacturers are hoping to facilitate data sharing between the functional areas of engineering, the shop floor and the front office. The goal is to deliver visibility that will help streamline product delivery cycles, eliminate redundant manual processes and waste, and help proactively pinpoint and correct quality issues before they become too costly and pose barriers to customer satisfaction.
ERP-to-MES integration is a bit further along, experts say, becoming a standard practice for syncing the system of record for customers, order and inventory data with the shop floor in preparation to meet actual production requirements, and for reconciling material consumption for better planning. PLM-to-MES integration, a more recent phenomenon, is catching on as manufacturers look to accelerate product ramp-up times and establish a feedback loop between product design and production as part of ongoing quality efforts. Creating linkages between all three systems remains more of a long-term vision for most, but experts contend it will be a necessary goal for manufacturers moving forward.
"Manufacturers may be collecting a lot of data, but if they can't analyze it and turn it into actionable information that affects processes and makes them competitive, it's not useful," explains Mike Lackey, vice president of solution management, line of balance (LoB) manufacturing, and extended supply chain at SAP. "That's why there's a big movement to integrate the shop floor with the enterprise and PLM."
Without such integration, data sharing is manual, introducing all kinds of errors, bottlenecks and delays, while making it harder to analyze and achieve complete visibility into core business processes, Lackey says. In contrast, an integrated MES-PLM-ERP platform creates a closed loop that enables manufacturers to be more responsive and agile. "If you go from as-designed to as-planned to as-built to as-maintained in a sequential, vertical line, you miss a big opportunity," he says. "Tying the as-built plan into how something is designed gives you the ability to design for manufacturing, which makes the process more streamlined and results in higher-quality products."
A 360-degree view
Though only a fraction of best-in-class companies have achieved the holy grail of tri-system integration, a growing number are testing the waters as they hit a wall with existing lean practices, with or without automation. "They've leaned out their core manufacturing processes, optimized their flow as much as possible and hit a glass wall in terms of improvements around what really matters—which is how fast they can manufacture and introduce new products," says Rich Carpenter, chief product strategist for GE Digital.
Automatically populating the MES with bill of materials (BOM) information directly from PLM ensures the two stay in sync and don't introduce the errors commonly associated with manual processes. Moreover, a direct integration can shave weeks, even months, off a production cycle, Carpenter says, by eliminating many inefficient handoffs between product design and the shop floor. To facilitate MES-to-PLM integration, GE has partnered with PTC to create an out-of-the-box integration between its Proficy Plant Applications and PTC Windchill MPMLink, enabling process plans, the manufacturing BOM and work instructions to stay in sync with engineering designs. Integration to ERP platforms, also commonplace among GE customers, is typically more of a consulting services effort, Carpenter says, because ERP systems tend to support more custom business processes.
From Oracle's perspective, achieving a 360-degree view of the product is the primary driver for cross-system integration. With three separate systems, few manufacturers have formal processes to update the product model in PLM to accommodate production in a particular country or plant, explains Andy Binsley, senior director of manufacturing and product strategy at Oracle. That can lead to colossal miscues like orchestrating production on a since-modified design, resulting in a lot of extra manual labor and costly rework.
"Every step of the way means extra labor and extra interactions with suppliers," Binsley says. "With a closed loop, when you learn something in one part of the process, it's available to the other parts so the next time you do something, you have the most complete and accurate information."
Looking out even further, MES-PLM-ERP integration is crucial to the notion of a digital enterprise, where the real-world environment—from concept design to physical production of a product through customer usage in the field—is connected and simulated in a virtual world. By weaving a digital thread throughout all phases of a product's lifecycle and by connecting core systems, manufacturers can gain insights to help optimize the product and key processes to achieve higher levels of productivity, says Helmuth Ludwig, executive vice president, digital enterprise realization and chief manufacturing officer at Siemens PLM Software.
Consider the example of a product deviation that can't be easily resolved by shop-floor personnel, Ludwig explains. With a digital thread supporting a closed-loop workflow, that deviation is instantly accessible to the engineering team through the Teamcenter PLM collaboration platform, he says, allowing them to figure out a workaround or make a design change that will fix the problem and unblock production.
Integration made easier
Despite the huge upside, integration between these core enterprise systems is relatively immature for a very simple reason: It's historically been way too complex. Closed systems coupled with proprietary networks and communication protocols have been huge technical hurdles preventing data from flowing easily between core enterprise platforms to create a closed-loop system, says Khris Kammer, information partner and competency manager for Rockwell Automation.
"These systems are used by different industries and different companies in different ways," Kammer explains. "One company's master data might mean something different than another company's master data, and this lack of a common definition of what fields mean or what data means has been a hindrance."
The question of who owns the BOM data is just one of the many cultural and people-related issues hampering widespread integration efforts. Historically, IT, engineering and operations have had their own systems that they kept pretty close to the vest. It's also been unclear at the vendor level which company is responsible for driving the integration, says SAP's Lackey. "Is it the MES, middleware or ERP vendor that owns the integration?" he asks. "There's been no one point of ownership to make it work."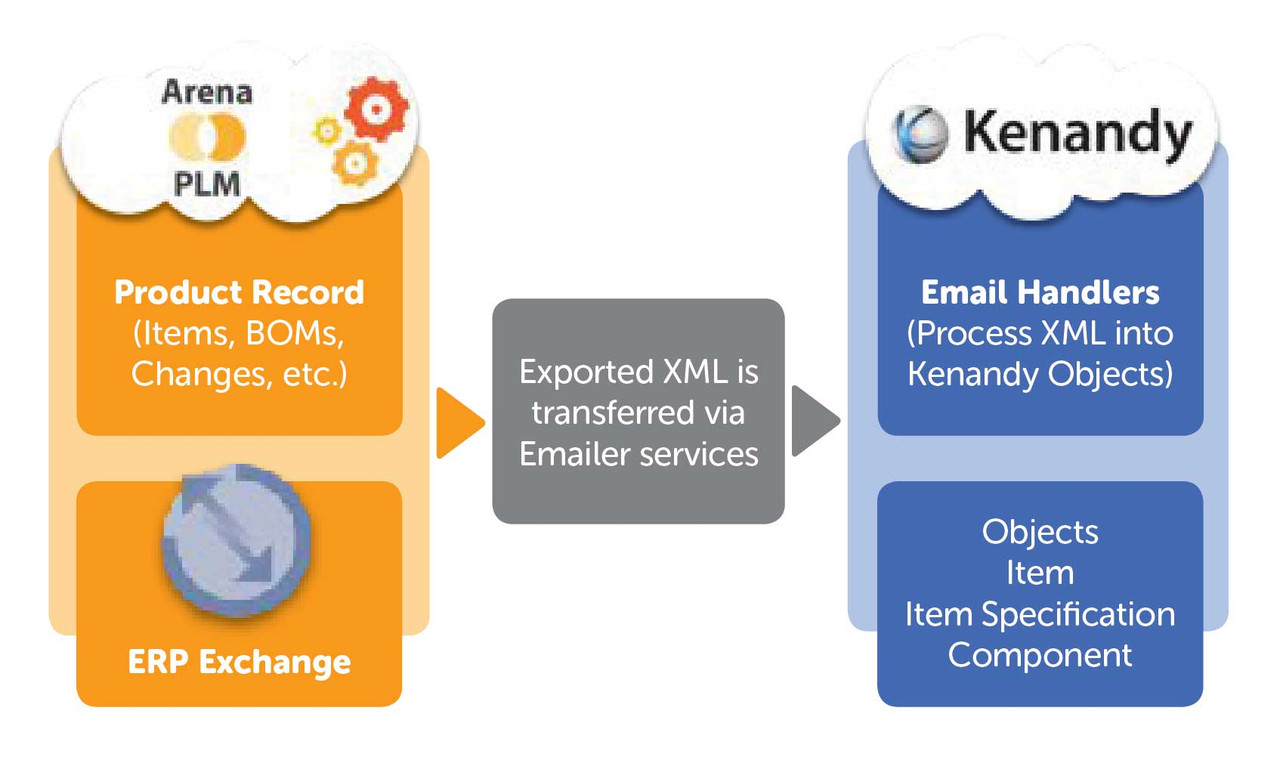 Kenandy partnered with Arena Solutions to integrate their cloud-based ERP and PLM systems.
Even a one-off integration is no guarantee of success. Traditionally, there's been a lot of reliance on custom code for integrations between MES and PLM or MES and ERP, which can break with subsequent upgrades, thus requiring constant maintenance and rework, notes Chris Krechting, vice president of the PLM business unit at Infor. By leveraging standards like B2MML (Business to Manufacturing Markup Language), an XML format and common data definition used to link ERP and supply chain management (SCM) systems to manufacturing platforms like MES, Infor has been able to create more standardized connectors, which address many of those one-off integration problems, he says.
The rise of virtualization and the cloud are doing plenty to change the nature of such integrations. The cloud, in particular, is rewriting the rules, reducing reliance on middleware and custom programming and facilitating real-time integration between systems like ERP and PLM, according to Rod Butters, president and COO of Kenandy, which provides a cloud-based ERP platform.
Kenandy has partnered with cloud-based PLM provider Arena Solutions on an integration between their systems. "Before, you needed to have people administering and managing all the middleware integration. With a cloud-based solution, that's all gone--part data can go from PLM into ERP in real time at the push of a button," Butters explains. "Also, in the old world, engineers lived in PLM and operations lived in ERP. In this environment, everyone lives in both tools and it's no longer a complex interaction to get item costing information back into PLM."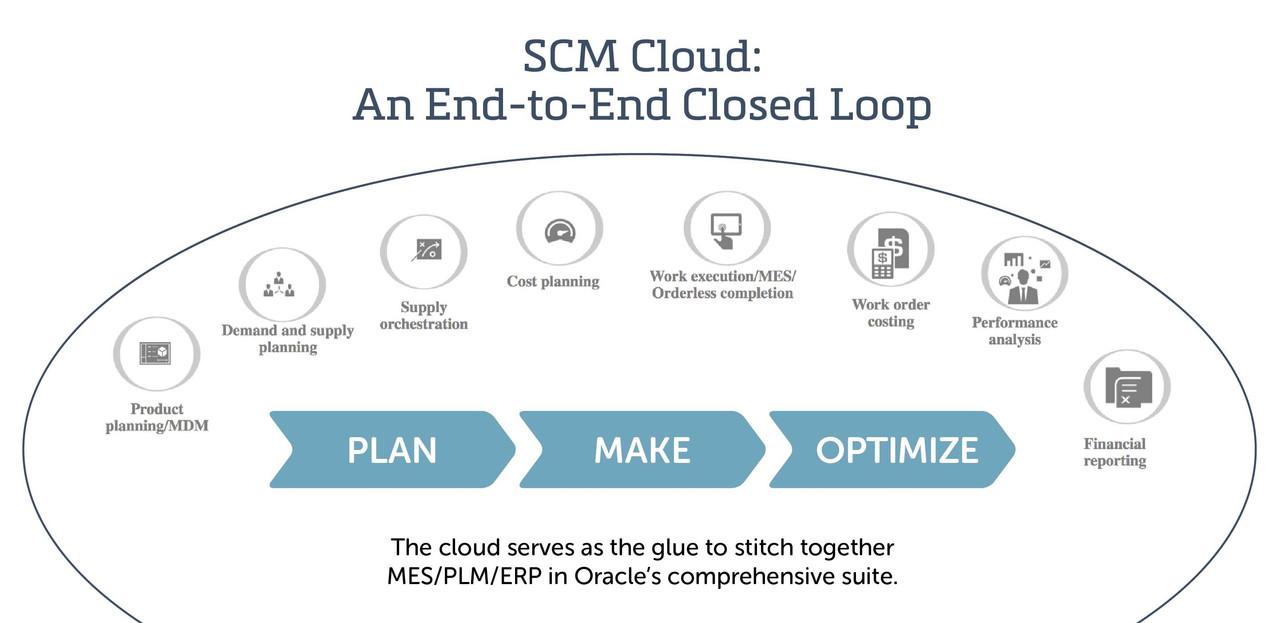 The cloud serves as the glue to stitch together MES/PLM/ERP in Oracle's comprehensive suite.
The cloud also serves as the glue to stitch together MES/PLM/ERP in Oracle's comprehensive suite, according to Binsley. Easy connectivity and a common data model across systems greatly simplifies integration while also keeping manufacturers' extended teams on the same release cycle, elimination the need to mainain existing one-off integrations. "When you're using a common suite and a common technology stack delivered in a common cloud, releases by design are easier to maintain and upgrade," Binsley says. "That's why everyone is so excited by the cloud."
Caveats to success
Cloud mania might be advancing integration, but there are some guidelines manufacturers should consider as they begin to stitch together MES, PLM and ERP. With the focus on a common data model to facilitate data exchange, a best-of-breed strategy might not be the smartest track, especially for manufacturers looking for full bidirectional integration, experts say.
Rampant consolidation in the marketplace should help this cause as major ERP players like SAP and Infor, and PLM providers like Siemens build out their portfolios with all of the core building blocks for a closed-loop system. "In the last four or five years, we've seen big consolidation of point solutions integrated with ERP to simplify that integration," says SAP's Lackey.
Beyond that, SAP's shift to the cloud and its move to embed Right Hemisphere's 3D visualization technology in its MES, PLM, ERP and customer relationship management (CRM) platforms makes it easier to share and access information across key enterprise systems, Lackey says. "The Right Hemisphere acquisition enables us to be CAD-independent so any format of drawing comin in can be used as a work instruction in part of a build package," he explains.
Not only is a best-of-breed strategy questionable, vendors like Siemens PLM Software contend manufacturers will have to cut the cord on legacy systems to make a closed-loop MES-ERP-PLM system a reality. Without the same data model and constructs, it's difficult to get the level of accuracy that's required, Ludwig says.
Although that may be the universal direction, it hasn't been the case for Cascade Engineering, a large-scale plastic injection mold maker, which has successfully integrated its homegrown MES with QAD's ERP platform in a traditional on-premise deployment—not in the cloud.
The bidirectional integration feeds ERP data into the MES so it can automatically queue up jobs, while the MES flows data into ERP so it's up-to-date on what happened on a shift, from the quantities completed to the items that were scrapped, explains Mike Malone, Cascade's IT director. Though the company doesn't have a PLM system, it is eventually planning to bring its QAD quality management system into the loop to benefit from that added integration.
"MES divorced from ERP is useless," Malone says. "Prior to the integration, there was a lot of communication back and forth between the shop floor and the scheduling office as to what was really going on. Now that we've removed all that doubt, we've brought down the cost of production because we're not running the wrong jobs, or expediting freight to get parts out of time."
Companies in this article